Some of the links below are affiliate links, which means we will earn a commission on the products or services you purchase using the links. There is no additional cost to you and the earnings help keep this website running. Read the Affiliate Disclaimer for more information.
One of our favorite places to stay in an RV is Disney's Fort Wilderness Campground and Resort in Orlando, Florida. For anyone looking for the ultimate Disney camping experience, Fort Wilderness is certainly worth the consideration. Our first Fort Wilderness camping experience was in January 2016 and we have gone back twice since. In this post, I'll share our personal Disney camping experiences at Fort Wilderness along with tips and our favorite loop at the campground.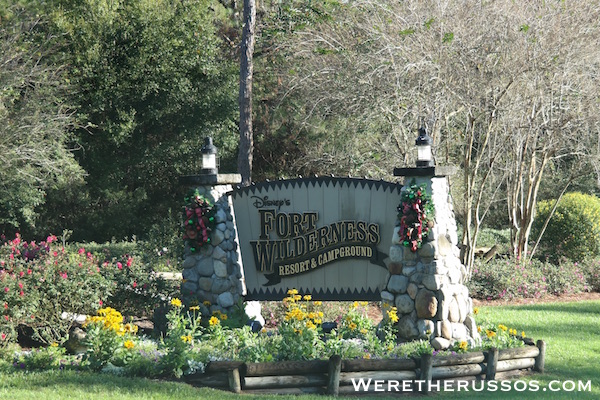 Fort Wilderness Camping
Are you ready for a taste of the American Frontier? Drive the winding pathways through the pine and cypress forest with wild turkeys, squirrels and deer roaming throughout the Campsites at Disney's Fort Wilderness Resort. The sounds of birds singing, children playing, boat horns blowing, golf carts buzzing by and fireworks exploding all add to the experience of Fort Wilderness camping.
With nearly 800 campsites and over 400 cabins at Disney's Fort Wilderness Resort, there are several Disney camping options to choose from. Since our experiences have been RV camping, here is a breakdown of the different types of Fort Wilderness campsites available:
Types of Campsites at Disney's Fort Wilderness
There are four types of sites at Disney's Fort Wilderness Resorts and they are listed below in terms of least expensive to the most expensive.
Tent or Pop-up – loops 1500 & 2000, water and electric (no sewer for RV dumping)
Full Hookup – loops 1600-1900, one RV plus one tent in the sandy tent area
Preferred – loops 100-300, located close to marina otherwise same as a full hookup site
Premium – loops 400-1400, only for RVs, no sandy area for tents, it can be as wide as 24ft and as long as 60ft to accommodate large RVs.
Of the three times we've camped at Disney's Fort Wilderness Resort, once was in a full hookup site with our Class A motorhome and twice in a tent/pop-up site since we were in smaller campers. All the sites had tall trees that provided shade, cover and easy access to the comfort stations (aka bath houses) which have showers.
Rent an RV for Fort Wilderness Camping
We know many Disney fans that want to experience Fort Wilderness camping, but they don't own an RV. Our recommendation is to look at renting an RV in the Orlando area or where you live and take it to Fort Wilderness. There are all types of RVs for rent through sites.
There are also specific Fort Wilderness RV rental companies and renters can pay extra to have the RV delivered to the Campsites at Disney's Fort Wilderness and set up.
Full Hookup Site at Fort Wilderness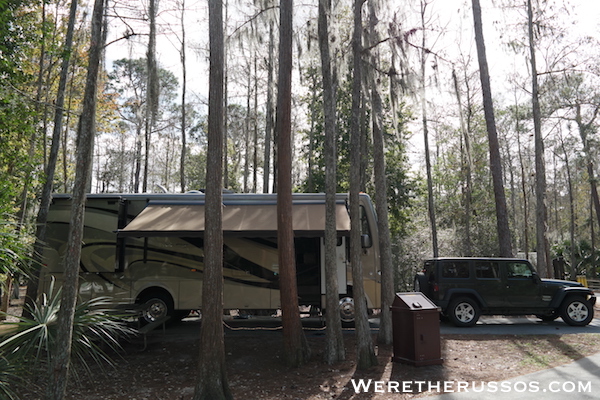 The above photo is our small Class A RV and Jeep Wrangler tow vehicle set up in full hook up site #1904. This site was a bit tight to back into with enough room to extend the RV awning and park a second vehicle.
The full hookup campsites at Disney's Fort Wilderness Resort include water, electric (20 amp (standard household plug), 30 amp and 50 amp service), RV dump and a sandy area to pitch a tent.
Full hook up sites are located in loops 1600 through 1900 and each campsite can accommodate up to ten people and two dogs. We've only camped in the full hookup site with two adults and a dog so the space felt very comfortable and spacious. Learn more about RVing with dogs.
The paved full hook up site was very clean and included a picnic table and charcoal grill. The picnic table was not tied down which allowed us to move it around. A trashcan was conveniently placed outside our site that was emptied multiple times a day. While site 1904 wasn't as wide as some of the other Fort Wilderness camping sites we saw, it was perfect for our stay. Watch video of our first time at Fort Wilderness.
Tent/Pop-up Sites at Fort Wilderness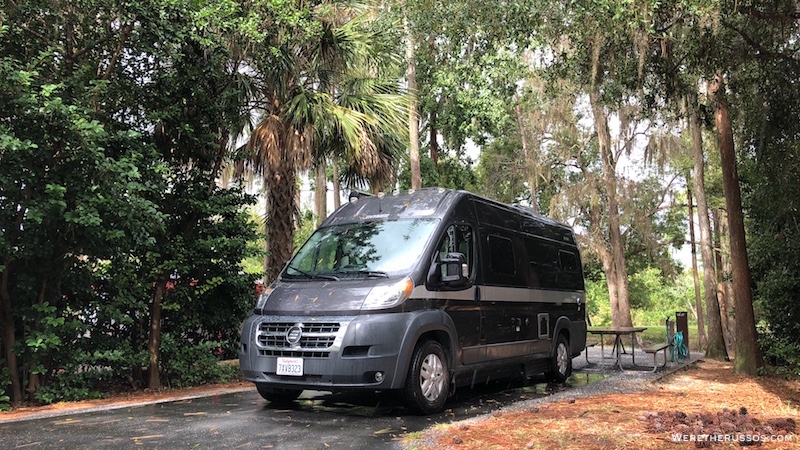 The above photo is from our first time camping in a tent/pop-up site at Disney's Fort Wilderness in a Class B ProMaster camper. Campite #1517 was easy to back into with room for a second vehicle.
The tent/pop-up campsites are the least expensive sites at Disney's Fort Wilderness because they do not have sewer hookup. These sites have water, electric and a gravel area to pitch a tent.
Note, there is no RV dump station at Disney's Fort Wilderness so plan ahead if you are RV camping in a tent/pop-up site. Just like all the other loops, there is a comfort station with toilets, showers and laundry.
Pop-up tent sites at Fort Wilderness are located in loops 1500 and 2000. Each campsite can accommodate up to ten people and two dogs. Based on our most recent Disney camping experience it would be easy to share a tent/pop-up site with friends and family.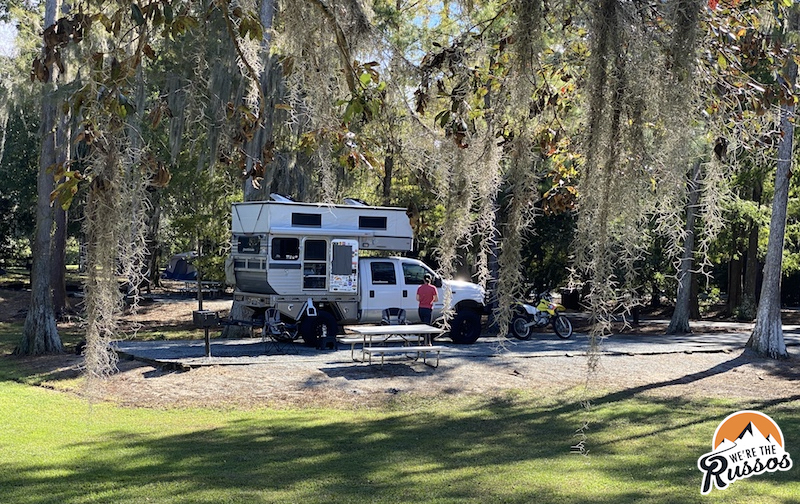 The above photo is from our third experience camping at Fort Wilderness in our pop-up truck camper. Campsite #1514 has to be our favorite site at Fort Wilderness to date. There is a large gravel area that can accommodate more vehicles in the site, a large grassy area to stretch out and access to the canal.
Each paved pop-up/tent site is clean and included a picnic table and charcoal grill. The picnic table can be moved to accommodate tents and other vehicles in the site. Trashcans are conveniently placed throughout loop 1500 along with recycling. Watch our latest Fort Wilderness Camping video.
Fort Wilderness Campground Rates
Since Fort Wilderness is part of the Disney ecosystem, the cost to camp is higher than standard campgrounds. For quick access to Fort Wilderness campground prices, check out MouseSavers' post on rates for 2022.
Each time we've stayed at Disney's Fort Wilderness, it was during the least expensive time of the year. As you research Fort Wilderness campground rates, you'll notice the prices fluctuates quite a bit based on dates and the type of campsite.
In January 2016, the cost of our full hookup campsite was $69 per night Monday through Wednesday. In November 2018 we paid the same rate for a tent pop-up campsite. During our latest visit in November 2021, we paid $87 per night.
One way to save money on Fort Wilderness camping is by splitting the cost with friends and family. Since there is a 10 person max per campsite, the cost can drop significantly when shared with another family. We could have shared site #1514 with two other small RVs and split the cost three ways bringing the cost down to $29 per night.
Note, there is a $5 per night pet fee when staying at Fort Wilderness and it is collected at check-in.
Fort Wilderness Campground Reservations
Based on our three Fort Wilderness camping experiences, the options for finding a Fort Wilderness campground reservation is to
book months in advance,
check for last minute cancellations, or
be open to a tent/pop-up site
When we had our Class A RV, we looked for availability online as early as four months in advance, but only found tent/pop-up sites. As luck would have it, we checked again the last week of December for dates the first week of January and found a full hookup site for three nights.
The process of booking online through Disney was very simple. We immediately received a confirmation along with an email with all the details of our Fort Wilderness campground reservation.
We had a much easier time booking a reservation the second and third time because we could camp in a tent/pop-up site. Anyone with a Class B RV, small Class C RV, truck camper or towing a small travel trailer should definitely consider a tent/pop-up site at Fort Wilderness.
Here are a few Fort Wilderness campground reservation tips based on our stays:
Call the reservation department after your booking if you have special requests such as a preferred loop, location of site (close to comfort station or trading post), number of pets, size of RV to make sure the site can accommodate it.
The resort can hold your MagicBand at check-in if you are constantly on the move and getting mail on the road can be a challenge. Just call the reservation department and let them know your situation, otherwise you can customize your MagicBand online and have it shipped to your location.
Fort Wilderness Pet Policy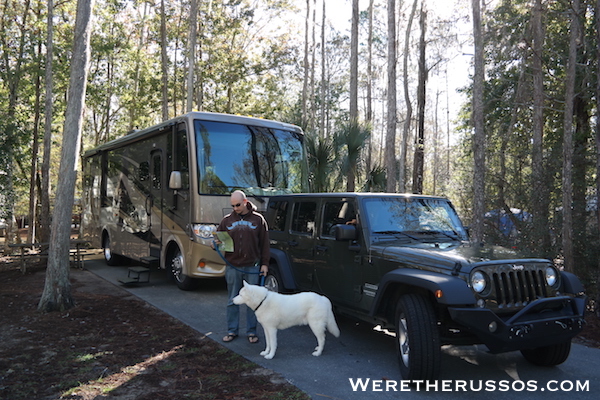 The Campsites at Disney's Fort Wilderness are pet friendly and can accommodate up to two pets per site. During our first Fort Wilderness camping experience we had to request a pet friendly loop, but that is no longer the case. However, the Fort Wilderness Pet Policy does state "Pets are not permitted in tents and pop-up campers."
Although there are many on-leash trails at the campground, Fort Wilderness also has a small Waggin' Trails Dog Park where dogs can run around and stretch their legs.
Clear signs are posted throughout the campground on where pets are not allowed, such as comfort stations and trading posts. Pets are also not allowed in common areas, on buses or boats.
Check-in and Check-out
Official check-in time is 1 p.m. During all three Fort Wilderness camping experiences we were able to check-in early. On our first visit, we were setup at our full hookup campsite by 10 a.m. and off exploring the campground with our dog.
Official check-out time is 11am. Fort Wilderness will consider late check-out requests on a case by case basis. We have requested two late check-outs by calling the front desk and both were accommodated. Our complimentary late check-out was extended to 1pm during our first stay and to 12pm during our most recent stay.
Fort Wilderness Parking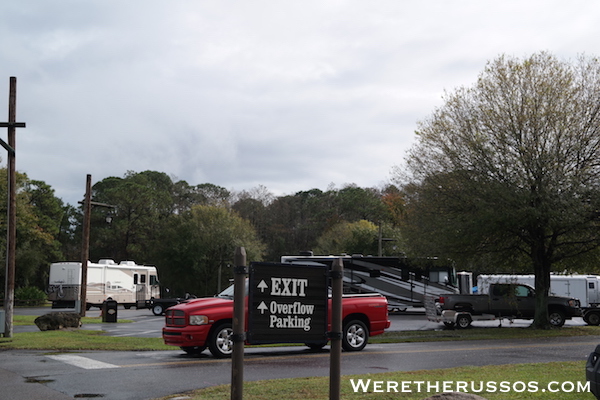 Parking is included in the cost of the campsite reservation and based on our most recent Fort Wilderness camping experience, every vehicle just needs to fit within the boundaries of the campsite.
For vehicles that do not fit within the campsite, there is a permitted parking area where guest can leave vehicles and trailers during their reservation. Make sure to inquire about extra parking options at check-in or by calling the reservation department.
Hitch and Unhitch Tow Vehicles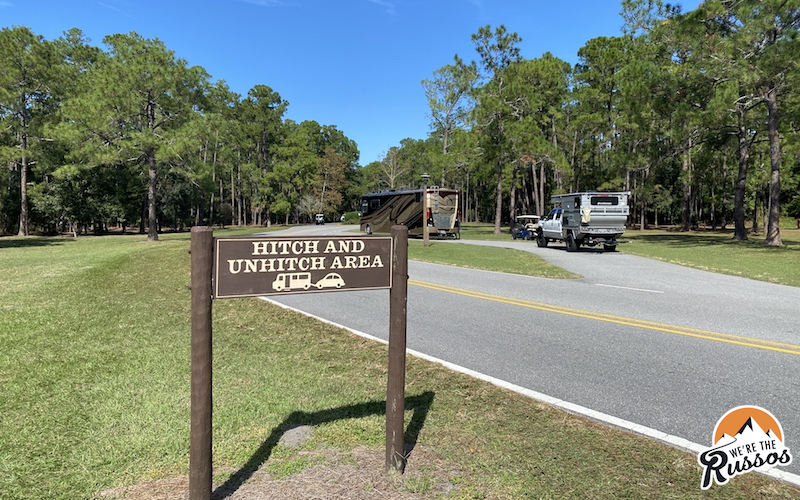 On the way to the camping loops at Disney's Fort Wilderness there is a hitch and unhitch area where guests can disconnect and connect tow vehicles. The best part is, there is a hitch/unhitch area on each side of the road so guests entering and exiting each have their own area.
We used this area to unhitch our tow vehicle the first time we stayed at Fort Wilderness and most recently used it to unhitch Joe's motorcycle. As you can see in the photo above, there was enough room for us to unhitch along with another Class A motorhome.
Trading Posts for Groceries & Supplies
There are two trading posts at Fort Wilderness: Settlement Trading Post and Meadow Trading Post. These trading posts offer convenience items, groceries and RV supplies at an inflated rate.
It's best to stock up on groceries and supplies before arriving at Fort Wilderness. However, if you do run out of drinks or snacks they are available for purchase. Catch a glimpse of Meadow Trading Post in our latest Fort Wilderness Camping video.
Recreational Activities
Guests of Fort Wilderness will receive a recreation calendar at check-in which lists all the recreational activities at that time. We haven't participate in any of the activities at Fort Wilderness, but they are included with the stay at no additional charge.
If you have time, take the boat over to the Wilderness Lodge as it's well worth checking out especially during the holidays when it's all decorated. In 2016 they even offered tours of the lodge which was fun and educational. Also, there is a hidden Mickey hunt at the Wilderness Lodge. Ask the concierge for a clue sheet to get started.
Transportation Around Campground & Theme Parks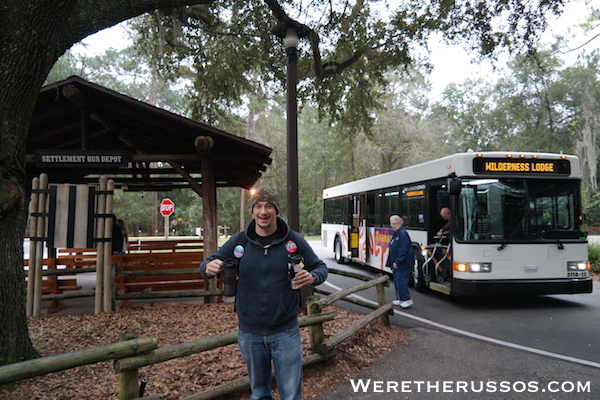 Is there transportation to the parks?
One of the great perks camping at Fort Wilderness is the ease of getting around the Walt Disney World Resort. Boats along with air conditioned and wheelchair accessible buses run on a schedule to get guests from one theme park to another and back and forth between resorts.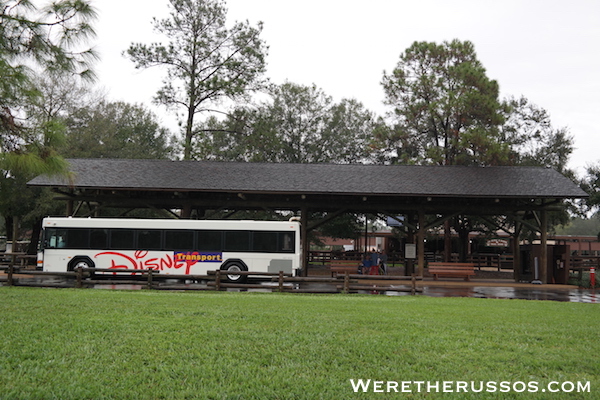 Unless we are going to the Magic Kingdom or Wilderness Lodge, we will take the campground shuttle to the transportation hub and then catch a bus to Disney Springs for a movie or dinner or to go to one of the other Disney theme parks.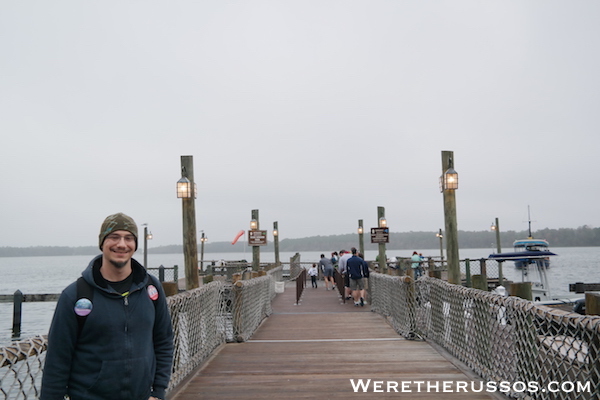 To get the the Magic Kingdom from Fort Wilderness, take the campground shuttle to the settlement bus depot and walk to the marina to catch a boat to Magic Kingdom.
Is Fort Wilderness Worth the Money?
At nearly $100/night with tax for the least expensive sites during the lowest season of the year, you have to wonder if Fort Wilderness camping is worth the price. We made a whole video about it to help answer the question. Check out the video to see if it's worth the price for you.
Fort Wilderness is worth the price to us because we have the flexibility to book last minute reservations during the low season. By using the free transportation we save money on parking fees at the theme parks and on fuel. Plus, after a quick peak at hotel prices around Walt Disney World, the Fort Wilderness campground prices seem more reasonable.
Fort Wilderness Camping Tips
I know that was a long post about Fort Wilderness camping so here's a quick recap of the tips shared for easy reference.
Share a campsite to save money. Each site can accommodate up to 10 people.
Tent/pop-up sites are the least expensive (water/electric only, no sewer).
Loop 1500 is our favorite for tent/pop-up campsites.
Stock up on groceries and supplies before arrival. Trading post prices are high.
Check for last minute cancellations to get a reservation.
Call the front desk to request a specific loop or campsite.
There are Fort Wilderness RV Rentals that will deliver and set up an RV for you.
Whether you're camping in a tent or glamping in an RV at Disney's Fort Wilderness, I hope you have an magical time!
If you're not able to get a Fort Wilderness reservation, check out Thousand Trails Orlando as an alternative to Disney camping.