Some of the links below are affiliate links, which means we will earn a commission on the products or services you purchase using the links. There is no additional cost to you and the earnings help keep this website running. Read the Affiliate Disclaimer for more information.
Get a taste of the American Frontier as you drive on winding pathways through the pine and cypress forest with wild turkeys, squirrels and deer roaming throughout. The sounds of birds singing, children playing, boat horns blowing, golf carts buzzing by and fireworks exploding all add to the experience of camping at Disney's Fort Wilderness.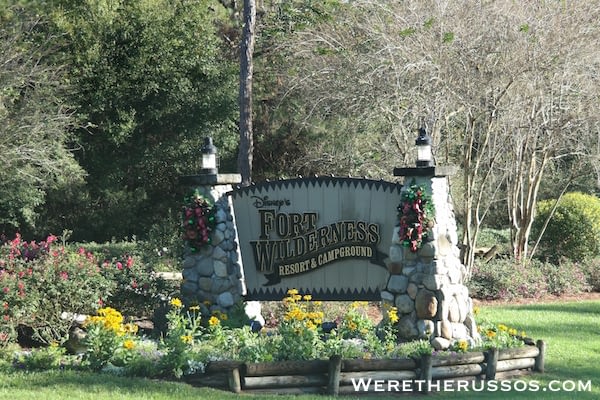 Camping at Disney's Fort Wilderness
Below is a collection of all the information we gathered camping at Disney's Fort Wilderness along with a few tips and videos.
Type of Sites at Disney's Fort Wilderness
There are four types of sites:
Tent or Pop-up – loops 1500 & 2000, water and electric (no sewer)
Full Hookup – loops 1600-1900, one RV plus one tent in the sandy area
Preferred – loops 100-300, located close to marina otherwise same as a full hookup site
Premium – loops 400-1400, only for RVs, no sandy area for tents, it can be as wide as 24ft and as long as 60ft to accommodate large RVs.
We've camped at Disney's Fort Wilderness twice. Once in a full hookup site with a Class A motorhome and the second time in a tent/pop-up site with a Class B camper van. Both sites had tall trees that provided shade, cover and easy access to the comfort station.
Don't have your own camper? Search for a rental RV.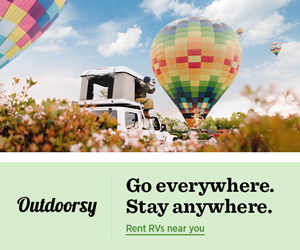 This is the full hookup site (#1904) we camped in. Yes, we stayed at Fort Wilderness with our dog Leo. Learn more about RVing with dogs.
The paved site was very clean and had a picnic table and charcoal grill. The picnic table was not tied down which allowed us to move it around. A trashcan was conveniently placed outside our site that was emptied multiple times a day. This site wasn't as wide as some of the others we saw, but we were able to put out all our slides and the awning without any issues.
Watch video of our first time at Fort Wilderness.
This is the tent/pop-up site (#1517) we camped in.
Note: tent/pop-up sites do not have sewer hookup, only water and electric. There is no dump station at this campground. Fortunately, each loop has a comfort station with toilets, showers and laundry.
Watch video of our second time at Fort Wilderness.
Reservations at Fort Wilderness
Based on our experience, the best way to find a reservation at Fort Wilderness campground is to book months in advance, check for last minute cancellations or be open to a tent/pop-up site.
When we had a bigger RV, we looked for availability online as early as four months in advance, but only found tent sites. As luck would have it, we checked again the last week of December for dates the first week of January and found a full hookup site for three nights. We booked online through Disney and immediately received our confirmation. We had a much easier time booking a reservation the second time because we could camp in a tent site.
Tip: Call the reservation department after your booking if you have special requests such as a preferred loop, location of site (close to comfort station or trading post), number of pets, size of RV to make sure the site can accommodate it.
Tip: The resort can old your MagicBand at check-in if you are on the roam like us. All you have to do is call the reservation department. Otherwise you can customize your MagicBand online and have it shipped to your location.
Fort Wilderness Campsite Rates
Cost of camping at Fort Wilderness fluctuates quite a bit depending on the time of year. MouseSavers will publish a chart of the lowest rates for each calendar year. Costs continue to increase so I would recommend a visit sooner than later.In 2016, our full hookup site was $69 per night Monday through Wednesday. We paid the same rate for a tent pop-up site in 2018.
Save money by splitting the cost. There is a 10 person max per campsite.
Pet fee is $5 per night and collected at check-in.
Camping with Pets
Make sure to request a pet friendly loop (300-900, 1600-1900) when staying at Fort Wilderness.
We camped in loop 1900 with Leo and next door in loop 1800 was a lush green dog walk along a creek.
The campground has a small park where dogs can run around and stretch their legs.
Clear signs are posted throughout the campground on where pets are not allowed, such as comfort stations and trading posts. Pets are also not allowed in common areas, on buses or boats.
Check-in and Check-out
Official check-in time is 1 p.m. Each time we stayed at Fort Wilderness campground we were able to check-in early. On our first visit, we were setup at our full hookup campsite by 10 a.m. and on our way to explore the campground.
Official check-out time is 11am. Late check-out requests can be made by calling the front desk, but are not guaranteed. Complimentary late check-out can be extended to 1pm and verified the morning of.
In this video you can get an idea of what it's like to camp at Disney's Fort Wilderness. Note: WiFi is now available throughout the campground without the use of a modem.
Overflow Parking at Fort Wilderness
Past the check-in gate, to the right is an overflow parking area where RVs can park until the last Disney park closes. This is provided for campers who arrive early and their campsite is not available or for those who need a place to park their RV after check out.
For example, on the day you check out, if you want to visit the Magic Kingdom, you can leave your RV in the overflow parking lot until the park closes. Note: overnight parking is not permitted.
Tow Vehicles
On the way into the campground is a hitch and unhitch area to disconnect and connect tow vehicles. There is one area on each side of the road for those entering and exiting the campground.
Groceries and Supplies
Trading posts offer groceries and RV supplies at an inflated rate. It's best to stock up before heading to the campground. However, if you do run out of drinks or snacks they are available for purchase. A piece of fruit was going for $1.69 each during our visit in 2018.
Entertainment and Activities
Guests receive a recreation calendar at check-in or you can check Disney's activity calendar for Fort Wilderness. We didn't participate in any of the activities, but they are included with the stay at no additional charge.
If you have time, take the Wonders of the Lodge Tour at Wilderness Lodge. Ride the boat from Fort Wilderness to the Wilderness Lodge and meet at the fireplace at 9am Wednesday thru Saturday for a guided tour of the lodge. No reservation is required and the tour takes about one hour concluding with a viewing of the lodge's version of old faithful which erupts every hour on the hour. We enjoyed learning about the history of the lodge and the fun facts.
Tip: There is a hidden Mickey hunt at the Wilderness Lodge. Ask the concierge for a clue sheet to get started.
Transportation Around Campground and to Parks
The great thing about Fort Wilderness is the ease of getting around. Shuttle busses and boats are available throughout the day.
Take the campground shuttle to the transportation hub to catch a ride to Disney Springs and Disney's Hollywood Studios.
Take the campground shuttle to the settlement bus depot and walk to the marina to catch a boat to Magic Kingdom.
Whether you're camping at Fort Wilderness Resort in a tent or glamping in an RV, I hope you have an magical time!
If you're not able to get a reservation at Fort Wilderness, check out Thousand Trails Orlando.
Don't have your own camper? Search for a Rental RV.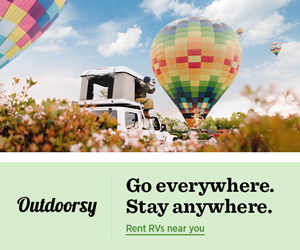 Editor's Note: This post was originally published on January 11, 2016 and has been updated for comprehensiveness.