Some of the links below are affiliate links, which means we will earn a commission on the products or services you purchase using the links. There is no additional cost to you and the earnings help keep this website running. Read the Affiliate Disclaimer for more information.
Joe and I both love to cook and Turkey Day is a great opportunity for us to make these simple Thanksgiving recipes to share with those around us. We usually go to a friend's or relative's home on Thursday, so we will offer to bring a dish or two for the Thanksgiving meal. Instead of making one of the more popular Thanksgiving side dishes, we usually choose from the recipes in this post. I hope you'll give one of these simple Thanksgiving recipes a try!
5 Simple Thanksgiving Recipes
1. Garlic Roasted Cauliflower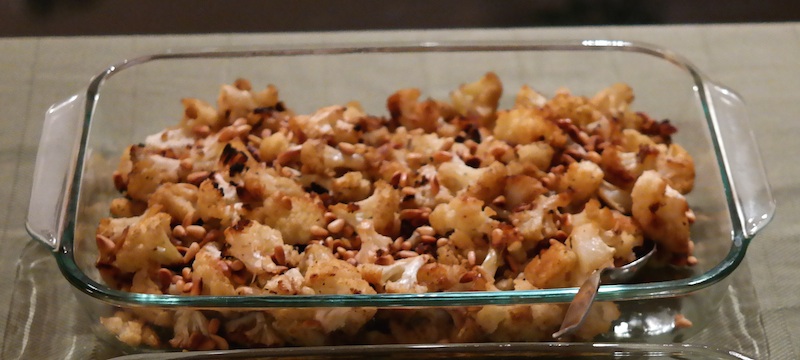 Kicking off the list of simple Thanksgiving recipes is the Russo family cauliflower dish that is always a crowd favorite. It's also the side dish we made for our first Thanksgiving on the road as full time RVers. That was such a memorable Thanksgiving for us, Joe even wrote about the experience in his second book, Tales From the Open Road.
Ingredients:
4 pounds of cauliflower florets
1/4 cup extra virgin olive oil
6 large gloves of garlic sliced
1/2 teaspoon red pepper flakes
1 cup grated parmesan cheese
1/4 cup toasted pine nuts
Salt and pepper to taste
Step one: Pre-heat oven to 450 degrees F. In a baking sheet, add the cauliflower, oil, garlic, pepper flakes, salt and pepper and combine with your hands. Make sure all the cauliflower is evenly distributed in one layer. Use multiple pans if necessary.
Step two: Place pans filled with cauliflower in middle rack of the oven and roast for 30-40 minutes. After 15 minutes, pull pans out and flip cauliflower. Once cauliflower is tender and golden brown, remove pan from oven.
To serve immediately – place cauliflower in a serving dish and top with pine nuts and cheese.
2. Kale Persimmon Salad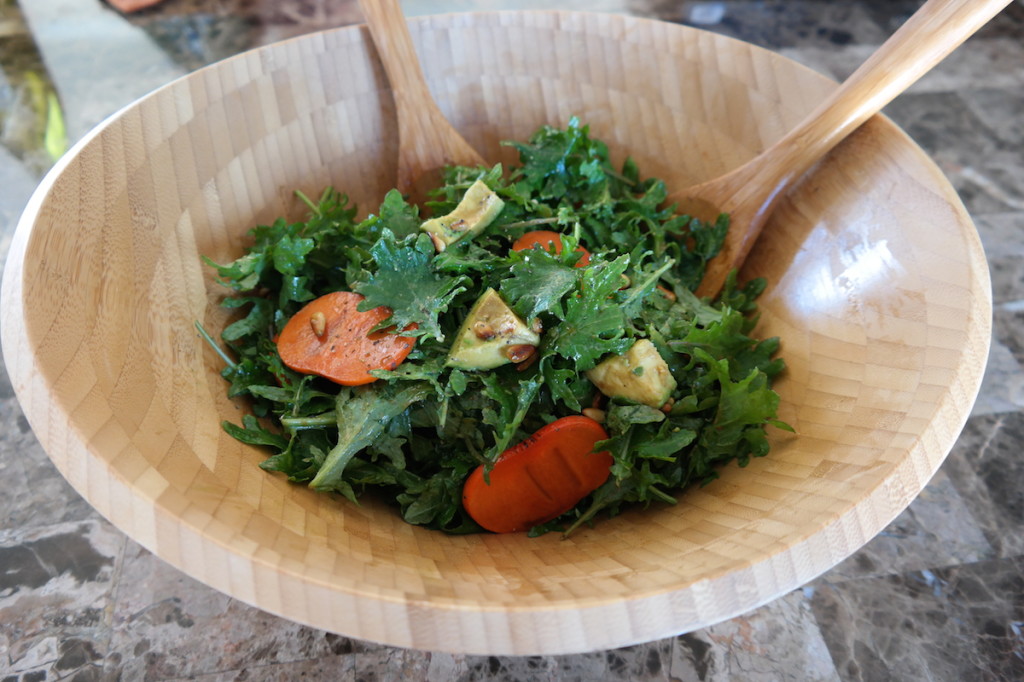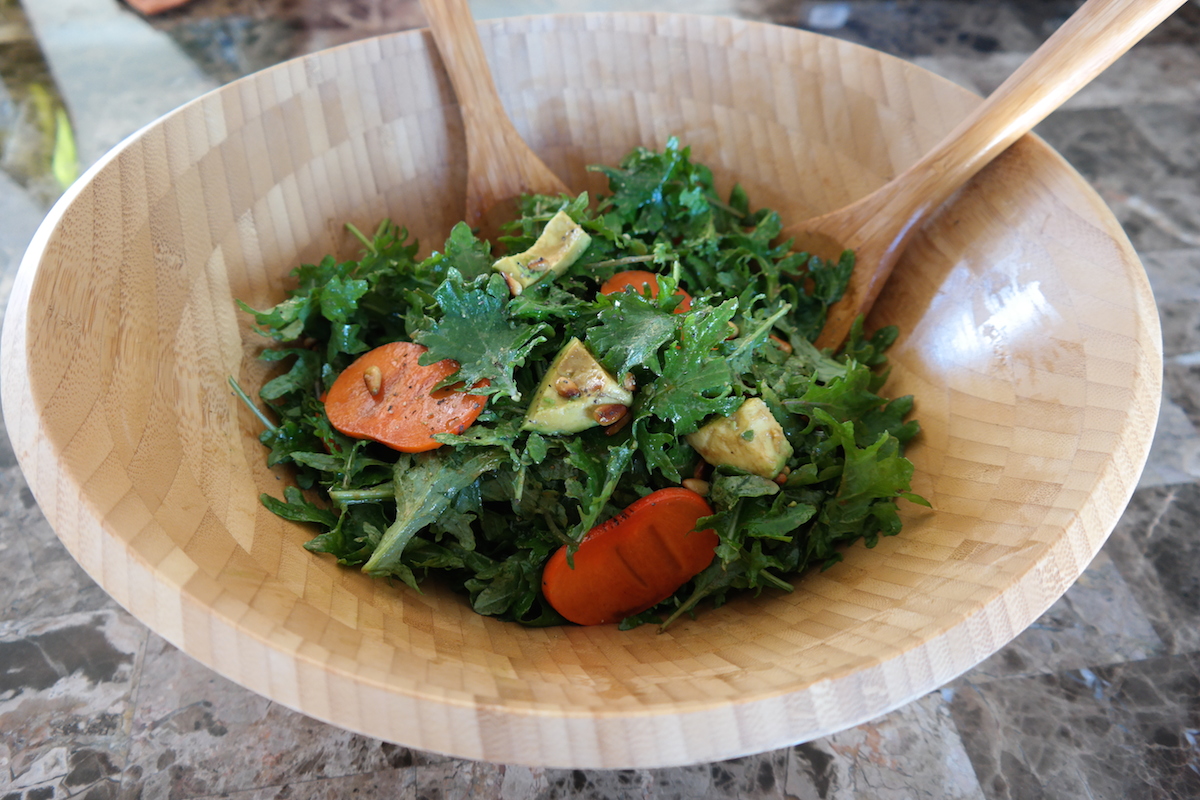 This kale persimmon salad is one of my favorite dishes to pair with a Thanksgiving meal. It's refreshing, healthy and easy to make in advance. When it's time to eat, just pour on the dressing and give it a good toss. If you like the sound of sweet and crunchy persimmon combined with the creamy avocado then give this salad a try and let me know what you think.
Ingredients:
8 cups Organic baby kale or shredded kale
1 firm fuyu persimmon, sliced
1 ripe avocado, diced
1/4 cup toasted pine nuts or toasted walnuts
Balsamic vinaigrette (recipe below)
Direction:
Add kale, persimmon, avocado and pine nuts to salad bowl. Dress accordingly based on amount of kale used. You can always place the dressing on the side for those who want more.
3. Mason Jar Balsamic Vinaigrette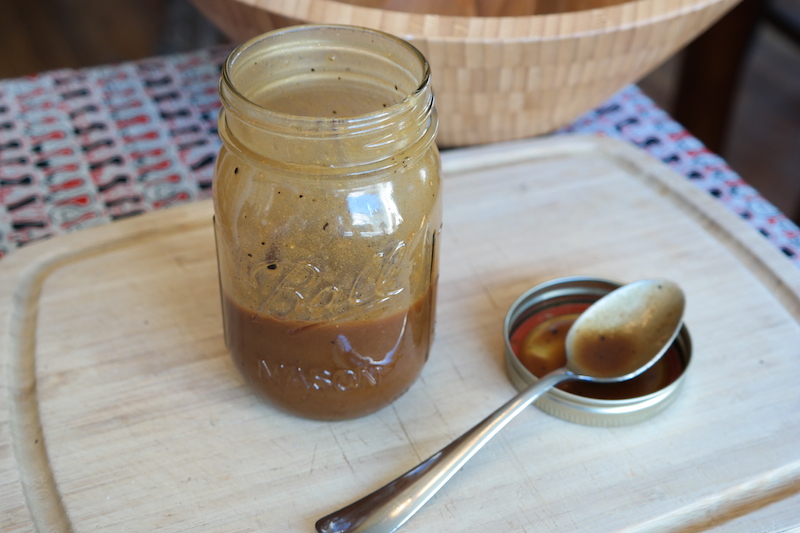 This vinaigrette in a mason jar will save you time, add a little fun to the process and leave you with the perfect storage vessel. Don't have a mason jar? No problem! Grab any food safe container with a lid to get the party started.
Yields 1 cup of balsamic vinaigrette
Ingredients:
1 mason jar (size: 16 oz)
1/4 cup balsamic vinegar
1 tablespoon freshly squeezed lemon juice
3/4 cup extra virgin olive oil
1 tablespoon dijon mustard
1 teaspoon salt
1/4 teaspoon freshly grounded pepper
1/2 teaspoon granulated garlic
Directions:
Add all the ingredients into the mason jar and seal the lid tightly. Shake vigorously until ingredients have emulsified, about 10 seconds. Shake it to your favorite song, shake it over your head, shake it with both hands. It's all about developing your own style.
Check out my favorite kitchen gadgets post to find out why mason jars are on the list.
4. Roasted Balsamic Brussels Sprouts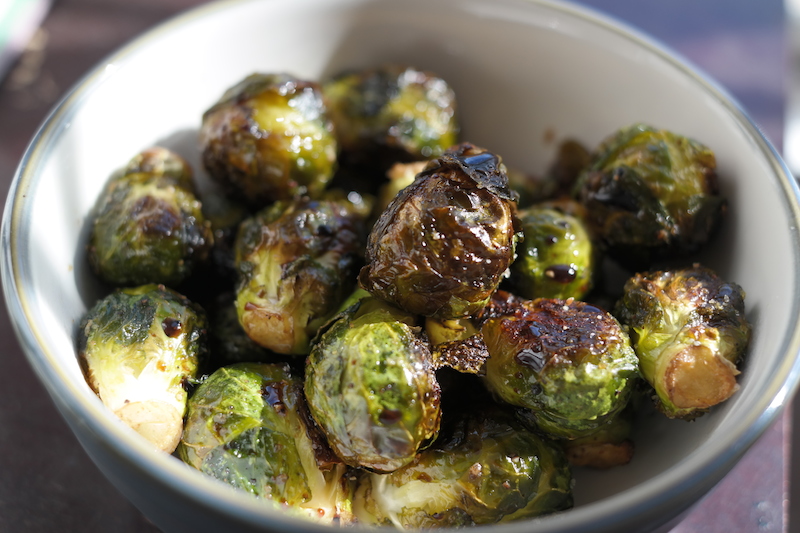 Deliciously crispy on the outside and soft on the inside, these sprouts make for a great Thanksgiving side dish.
Ingredients:
2 pounds of brussels sprouts, trimmed (A note about the size of brussels sprouts – look for sprouts about one to two inches in diameter with tightly bound leaves. If you end up with a mix of large and small sprouts, cut the large ones in half or quarters to match the other sprouts to ensure even cooking.)
3 tablespoons extra virgin olive oil or avocado oil
1 teaspoon kosher salt
1/2 teaspoon freshly grounded pepper
2 tablespoons balsamic vinegar (alternative: fresh squeezed lemon juice or apple cider vinegar)
Directions:
Step One: Preheat oven to 450 degrees F. In an oven safe cooking sheet add brussels sprouts, oil, salt and pepper to the pan and mix by shaking the pan until sprouts are well coated. Make sure to use a pan large enough to fit the sprouts in a single layer.
Step Two: Place sprouts on the middle rack and roast for 35 to 40 minutes depending on size. Mix the sprouts after 15 to 20 minutes brown evenly.
Step Three: Remove sprouts from the oven and add to a serving bowl. Drizzle with balsamic vinegar, toss, taste and serve. Joe loves balsamic vinegar, so I always end up adding a little more to his bowl.
5. Rye and Apple Cider Cocktail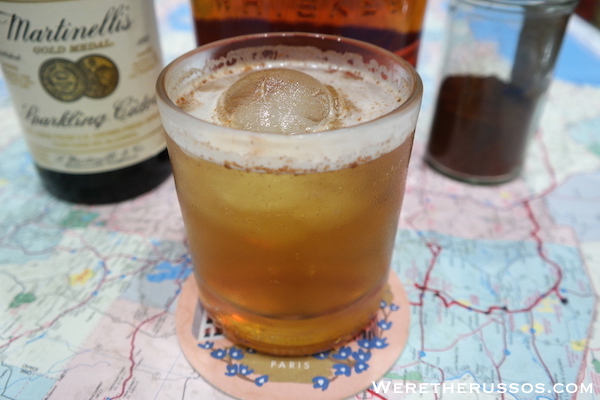 One of our favorite cocktails during the holidays is this simple three ingredient drink made with rye, sparkling apple cider and a sprinkle of cinnamon.
It's simple for you to make, but guests can also make their own. Place the ingredients by the bar with a bucket of ice and let people go to town. I hope you give this festive cocktail a try at your Thanksgiving gathering.
Kait's version
1 part Bulleit Rye
2 parts sparkling cider
1 dash of ground cinnamon
Joe's version
1 part Bulleit Rye
1 part sparkling cider
1 dash of ground cinnamon
(sometime's he skips the last two ingredients entirely)
Add an ice sphere to a whisky tumbler or fill it with ice cubes. Pour in the rye and cider, then add a sprinkle of ground cinnamon on top. Stir a few times with a spoon and enjoy!
Thank You to our families, friends, readers, subscribers and all the amazing people we've met throughout our journey for your support, kindness and encouragement. Happy Thanksgiving!