Some of the links below are affiliate links, which means we will earn a commission on the products or services you purchase using the links. There is no additional cost to you and the earnings help keep this website running. Read the Affiliate Disclaimer for more information.
Living in an RV or any small space can have its challenges. Our first year of full time RV life flew by in the blink of an eye and we learned quite a bit during that time. As we celebrate six years on the road, below are some RV living tips that helped us survive the transition to the RV lifestyle. Whether you're a solo RVer, family of five or a couple traveling with pets, I hope you find these tips helpful.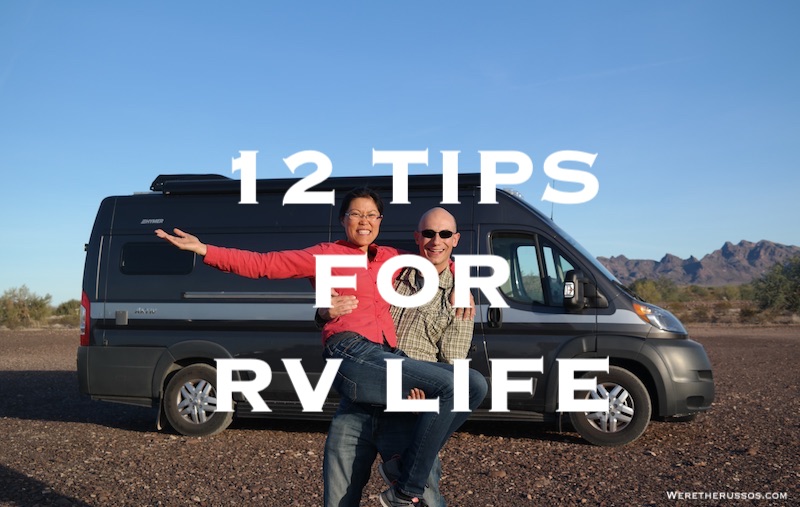 12 RV Living Tips
If you prefer video, watch our RV Living Tips video it here. Otherwise, keep on reading!
1. Communicate
Good communication is as stimulating as black coffee, and just as hard to sleep after."

– Anne Morrow Lindbergh
The key to our survival is good communication. There is limited room in an RV and it will start to feel small fast. If you're frustrated or angry with each other, that space will feel even smaller. Sure you can take a walk, sit outside for a while or jump in the car (if you tow one) and go for a drive, but temporary distance won't solve the issues.
A lack of communication in the first month of transitioning to RV living put stress on our relationship. Once we figured out the communication breakdown and addressed it, life was much more enjoyable. Good communication is something we continue to work on everyday especially living full time in a camper van.
If you'd like to read more about our first year on the road in an RV, check out Joe's second book, Tales From the Open Road.
3. Know Your RV
Each camper we've owned has come with a suitcase of user manuals. There was an instruction booklet on everything from how to clean and service our RV and awning to the fire extinguisher and everything in between. There was even a manual on RV tires.
We read through every manual and downloaded the online versions as a backup. Having a PDF version will make searching for a specific topic faster and easier. There are also build sheets, diagrams for each fuse box and information on proper tire inflation. We've referenced all the information many times throughout our years of RVing.
When a fuse goes out at 1 a.m., you'll want to know which fuse box to check. Our first RV had four fuse/breaker boxes and two of them were outside. When it's pouring rain outside, it's not fun to run around wondering which breaker box to check.
4. Spring Cleaning
It can be a challenge to figure out what to bring for full time RV living. "Is one pair of sandals enough or do I need a second pair for campground showers?" We ended up having way too much stuff. After a month of being on the road we decided to sell the bicycles because we never used them.
A few months in, we performed a spring cleaning by re-evaluating everything in the RV. Many articles of clothing ended up in the donation pile because neither of us had touched them since we moved in. "I've been looking for this!" The spring cleaning also reminded us of things we'd brought that we forgot about.
This is also a great time to reorganize and optimize storage in your RV. After the initial cleaning, most of our bays, cupboards and drawers ended up half empty. That's also about the time we realized we could downsize to a smaller RV.
5. Share the Drive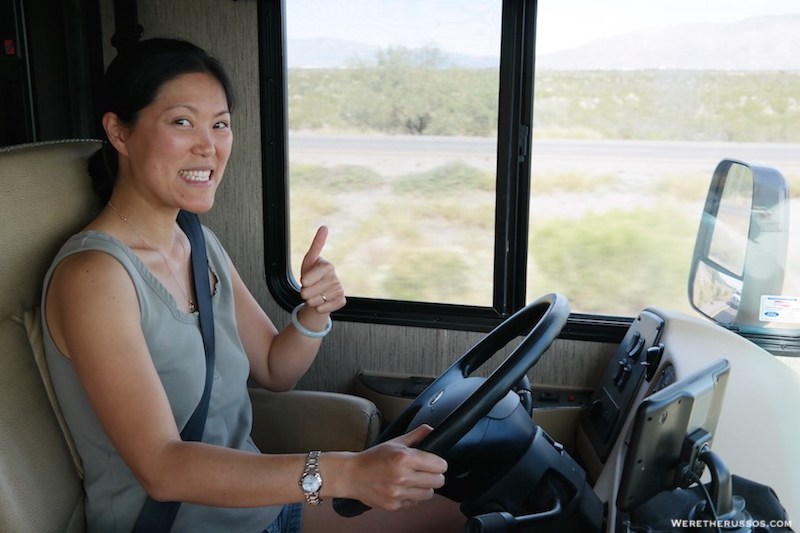 Looking back on the miles we drove in the first year, neither of us can imagine doing it by ourselves. Unless you don't have plans to move very often or for long distances at a time, it's good to share the drive.
Whenever I pull up to a campground or RV park, the neighbors always stop by and say to Joe "I wish my wife drove."
If you're not comfortable driving an RV, there are driving classes available. The more you drive, the more confidence you will have. Before you know it, you'll be thinking to yourself "this is a piece of cake". You might even start looking forward to taking your turn behind the wheel.
6. Develop a Checklist
After too many items flying off the counter and drawers coming unlatched around a corner, we knew it was time to have a checklist. Just like pilots have a pre-flight checklist, it's important to have a pre-departure checklist for your RV.
Every checklist will be different depending on the type of RV and the gear. The important thing is to make a comprehensive list and check it EVERY time you leave. We got complacent a few times and inevitably we would forget something.
7. Everything Has A Place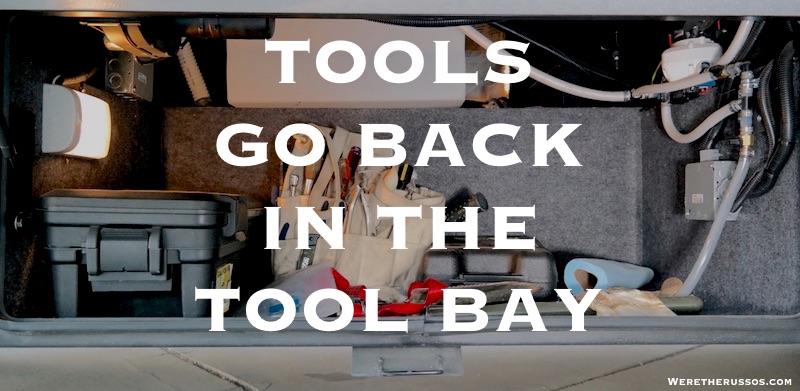 Just like the cupboards in your house, everything has a place in an RV. The difference is, when the RV is going down a bumpy road and that bottle of vinegar gets loose because it was put back in the wrong place, you might end up with a mess on your hands.
It also makes packing up a much faster process because you know where all the pieces of the puzzle go…and where they are when you unpack.
8. One In, One Out
This rule applies to anyone looking to prevent a build up of "stuff" in the RV. The "one in, one out" mentality changed the way we shopped. A trip to Costco meant we bought what we needed at the time, not what we think we might need in six months. Just because there's storage space doesn't mean it needs to be filled.
We do try to store at least one months worth of food in our camper at all times. For drinking water, we can use our Berkey water filter for clean without having to buy and store bottle water.
A minimalist approach to RV living worked the best for us. Once we got the hang of it, life became much more enjoyable. We no longer had an "explosion" of stuff when we camped somewhere for a week or longer. It ended up becoming a "one in, two out" policy naturally and the bonus for us was saving money.
9. Expect the Unexpected
Be ready for the unexpected. Whether it's severe weather, a flat tire or an RV windshield repair.
Have an RV repair fund to pay for that unexpected problem.
Carry a spare in case there's a flat tire.
Develop an emergency plan for unexpected situations.
If you have to evacuate the RV, do you have your essentials in one place with easy access?
What's your plan if there's a flash flood and the river you're camped next to is flooding?
What happens if there's a medical emergency and no cell phone signal?
Where are you going to go if the campground or area you're camped in is being evacuated or locked down?
This video shows a glimpse of the severe thunderstorm tornado warning we experienced our first year on the road.
10. Be Flexible

Be flexible enough to have the option to stay a few extra nights or leave early. It's good to have an idea of where to go, what to do and how long to stay but don't have a rigid plan.
Every town we drive into is a new experience. Sometimes we love the town and sometimes it's just not our cup of tea. Having a flexible schedule means we can stay longer in places we enjoy and take off early if we're not feeling it.
11. Fun Fund
Have a "fun fund" for those spur of the moment adventures. If you decide that today is the day you want to go for that hot air ballon ride, do it! Having money set aside for these experiences will make that transition to RV living more enjoyable and fun.
We try to seek out free and inexpensive things to do in our travels, but there are some experiences that are worth the splurge.
Our big splurge was RV camping at Fort Wilderness and going to Walt Disney World.