Some of the links below are affiliate links, which means we will earn a commission on the products or services you purchase using the links. There is no additional cost to you and the earnings help keep this website running. Read the Affiliate Disclaimer for more information.
Where is Belvidere, Illinois you ask? It's just east of Rockford, Illinois along I-90. We ended up at Pine Country RV Resort because Joe wanted to visit the Illinois Railway Museum. Wish I could tell you about the museum. We didn't make it there due to poor planning on our part.
Video review of this campground at the bottom of the post.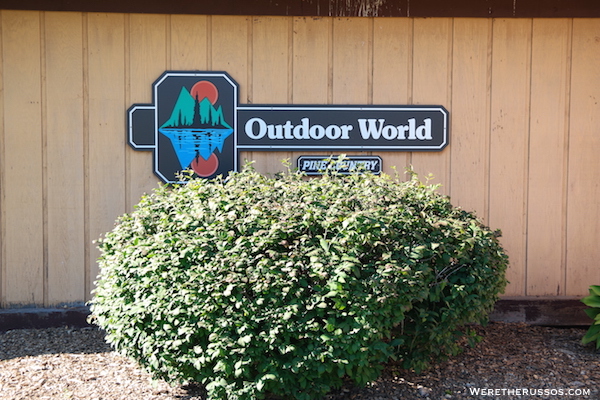 Pine Country RV Resort Belvidere
Most of the sites at Pine Country RV Resort are annual sites. The remaining sites are either full hookup, water and electric, primitive tent sites or park models. The retail prices range from $24 for a tent site up to $163 for a park model on a holiday weekend. Pine Country RV Resort is part of Thousand Trails. This means members will have different rates.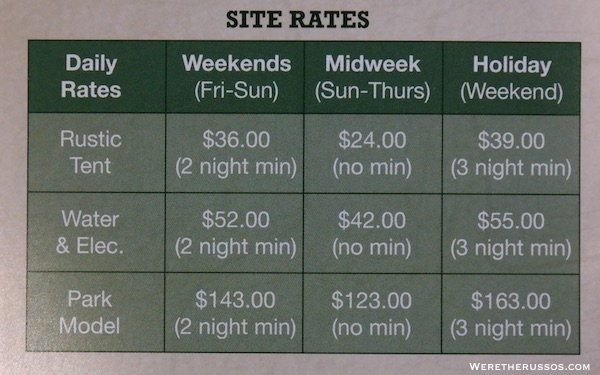 The layout of the campground is great for walking. There is a large grass field that's perfect for running with our Siberian Husky Leo.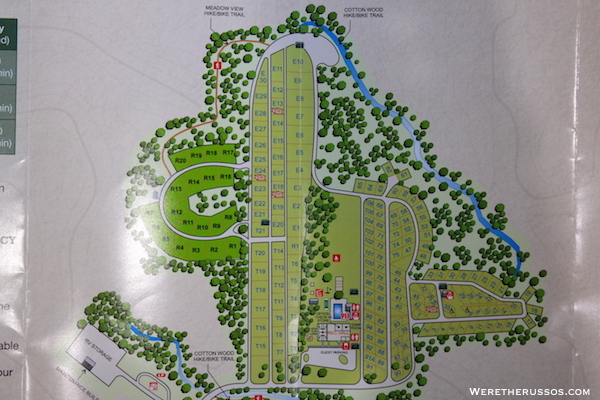 The main office is located in the activity center right after the bridge. Lori is the park manager and she is extremely helpful. At check-in, she pointed out the storm shelter closest to our site. That information came in handy when a tornado watch was issued during our stay.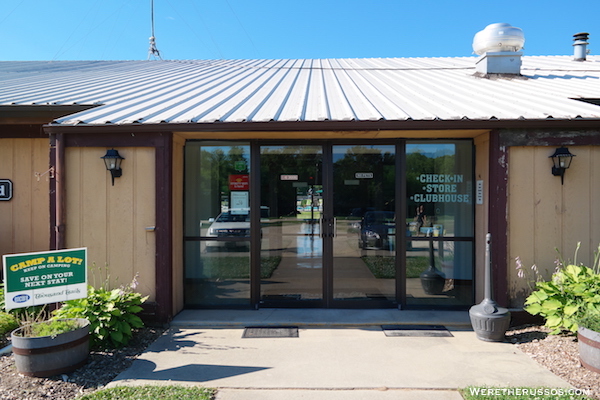 The full hookup site was level with tall trees. The trees provided well needed shade on a few humid 90 degree days.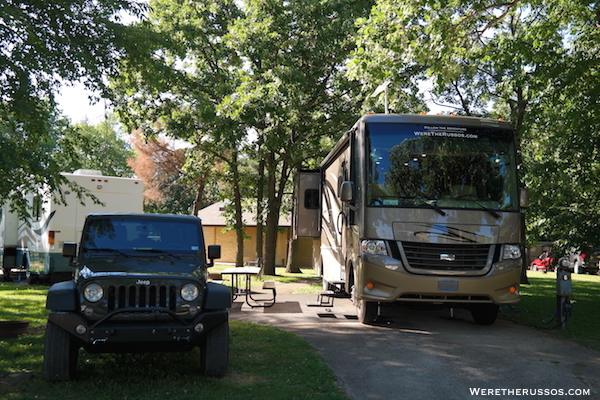 Each site has a picnic table and a fire ring. We didn't get a chance to have a campfire, but we did enjoy a delicious brunch outside on the picnic table.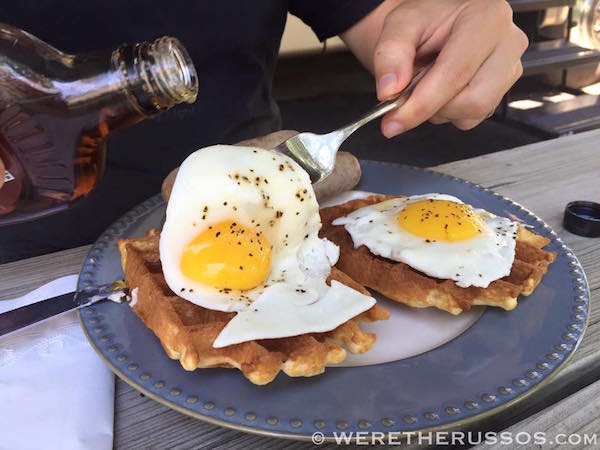 The bathhouse next to our site was clean. The shower had good water pressure. The individual shower stalls didn't have any hooks for towels, which was strange. Lori mentioned the bathhouse was recently renovated, maybe they haven't gotten around to installing them.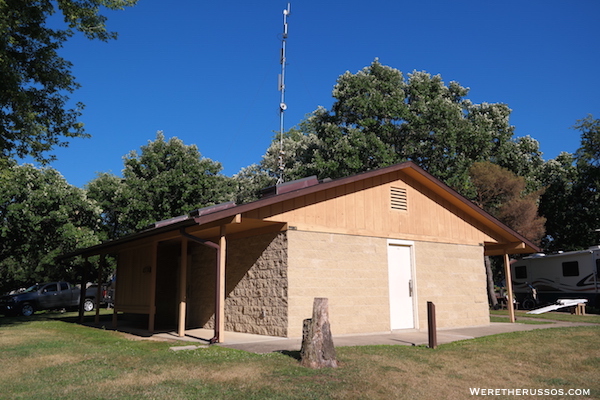 The pool at this park is one of the nicest we've seen so far.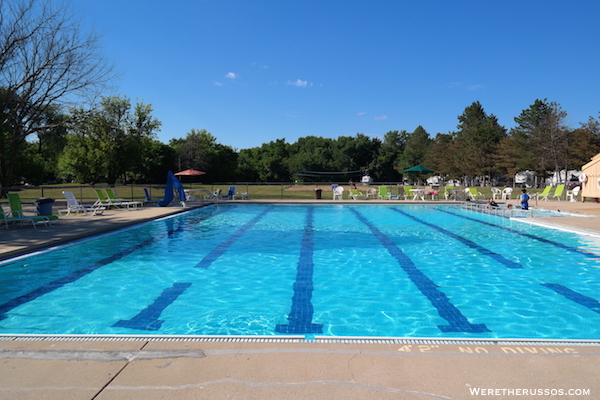 The campground was very quiet during the week. We only saw one or two people on our walks. When Friday rolled around, the place was packed. Every site had a car parked out front and people were gathered outside having a good time. Since most sites are annuals, people leave their RV at the park year round and come up on the weekends or when they have time off.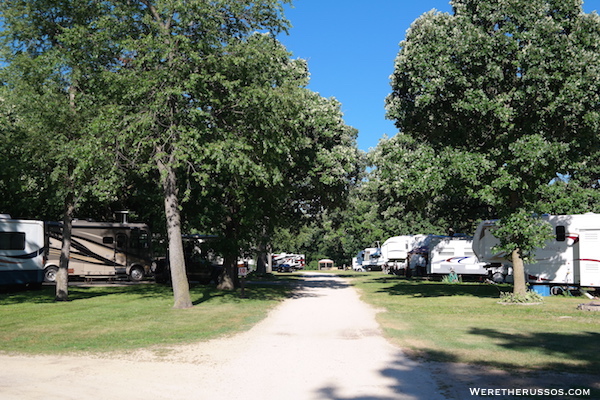 There are several park models available for rent. We've never thought about renting one, but it's an option if we have family visiting us on the road. Instead of getting a hotel they can rent a park model. Wish we had taken a peak inside to see what it's like.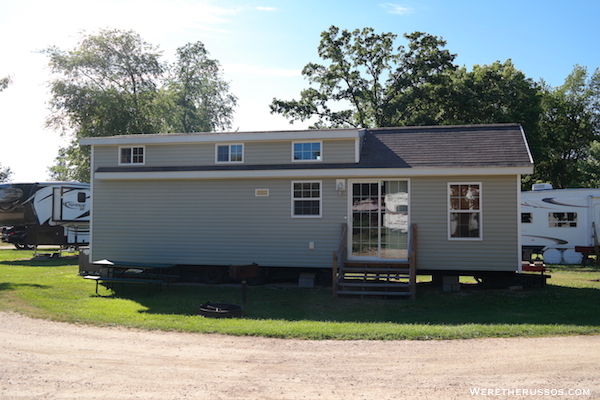 Overall, we're very glad we got to spend a week at Pine Country RV Resort. It was a great stop before making our way to Milwaukee, WI. Also a good place to relax for a while with great Xfinity wifi.
Notes:
$42-$55/night for water & electric sites
30/50 amp
Pull-thru and back-in sites
Restrooms, showers and laundry
Dog friendly
Good AT&T cell service
Free Xfinity wifi in activity center
Video of Pine Country RV Resort