Some of the links below are affiliate links, which means we will earn a commission on the products or services you purchase using the links. There is no additional cost to you and the earnings help keep this website running. Read the Affiliate Disclaimer for more information.
On February 1, 2022, we will be celebrating Chinese New Year (Spring Festival) and ringing in the Year of the Tiger. Although our whole family we won't be sitting around the same table sharing a meal together, we'll be with each other in spirit. Plus, we will be enjoying the same Chinese New Year dishes that we all grew up eating together.
Before Joe and I started traveling in an RV, we usually spent Spring Festival with family in Southern California. Now, we never quite know where we will be on this important holiday. Last year we celebrated by eating out at a Chinese restaurant in Springfield, Missouri as we were in town for an overland event. This year, we will be spending the holiday via video chat with our families and sharing photos of our homemade Chinese New Year dishes.
This year I plan on keeping it simple with pork dumplings and Chinese hot pot. What dishes will you be eating on Lunar New Year?
Chinese New Year Dishes
Every family has their own traditions when it comes to celebrating Spring Festival and there are certain dishes that are eaten not just because they taste delicious, but because they carry a special meaning. Below are some of the Chinese New Year dishes my mom and I made a few years ago. Hope you enjoy reading about them and the significance behind why we eat these Chinese New Year dishes.
Fish
Fish represents having surplus for the following year making it an essential dish to eat on Chinese New Year. From whole fish with a soy glaze to fish balls in hot pot, there are many ways to enjoy fish on this special day. My mom made this pan fried fish in spicy black bean sauce the last time we celebrated together and it was quite the crowd pleaser.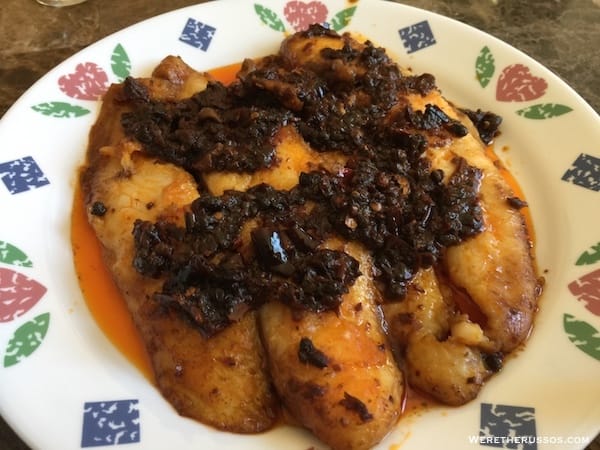 Meatballs
Meatballs represent being together with loves ones. There's a reason traveling home for Chinese New Year has been called one of the largest annual human migrations in the world. Being with family is the most important aspect of Spring Festival and sharing a plate of meatballs together is very significant. Our family loves to make these pearl meatballs steamed in mushroom caps because they are super simple and delicious. In fact, we usually plan to make them on New Year's Eve and on New Year's Day because they are so good.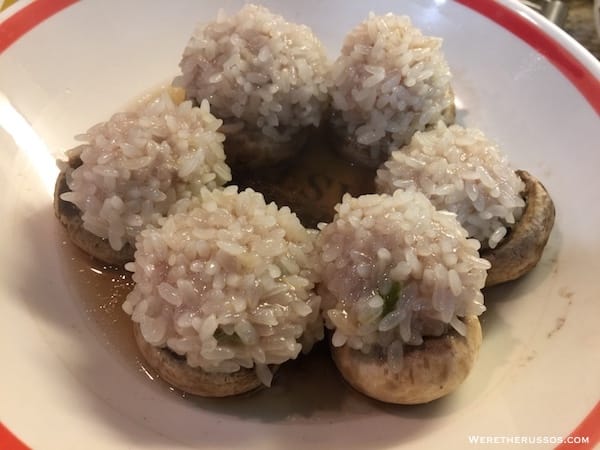 Dumplings
Dumplings represent wealth and prosperity making them another must have Chinese New Year dish. When we're celebrating with my mom, she'll make wrappers from scratch so we can have steamed dumplings. One of my favorite parts of making dumplings is we can have all types of fillings and it's a fun activity that the whole family can participate in. Plus, we can play guess who wrapped this dumpling when it's time to eat them. Can you tell the difference in folding style among the dumplings in the photo below?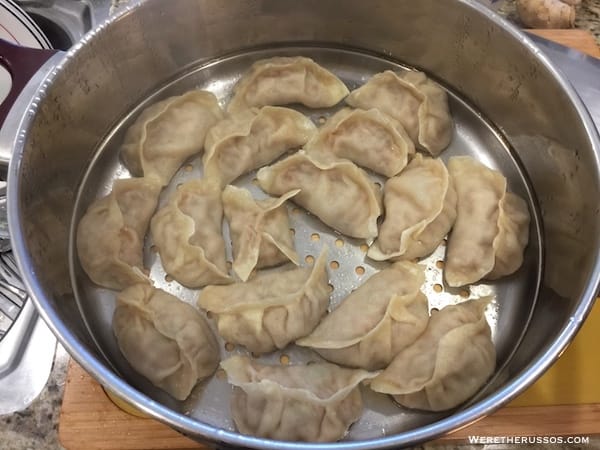 Pork
This sweet and savory braised pork belly is part of our family tradition and an indulgence on Chinese New Year. Pork belly is sometimes referred to as five layers of happiness and who wouldn't want to start the year off right with a generous helping of happiness? Pigs are also associated with wealth and prosperity making it a key ingredient in many Chinese New Year dishes.
Shrimp
Shrimp represent happiness and joy in Chinese culture. This plate of golden deliciousness is my family's recipe for fried shrimp. I used to watch my grandparents make these in their outdoor wok and they would let me taste one before the plate made it to the dinner table. My mom and I have carried on this family recipe and continue to make it for the holiday.
There are quite a few more dishes we eat on Chinese New Year, but I decided to share these because they each have a special meaning. I hope you enjoyed reading about some of these Chinese New Year dishes. If you celebrate Lunar New Year, I'd love to hear about your own traditions and what dishes you eat.
I wish you and your family happiness and good health in the new year.
新年快乐!