Some of the links below are affiliate links, which means we will earn a commission on the products or services you purchase using the links. There is no additional cost to you and the earnings help keep this website running. Read the Affiliate Disclaimer for more information.
Growing up, Chinese hot pot was always one of my favorite meals. It meant getting together with family for Sunday dinner, celebrating special occasions (Chinese New Year) or just having a warm and comforting meal on a cold winter night. Every family has their own recipe for hot pot from the soup base to the sauce to the types of ingredients that go into it. This is my family's Chinese hot pot recipe. I hope you'll give it a try and let me know what you think.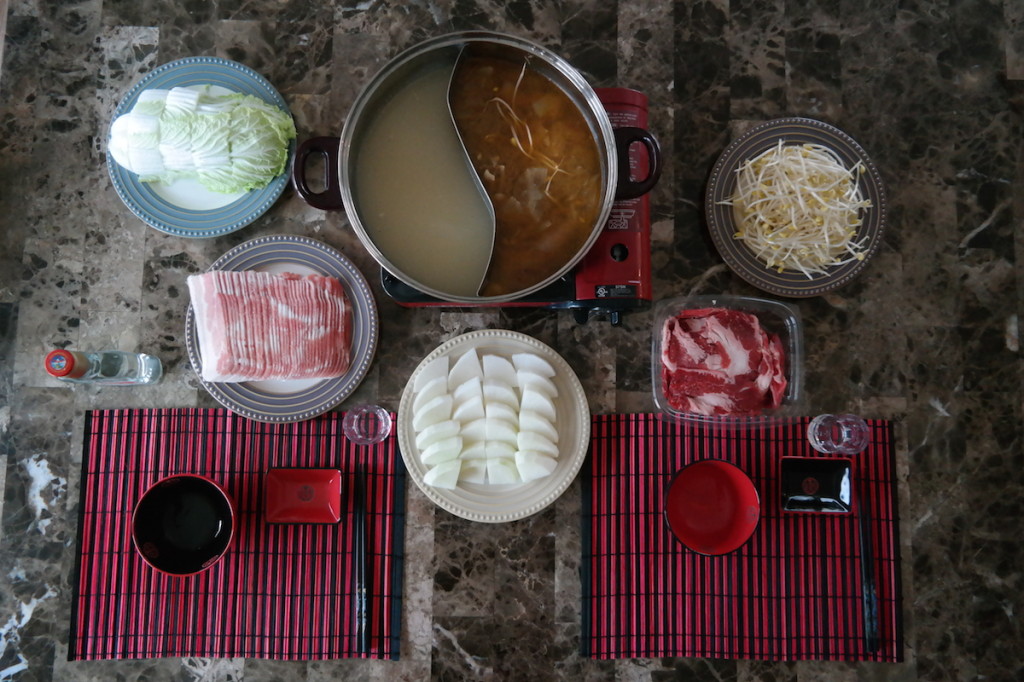 Have vegans or vegetarians at the table? No problem. Use vegetable stock in one of the pots and only add vegan/vegetarian ingredients to that soup base. Each person can add what they want to eat, to the pot they want to eat from. That's one of the greatest things about hot pot. You can have 12 people over and be able to accommodate everyone's preferences.
One of the most important ingredients is the sliced meat. We are lucky to live in a city that has multiple Asian markets (99 Ranch, Greenland Market) to choose from and hot pot style sliced meat is readily available by the package. Thinly sliced meat is key to having tender meat that doesn't take very long to cook. If you can't find the thinly sliced meat at your local market, you can purchase stew meat, pre-cook it until it's tender and put aside until you're ready to start the hot pot.
Use what's in season. If you're craving hot pot in the summer, use squash, tomatoes and peppers.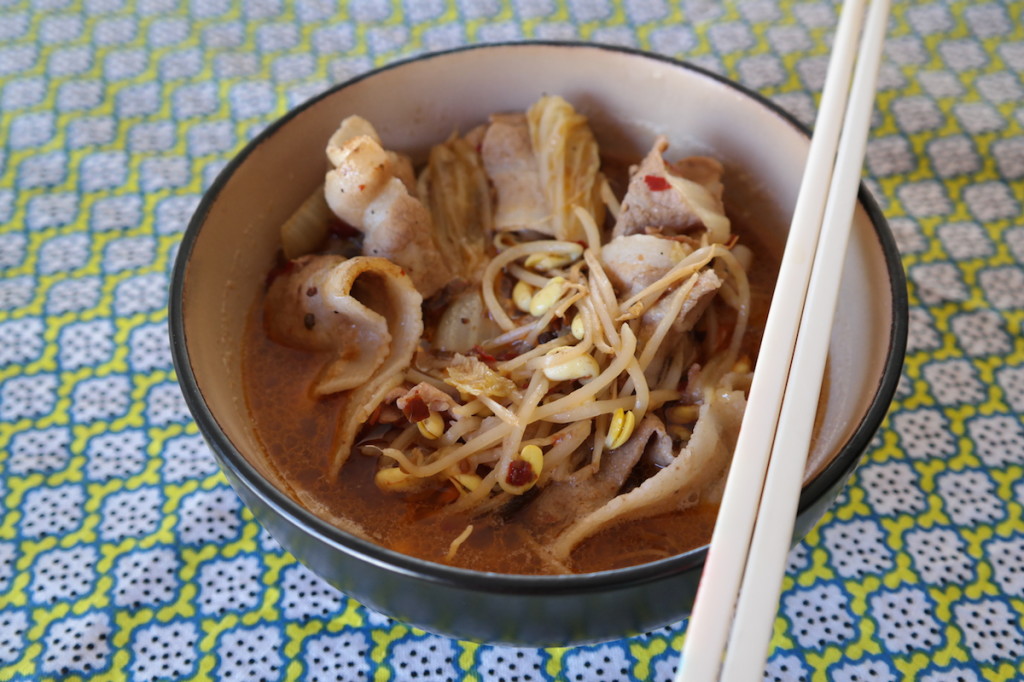 Chinese Hot Pot Recipe
Servings 2 to 6 per pot
Equipment:
We use a stainless steel twin hot pot with a portable gas stove.
Ingredients:
4 quarts homemade chicken stock (recipe coming soon)
2 pieces of fresh ginger slice 1/4 inch thick
1 package thinly sliced pork belly
1 package thinly sliced lamb
1 package thinly sliced beef
8 oz shrimp peeled
8 oz white beech mushrooms
1 large onion sliced
1 head of napa cabbage sliced
1 daikon radish sliced
12-16 oz bean sprouts
Sauce
1/2 cup creamy peanut butter
1/2 cup tahini
1/2 cup water or stock
1/4 cup gluten free soy sauce
2 tablespoon chili paste (we use Sambal Oelek)
1 garlic minced
1 teaspoon salt
1/2 teaspoon white pepper
1/2 teaspoon freshly grated ginger
2 tablespoon chopped cilantro (optional)
Directions:
Step one: Pour two quarts of stock into each side of the twin hot pot. Add one slice of ginger to each side and heat the stock until boiling.
Step two: While the stock is coming to a boil, prepare the sauce by combining all the ingredients in a mixing bowl and stir until well incorporated. Taste and adjust seasoning if necessary. Sometimes we prefer a little more hot sauce or garlic.
Step three: Once the stock comes to a boil, bring it down to a simmer and start to add ingredients to the pot. If you overload the pot, turn up the burner to help cook everything.
Step four: Add a tablespoon of sauce at a time to a bowl and dip cooked hot pot ingredients as you go. Continue to add more ingredients of your choice and keep going until you've had enough.
Don't worry if you end up with leftover ingredients in the pot. Make sure everything left over is cooked through and refrigerate the leftovers. You can reheat and add additional ingredients for delicious hot pot soup the next day.
If at any time you start to run low on stock, add stock or water as needed.