Some of the links below are affiliate links, which means we will earn a commission on the products or services you purchase using the links. There is no additional cost to you and the earnings help keep this website running. Read the Affiliate Disclaimer for more information.
One of the hardest things when visiting a city is finding your way around. At home we can simply use Google maps on our phone to locate our position, map out a course and even get public transportation options. On our last trip to Paris, we found two free apps that allowed us to do all of that (and more) without using any data!
Google Maps
The Google Maps app has a feature that allows users to cache a selected area of the map to use offline. The app limits the size of the map that can be cached, however I found that when I selected the city of Paris, I was able to fit the entire city within the limits of what the app would allow. The cached map will have things like restaurants, stores, museums and most importantly Metro stations listed on the map. The best feature in the app is that it will track you using GPS so you can see where you are. Its incredibly accurate and VERY useful if you don't know the city. This freaked us out a bit because we were concerned about data usage and having to pay international roaming. We had the phone in airplane mode and confirmed that the Maps app was not in fact using any data (just make sure you don't turn airplane mode off).
The one thing you can't do with the map is search if you're not on data/wifi. We did find a way around this however. While using our hotel's wifi (or any other spot we could find it), we would search on Google Maps for all of the places we planned to go and add them to our "favorites". This would "star" those spots and would allow you to search for them and easily locate them on the map.
Tip: Most cafes have public wifi, so if you do need to search for something, skip the tables along the side walk for something inside. We found many times the wifi signal was pretty weak if you could get it at all when sitting outside.
To cache maps on iOS, open Google Maps, search for and select the map area that you want to cache then type "Ok Maps" into the search bar. Select "SAVE" to save the map and it will be available on your phone for 90 days.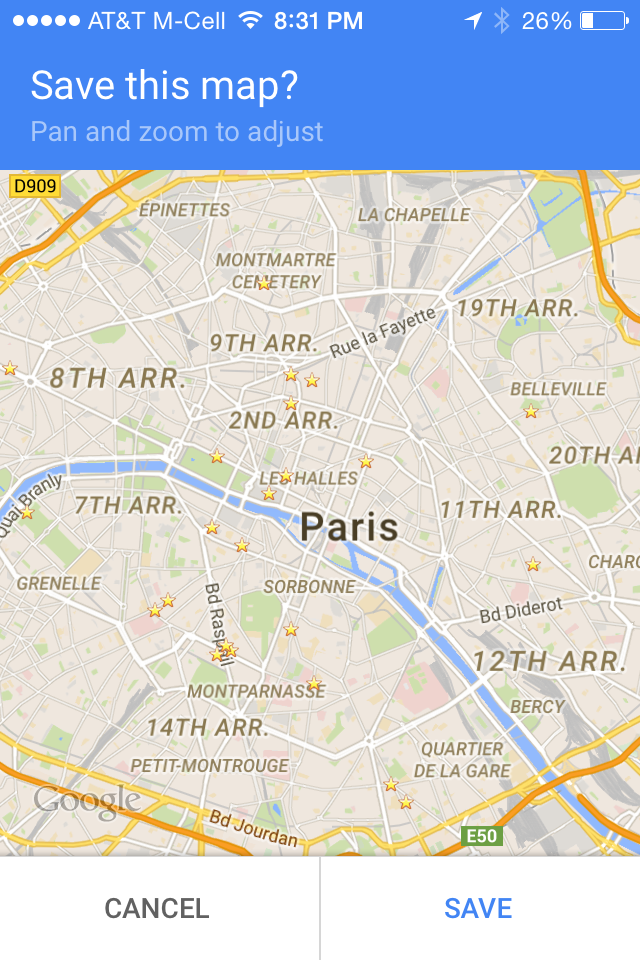 For Android, open the Google Maps app, search for and select the map area that you want to cache then open the info sheet at the bottom, selecting the menu at the top right. Select "Save offline map" and then select "Save".
Paris Metro RATP Map and Route Planner
We found getting around Paris on the Metro to be a breeze with this app. Just like the Google Maps app, it works offline so there is no need for data/wifi. It provides a full map of Paris' Metro system, a GPS tracker to show the closest station(s) and a route planner. We used the route planner the most, simply typing in the start and ending stations of our trip and the app told us exactly how many stops, where we needed to switch trains, if at all, and how long it would take to get there. The app will even provide routes to Versailles and Charles De Gaulle airport. This app was a great compliment to the Google Maps app since we would have saved our destinations and we could use this app to find out how to get there.