Some of the links below are affiliate links, which means we will earn a commission on the products or services you purchase using the links. There is no additional cost to you and the earnings help keep this website running. Read the Affiliate Disclaimer for more information.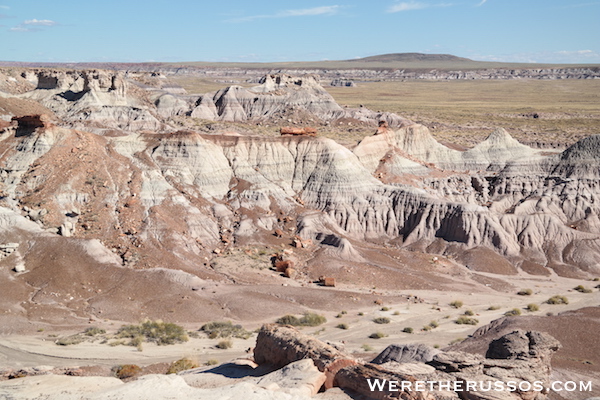 By far, one of the most unique and memorable National Parks we have visited is Petrified Forest in Northern Arizona. This park lets you take a step back in time hundreds of millions of years ago to a place where dinosaurs roamed among the giant Triassic trees. Petrified Forest National Park has one of the best collection of fossils from the Late Triassic Period. It's hard to believe that the colorful crystalized quartz are trunks of massive trees that once stood erect in the forest. Some of the trees are estimated to have been as tall as 200 feet.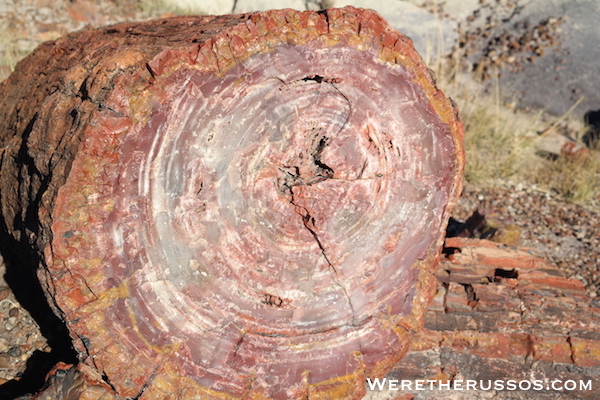 The park is dog friendly and allows leashed pets on marked trails as well as backpacking in the wilderness area. We took Leo for a nice walk on a few trails since it wasn't too hot during our visit.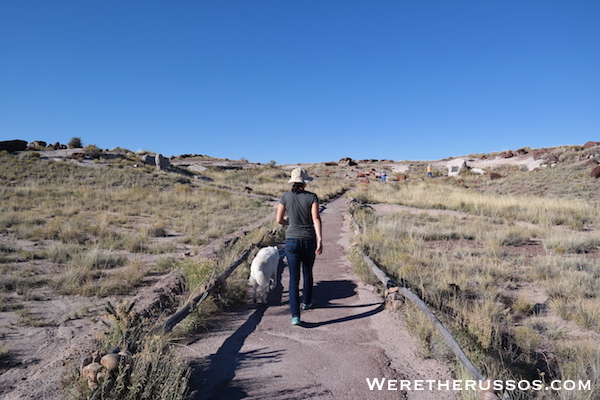 Trails range from 0.3 miles to 2 miles round trip and offer views of the painted desert and up close views of newspaper rock, long logs and giant logs in the park.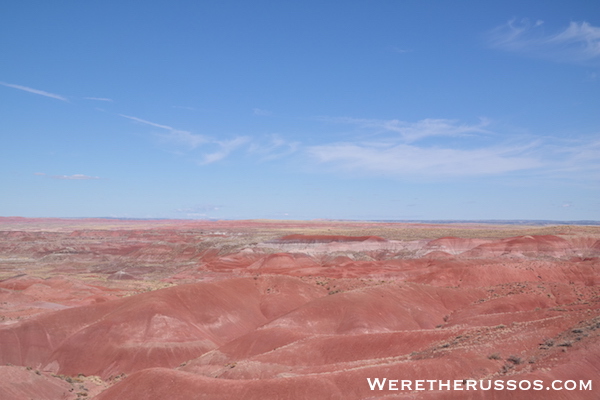 No RV camping in the park, but we did see many RVs driving inside the park from camper vans to 40′ motorhomes. There is free dry camping for RVers at Crystal Forest Gift Shop Campground outside the southern entrance to the park. We didn't find out about the free camping until after we arrived, otherwise we would have brought the motorhome. Instead, we drove the Jeep 200 miles round trip from our free campground in Flagstaff to visit for the day.
"Please take nothing but pictures and leave nothing but footprints."
Unfortunately, some visitors are stealing petrified wood from the park and they have to post signs and pass out flyers to prevent it. We even saw a check point at the park exit for rangers to conduct vehicle searches. It does take away from the experience when visitors are instructed on how to report people stealing petrified wood. So I end this post with a quote from the 36th President of the United States.
"If future generations are to remember us with gratitude rather than contempt, we must leave them something more than the miracles of technology. We must leave them a glimpse of the world as it was in the beginning, not just after we got through with it." – Lyndon B. Johnson