Some of the links below are affiliate links, which means we will earn a commission on the products or services you purchase using the links. There is no additional cost to you and the earnings help keep this website running. Read the Affiliate Disclaimer for more information.
Sedona Arizona is one of the most popular destinations in the United States. People from all around the world travel there to enjoy the natural beauty of the red rock landscape and to experience the healing powers of the vortex. There is something special about the city that draws us in and each time we discover new experiences. After three visits, we put together a list of our favorite things to do in Sedona Arizona.
Things to Do in Sedona Arizona
Go for a Hike
There are quite a few hiking trails in Sedona and many are dog friendly. Popular hikes include Cathedral Rock, Bell Rock and Devil's Bridge. Read and follow the posted signs at the trailhead, some require a fee. You don't want to return from a beautiful hike to a parking ticket on the windshield. On a previous visit, we took our dog, Leo on Coffeepot Rock trail.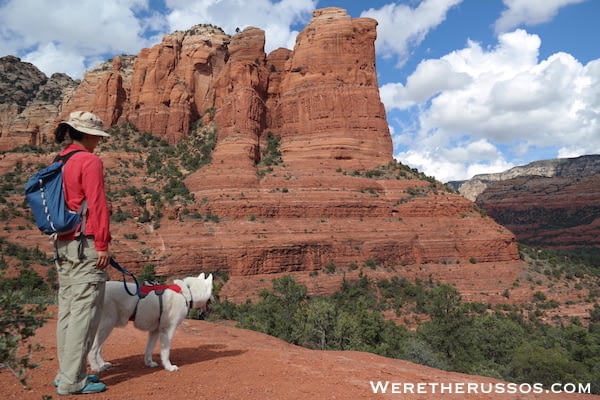 Fuel Up on Good Food
There are many restaurants in Sedona, it can be overwhelming to choose. If you're in the mood for a fancier Italian meal, check out Dahl & Di Luca located in West Sedona. This restaurant is a local favorite serving up delicious Italian dishes with gluten free options. For a quick bite to each, check out Wildflower Bread Company. They offer fresh, seasonal fare including salads, sandwiches, and soups.
For a view and a great meal, you can't go wrong with The Hudson. This gem offers a wide selection of dishes made from fresh quality ingredients. The beet salad with salmon is one of our favorite dishes in Sedona.
Discover Unique Arts and Crafts
A fun place to take a stroll is at Tlaquepaque Arts & Crafts Village. The outdoor area is dog friendly and offers many unique shops. Grab a hot beverage and enjoy people watching from the many benches around the village.
Find Your Favorite Javelina
Take a stroll through Uptown Sedona to find your favorite Javelina artwork on display. Ours happens to be this Hawaiian themed pair, but there are quite a few to choose from. Local artists were asked to create these one of a kind statues and they are scattered throughout the city. We even spotted them at the ranger station outside of town.
Conquer Broken Arrow Trail
Jeep tours are a popular activity in Sedona. Broken Arrow Trail is a short, technical off-road trail that offers amazing views of the area. Several Jeep tour companies offer rides on this trail with the highlight being the Devil's Staircase at the end. It is exhilarating to say the least, especially when Joe's driving.
Enjoy the Night Sky
Sedona is an International Dark Sky Community, making it a great destination for stargazing. A city ordinance keeps the light pollution at a minimum allowing visitors and locals to enjoy the night sky. There are stargazing tours available or you can explore the stars on your own like we did.
The first time we went star gazing, we admired the milky way from the Bell Rock parking lot. On a recent visit, we drove out to Forest Road 525 with Mark, an astronomy enthusiast to learn about the moon through his telescope.
Take a Day Trip to Jerome
Jerome is an old mining town nestled into the hillside 30 miles from Sedona. If you feel like venturing out for a day trip, Jerome will not disappoint. The town has many unique shops and an interesting history. One of our favorites was this stand selling freshly baked goods.

Where to Camp in Sedona, Arizona
We've camped at Sedona Pines Resort. Elks Members can stay at the Sedona Elks Lodge RV park.
To quickly find campgrounds, RV dumps, propane fills, potable water and more RVing/camping resources we use Allstays. Check out our AllStays Review.
Find nearby Harvest Hosts. Members have access to vineyards, farms, museums, breweries and more. Read our Harvest Hosts Review or use our referral link to receive a discount.
Check Boondockers Welcome to see if there's a host member in the area that can accommodate an overnight RV stay. Read our Boondockers Welcome Review or use our affiliate link to sign up.