Sedona Arizona is one of the most popular destinations in the United States. People from all around the world travel there to enjoy the natural beauty of the landscape and experience the healing powers of the vortex. If you're thinking about heading to Sedona, you are in for a treat. The area is separated into Uptown and West. Uptown Sedona is where the majority of tourist shops and restaurants are located. West Sedona is the quieter and less touristy part of town. We've enjoyed our visits and these are our favorite things to do in Sedona.
Things to Do in Sedona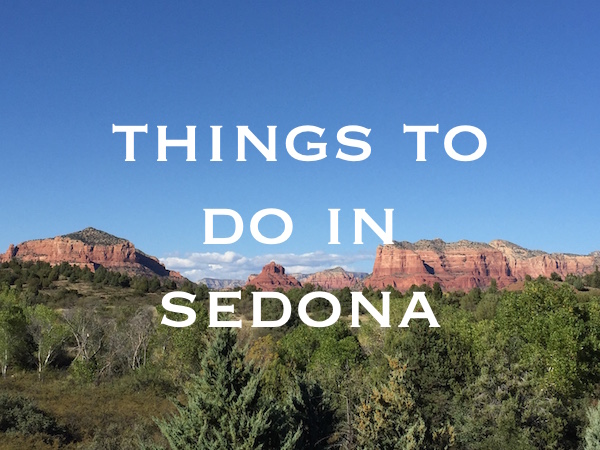 Get Lost in the Milky Way
There are star gazing tours all over town or you can get lost in the milky way for free like we did. Before you head out, look up where the milky way rises and roughly where it will be. We enjoyed free star gazing from the Bell Rock parking lot. This is also the one of the starting points for an easy hike to Courthouse Butte.
Take a Hike with Fido
There are quite a few dog friendly hiking trails in Sedona. One of the most popular is Cathedral Rock. Dogs must be kept on a leash and they are not allowed inside the canyon. On our most recent trip, we took Leo on the Coffeepot Rock trail.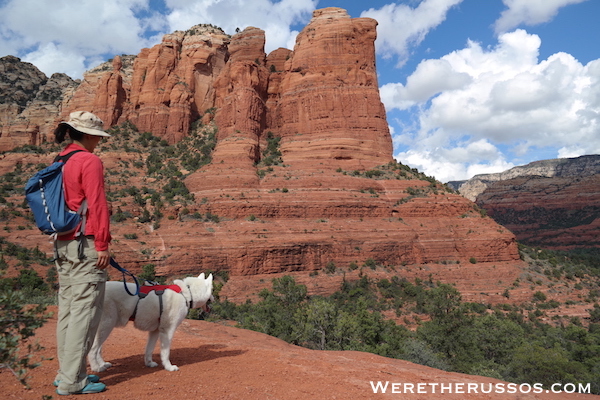 Fuel Up on Good Food
Sedona has plenty of good restaurants to choose from. If you're in the mood for a fancier Italian meal, check out Dahl & Di Luca located in West Sedona. Our favorite dish was the grilled pork chops with affogato for dessert. If you'd rather find a quick bite to eat, stop in at Wildflower Bread Company. They offer fresh, seasonal fare like salads, sandwiches, soups and mouthwatering baked goods.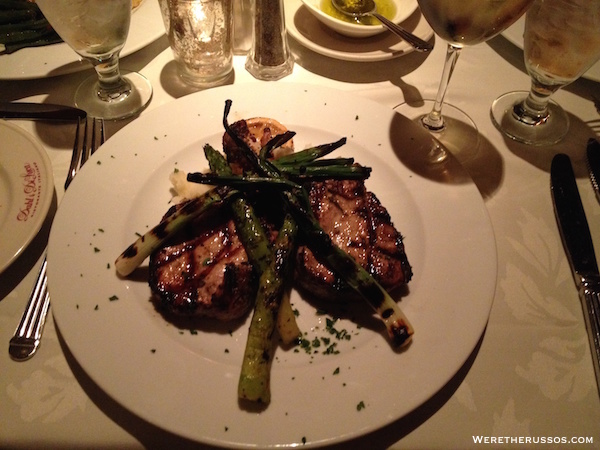 Discover Unique Arts and Crafts
A fun place to take a stroll is at Tlaquepaque. The outdoor area is dog friendly and offers many unique shops. Enjoy a few samples of oils, vinegars, wines and liquor from Vom Vass. Keep an eye out for the weekly farmer's market and live music. We enjoy the relaxing atmosphere at Talqueague and people watching near the fountain.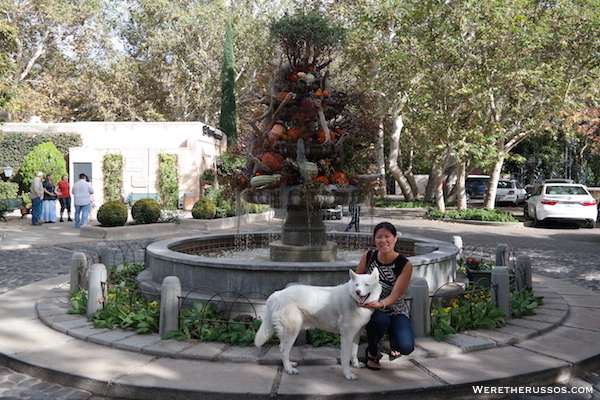 Find Your Favorite Javelina
Take a stroll through Uptown Sedona to find your favorite Javalina artwork on display. Ours happens to be this Hawaiian themed pair, but there are quite a few to choose from. Local artists were asked to create these one of a kind statues and they are scattered throughout the city. We even spotted them at the ranger station outside of town.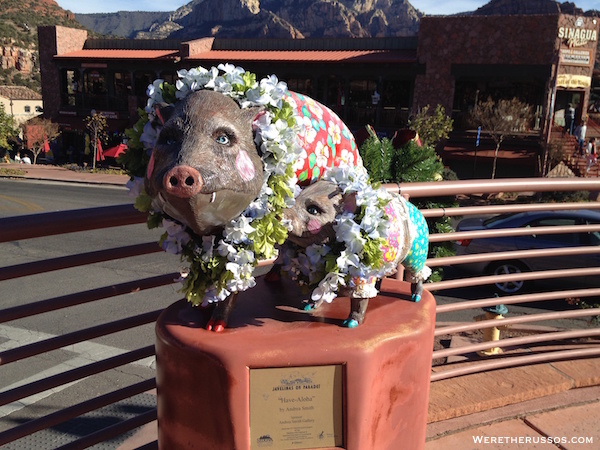 Conquer Broken Arrow Trail
Broken Arrow Trail is a short, technical off-road trail that offers amazing views of the area. Several Jeep tour companies offer rides on this trail. The Devil's Staircase at the end is exhilarating to say the least. We ended up taking our Wrangler which was quite the adventure.
Explore Jerome
Jerome is an old mining town nestled into the hillside 30 miles from Sedona. If you feel like venturing out for a day, we'd highly recommend a day trip to Jerome. The town has many unique shops and an interesting history. One of our favorites was this cookie stand selling freshly baked goods.

Where to Stay: We camped at Sedona Pines Resort.