Some of the links below are affiliate links, which means we will earn a commission on the products or services you purchase using the links. There is no additional cost to you and the earnings help keep this website running. Read the Affiliate Disclaimer for more information.
Throughout our travels, we have found that National Parks offer some of the best campgrounds and Jumbo Rocks Campground at Joshua Tree National Park is no exception. Whether you prefer tent camping or RV camping, Jumbo Rocks Campground Joshua Tree is a great option for camping inside the park. In this post I'll share our personal camping experiences at Jumbo Rocks along with tips and information to help plan your visit to Joshua Tree.
Jumbo Rocks Campground Joshua Tree National Park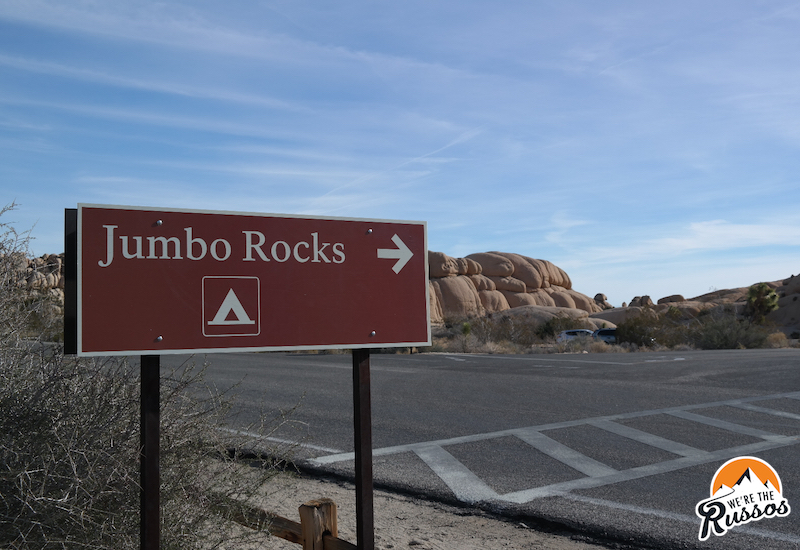 Jumbo Rocks Campground has 124 sites that offer incredible views and access to some of Joshua Tree's famous rock formations. During our visit the sites were first come, first served, but according to the NPS website, reservations are now required September through May.
To book a campsite at Jumbo Rocks Campground, visit the Recreation.gov page.
Campsites at Jumbo Rocks are $20 per night for a standard nonelectric or tent only site. Keep in mind this rate does not include discounts such as the 50 percent discount offered to Senior Pass holders.
There are bathrooms at Jumbo Rocks Campground. These pit toilets are scattered throughout the campground.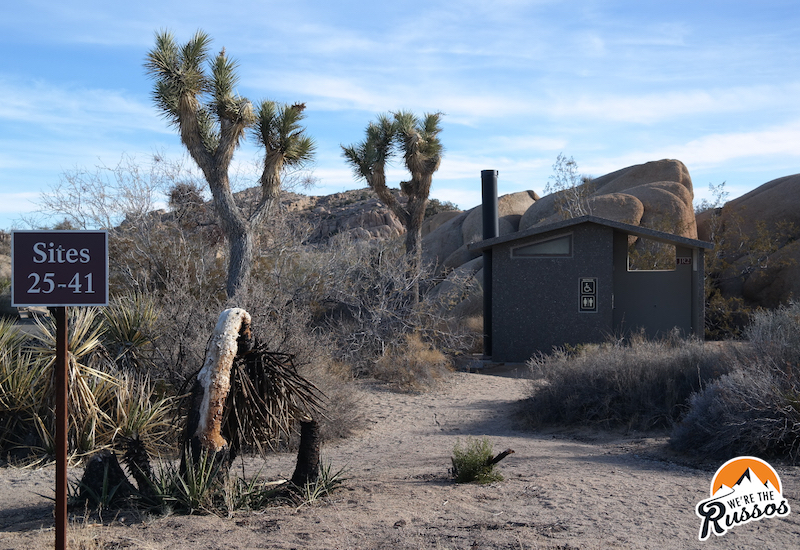 Below is a map of Jumbo Rocks to get an idea of the campground layout and where the bathrooms are located along with parking, trash bins and accessible sites.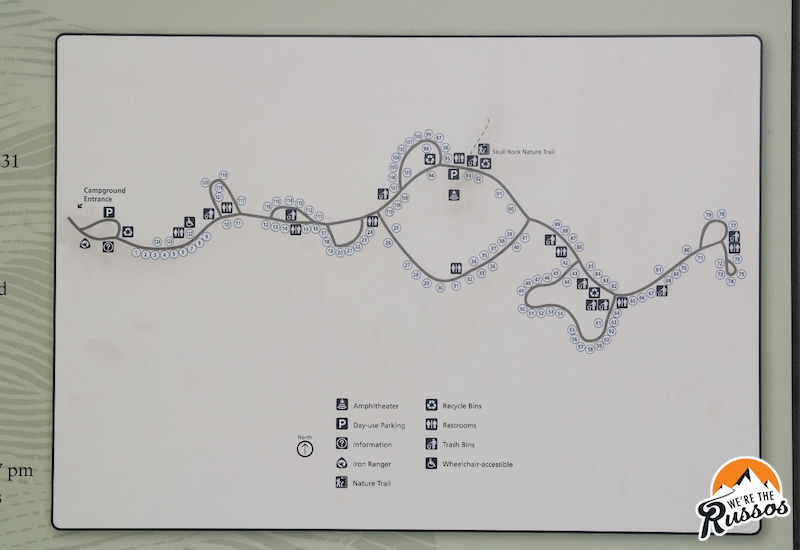 For those who will be RV camping at Jumbo Rocks Campground, keep in mind that it will be dry camping. All the sites are nonelectric and there are no potable water fill or RV dump stations at this campground.
Generators are allowed at Jumbo Rocks Campground during specific hours of the day. Check the campground information kiosk for the latest information.
Although there are very limited amenities at Jumbo Rocks Campground, the beautiful setting more than makes up it.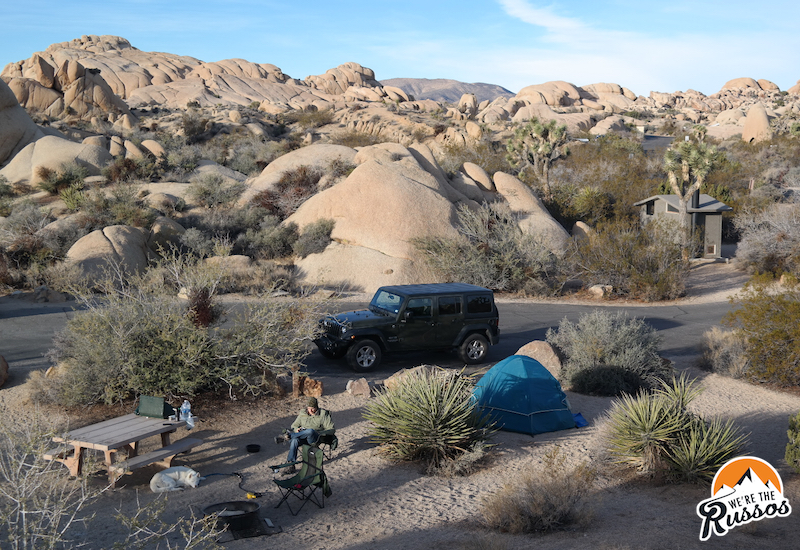 While we did tent camp at Jumbo Rocks Campground, we saw plenty of small travel trailers, motorhomes, and Class B camper vans during our stay. Note: only some of the campsites can accommodate RVs and they can't exceed an overall combined length (including a towed vehicle) of 35 feet.
We stayed in campsite 25, which we thought was one of the best campsites at Jumbo Rocks because of the layout, close proximity to the bathroom and the views.
Jumbo Rocks Campground can get a bit crowded and loud as its one of the most popular campgrounds inside Joshua Tree. If you're looking for more peace and quiet, we'd recommend checking out one of the smaller, more remote Joshua Tree campgrounds like Ryan or Belle.
There is very limited cell coverage at Jumbo Rocks Campground so do not expect to have service while camping here. Check out our post on How to Stay Connected While Traveling for tips and information.
Overall we loved camping at Jumbo Rocks with our dog, Leo, and wouldn't hesitate to go back. Below is a video about our Jumbo Rocks Campground experience from 2016. As you'll notice, the camping fee has increased from $15 to $20 per night and reservations are required.
Joshua Tree RV Rental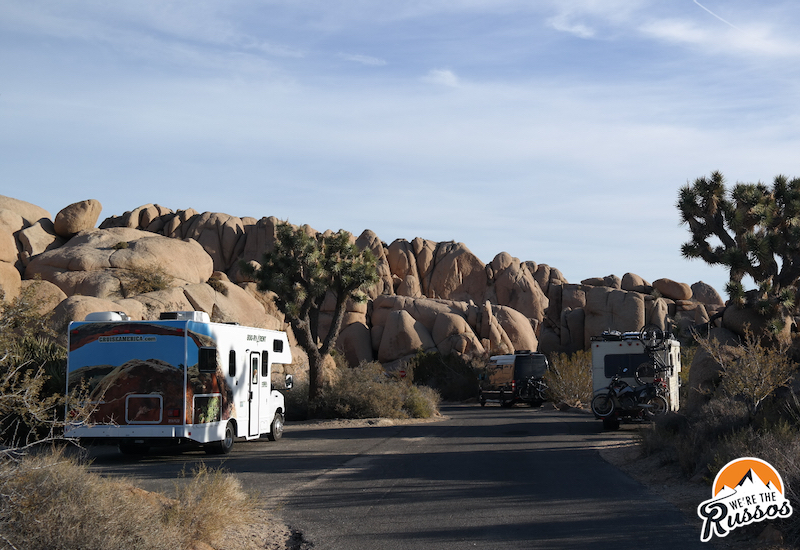 Want to camp in an RV at Joshua Tree National Park, but don't own one? RV rental companies make it easy to find the right RV for your next trip.
I hope you have a great stay at Jumbo Rocks Campground!
Tip: If campgrounds are full, check out apps like AllStays, Harvest Hosts or Boondockers Welcome to find campsites and overnight RV camping near Joshua Tree