Some of the links below are affiliate links, which means we will earn a commission on the products or services you purchase using the links. There is no additional cost to you and the earnings help keep this website running. Read the Affiliate Disclaimer for more information.
Joshua Tree National Park is located in southern California, not far from where Joe and I spent most of our lives together before becoming full-time RVers in 2015. This meeting place of the Mojave and Colorado deserts is just a few hours from Hollywood and could easily be mistaken for a movie set. The sprawling boulder fields, wind and water-carved rock formations, amazing vistas, and surreal-looking Joshua Trees dotting the landscape give the park a magic that's unique to this area. We've spent some time exploring and camping at Joshua Tree National Park and put together some tips to help you get the most out of this must-visit destination.
Joshua Tree National Park Guide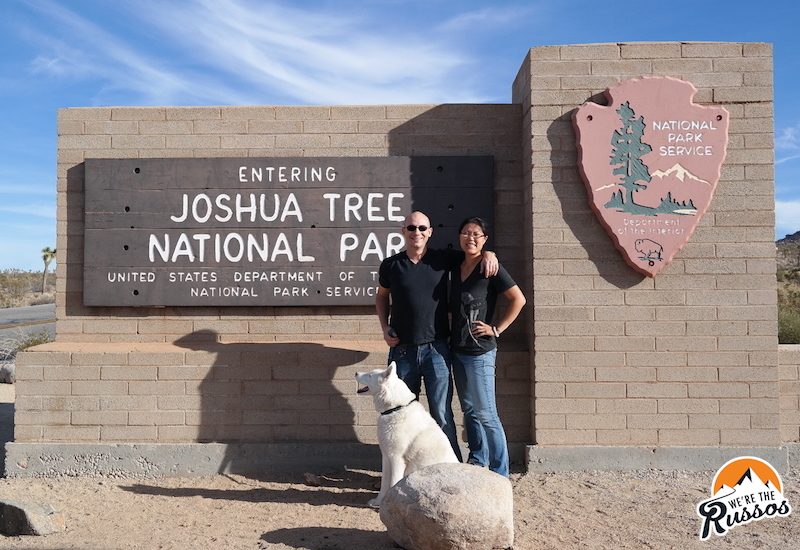 What to Do at Joshua Tree
Despite its huge span of roughly 800,000 acres, we've found Joshua Tree National Park to be a very easy place to navigate and explore. There are many options for things to do depending on how much time you have and what you're interested in. As always, we highly recommend stopping at one of the park's visitor centers on your way in and chatting with the rangers who will be happy to help you plan your itinerary. Below are some highlights to consider.
1. Hiking and Walking Trails
What would a National Park be without great hiking and walking? Joshua Tree has no shortage of trails to get you up close and personal with its one-of-a-kind landscape. Here are just a few we recommend.
A good introductory trail is Barker Dam, a roughly 1-mile loop that will give you a great taste of the park's rock formations, Joshua Tree fields, and a water tank built by early cattle ranchers. If you're lucky, you may even spot some bighorn sheep here. Despite having a large parking area at the trailhead, the lot can easily fill up during peak season so we recommend getting an early start.
Another popular trail to check out is the Cholla Cactus Garden. You can easily walk this loop in 20-30 minutes and view the thousands of cholla cacti that naturally grow in this area of the park. It's also a great place to be for sunset. Just be sure to stay on the trail so you don't leave with an unwanted souvenir of a cactus thorn.
One of our favorite stops when we visited in 2016 was Keys View. This is another short, paved walk that offers incredible views of the San Andreas Fault, Mount San Jacinto, Mount San Gorgonio, and the Salton Sea. It's one of the best views in the park and is a popular destination for sunset. Fun fact: this area is occasionally closed due to swarms of bees that sometimes take over!
Tip: There is limited cell service at Keys View. See our post on Internet for RVers to learn more about how to stay connected while traveling.
For more moderate or challenging hikes, consider checking out the Lost Horse Mine trail. This trail is about 4 miles out and back and lets you explore one of the most successful gold mines in the park. You'll need to stay outside the fenced area to protect the millsite and mine but it's a fascinating glimpse into Joshua Tree's mining history.
Joshua Tree also has a number of challenging hikes like the Boy Scout Trail or Panorama Loop that are only recommended during cooler months as they can be dangerous in the summer heat. We haven't embarked on any of these trails yet, but have no doubt they are fantastic for those who are more experienced hikers.
Safety Tip: In addition to wearing the right clothing and bringing plenty of water, it's always a good idea to let someone know of your hiking plans before you set out (and remember, there's almost no cell service in the park so you'll want to do this before entering). Joshua Tree has tens of thousands of acres of remote wilderness so it's important to have folks aware of where you're planning to go just in case. Check out our post on RV Safety and Preparedness for more tips.
2. Joshua Tree Driving Tour
If you're limited on time or can't hike due to physical limitations, simply driving through Joshua Tree's main paved roads is an absolutely sufficient way to experience the national park. You can easily cover the distance from one entrance to the other in less than a day, even with stops at some of the viewpoints. The paved roads are in good shape for all types of vehicles and there are plenty of areas to pull over for photos, bathroom breaks, and picnics.
3. Drive, Ride or Backpack the Backcountry Roads
If you have the right 4-wheel-drive vehicle, exploring the backcountry roads of Joshua Tree is a must. During our visit, we took our Jeep Wrangler Unlimited out on the 18-mile Geology Tour Road which was a desolate but beautiful drive through the park's geologic history. It takes approximately two hours to make the round trip and there is access to scenic pullouts, hiking trails, and climbing routes along the way. Just be aware that this road is not suitable for campers, trailers, or motorhomes.
Other popular backcountry roads include Old Dale Road (which has a number of side roads that veer off toward old mines and residences) and Berdoo Canyon Road (that winds past the ruins of the Berdoo Camp, established in the 1930s by the builders of the California Aquaduct).
For the cycling enthusiasts out there, mountain bikes are also a great way to explore the park's unpaved roads. The park actually recommends biking on backcountry roads rather than the main paved roads as there is less traffic, making it safer.
Those with a little more time and leg power should consider backpacking as a great way to explore the backcountry. While backpacking is available year round, it's recommended to schedule your backpacking trips during the fall, winter and spring to avoid the dangerous heat of the summer. If you want to stay out on the trails for more than a day, overnight backcountry camping is allowed as long as you register at one of the park's 13 registration boards. And of course, always abide by the "pack it in, pack it out" rule.
Note: Off-road vehicles and all-terrain vehicles are not permitted on backcountry roads or anywhere in Joshua Tree National Park.
4. Climbing
Joshua Tree is known as a bit of a "climbing mecca" so it's not uncommon to look up and see climbers dotting the giant boulders and rock walls throughout the park. There are more than 8,000 routes to choose from that span all levels of climbing ability.
If you're new to climbing in the park, a great way to get introduced to rules and safety tips is to attend a "Climbers Coffee." On weekends from mid-October through April, you can swing by Hidden Valley Campground from 8 – 10am to meet Joshua Tree's climbing ranger and get tips from other climbers who are familiar with the park. Bonus: the coffee is free!
5. Other Activities
Photography: Joshua Tree is probably one of the most photographed National Parks, and when you're there you'll see why. The rock formations, sunsets and of course, the Joshua Trees themselves are the perfect subjects for any professional or amateur photographer's next snapshot.
Birding: Birders can find plenty of southwestern desert species in Joshua Tree year-round, including roadrunners, cactus wren, and prairie falcons. If you're looking for birds, we recommend starting at Barker Dam, the Oasis of Mara, and Cottonwood Spring. Bring a good pair of binoculars with you. We love our 10×50 binoculars.
Stargazing: Joshua Tree is a designated International Dark Sky Park, making it one of the best places to stargaze. They even have an annual Night Sky Festival. If you're camping inside Joshua Tree, any of the park's campgrounds are great places to enjoy the stars, but Cottonwood has the darkest skies.
Wildflowers: Depending on the winter rains and temperatures, Joshua Tree can be an amazing place to see wildflowers in spring. During large bloom years, expect big crowds to descend on the park to enjoy the flowers.
Tip for pet lovers: When we first went camping at Joshua Tree, we brought our pup, Leo. While he had a great time cruising around the park in the Jeep and camping with us, there are things to note. Pets are not permitted on any trails in the park, except for the paved Oasis of Mara Trail. Leashed pets are also allowed within 100 feet of roads, picnic areas, and campgrounds. If you do bring your pets, be sure to bring plenty of water for them and don't leave them unattended in hot vehicles. Also avoid walking them on pavement during the hottest parts of the day to avoid paw burns. Check out our Guide on RVing with Dogs for more tips.
Where to Stay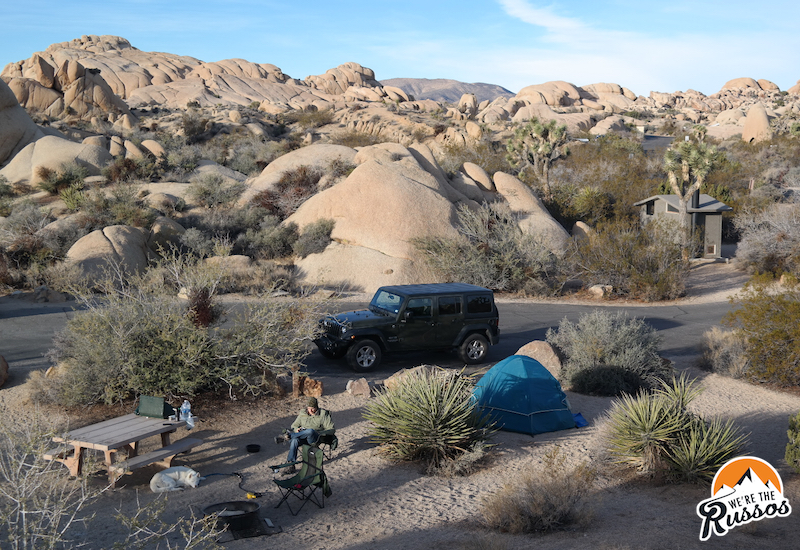 1. Joshua Tree Campgrounds Inside the Park
Joshua Tree is a very camping-friendly National Park with many campgrounds to choose from.
When we visited in 2016, we were between RVs (going from a Class A motorhome to a Class B camper van) so we spent three nights doing some good old fashioned tent camping at Jumbo Rocks Campground.
With 124 sites at $20/night, Jumbo Rocks is a popular area with incredible views and access to some of the park's most famous rock formations (including Skull Rock). On our trip, the sites were first come, first served, but according to the NPS website, reservations are now required at Jumbo Rocks September – May.
Keep in mind that Jumbo Rocks is dry camping so it does not have potable water fill station or a dump station. There are also only pit toilets here. Plan ahead if you will be RV camping at Joshua Tree.
There were plenty of travel trailers, motorhomes, and camper vans there that we enjoyed checking out during our stay. However, it's good to note that only some of the sites can accommodate RVs and they can't exceed an overall combined length (including a towed vehicle) of 35 feet.
This campground can get a bit crowded and loud, so if you're looking for more peace and quiet, we'd recommend checking out one of the smaller, more remote campgrounds like Ryan or Belle.
Overall we loved camping at Jumbo Rocks with our dog, Leo, and wouldn't hesitate to go back.
For more tips and information, check out post on Camping at Jumbo Rocks Campground.
If you want to try a different campground or if Jumbo Rocks is full, here are your other options:
Black Rock – This large campground offers 99 sites at $25/night and requires reservations. Black Rock also has potable water and a dump station available, and is one of the few areas in the park that should have some cell service. Some sites can accommodate RVs.
Cottonwood – This campground requires reservations only during the busy season (September-May) and has 62 sites at $25/night. Potable water, a dump station and flush toilets are available. Some individual sites can accommodate RVs but they are prohibited in the group sites here.
Indian Cove – There are 101 campsites here at $20/night ($50 for group sites) and reservations are required. There are vault toilets but no water at Indian Cove's campsites. However, water is available at the small ranger station roughly two miles north of the campground. Some sites can accommodate RVs.
Ryan – The 31 sites here are $20/night and are reservation only. There is no water or dump station here but with its small size, it's one of the quieter campgrounds in the park.
Belle – This 18-site campground is first come, first served at $15/night. There are only pit toilets here (no water or dump station) but a few of the sites can accommodate RVs.
Hidden Valley – The 44 sites here run $15/night and are also first come, first served. There are only pit toilets and no water available.
White Tank – Sites here are $15/night and are first come, first served with no water available. Another thing to note is that RVs and trailers may not exceed a combined maximum length of 25 feet here (other campgrounds have a slightly higher maximum at 35 feet).
It's recommended to bring all of the supplies you'll need when camping, including water. Luckily, there are plenty of large and small stores just outside the park where you can stock up on everything you'll need.
Tip: Most of Joshua Tree National Park does not have cell service, making it a great place to really unplug and disconnect. If you need service however, you can try going to one of the visitor centers, a campground that may have cell service (Black Rock), or the towns just outside of the park. We were also able to get limited service at the higher elevation of Keys View.
2. Camping Near Joshua Tree
In-park Joshua Tree campgrounds fill up quickly during peak season. If you miss out or don't want to stay inside the park, there are a number of private campgrounds in surrounding towns. You can also find free, dispersed camping on BLM (Bureau of Land Management) land outside Joshua Tree National Park.
Tip: You can use apps like AllStays, Harvest Hosts or Boondockers Welcome to find RV campsites and overnight camping near Joshua Tree.
Best Time to Visit Joshua Tree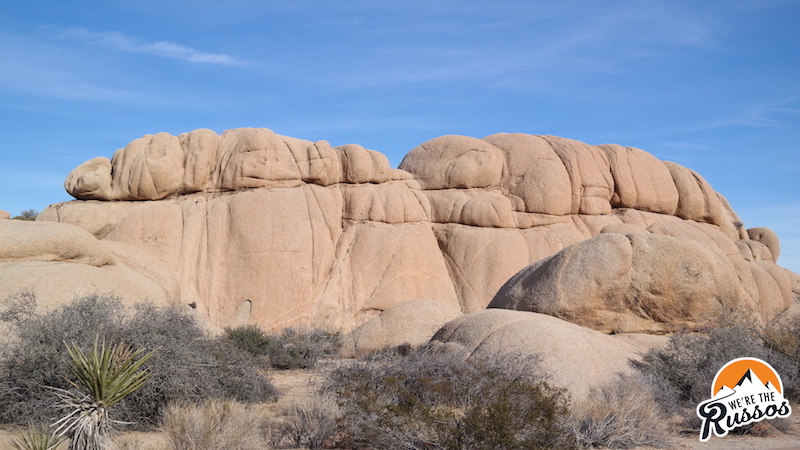 As with most National Parks, Joshua Tree is a great place to visit any time of year…as long as you're prepared. However, unlike other parks we've covered, summer is not the busiest time in terms of visitors. With its desert climate, it's no surprise that Joshua Tree gets HOT in the summer months. Temperatures regularly climb over 100°F with punishing sun most of the day. For that reason, a majority of the park's nearly 3 million annual visitors come between October and May when temperatures are more pleasant.
If you decide to plan your trip during this peak season, our best recommendation is to live by that evergreen rule of "the early bird gets the worm" (or the National Park spin on it: "the early bird gets the parking spot!"). Crowds will be heavy in fall, winter and spring, so the earlier you can get into the park, the better. Arriving after 9am runs the risk of long lines just to get in, a lack of parking at various points of interest, and crowded trails. While there was a shuttle service pilot program a few years back, it hasn't been continued so you'll need to drive yourself in and out of the park.
If you don't mind battling the extreme heat with a summer visit in exchange for smaller crowds, it is highly recommended to still arrive early in the day to beat the heat. Limit strenuous activities like hiking, biking, and climbing to early morning or evening hours (ideally before 9am or after 4pm) when the heat isn't at its peak. Be sure to bring plenty of water and sun protection any time of year, but especially during the summer months.
Tip: Joshua Tree National Park has varying degrees of elevation throughout, so weather conditions can fluctuate depending on what area you're exploring. Like other desert climates, it is also susceptible to flash flooding and high winds depending on the season, so be sure to check current weather conditions before venturing out. And yes, Joshua Tree can also get some snow in the winter months, although it usually doesn't stick around long.
Joshua Tree RV Rentals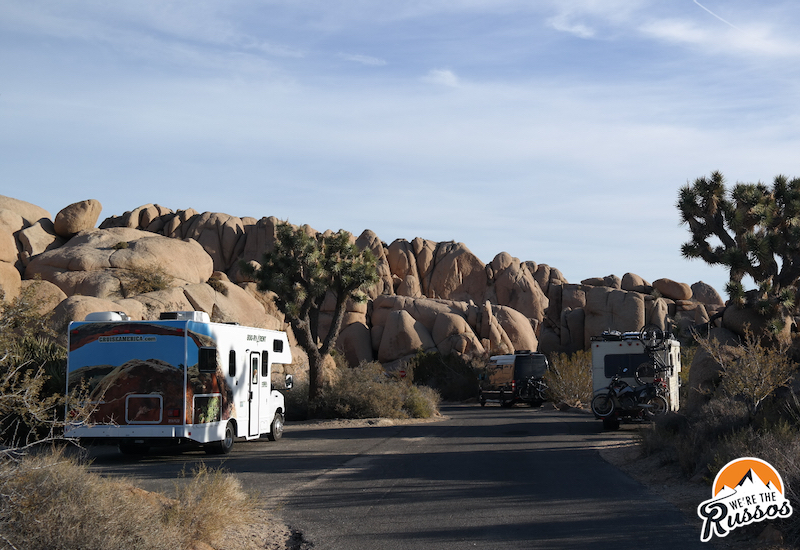 Like most places, we think the best way to explore Joshua Tree National Park is in an RV. Some of you may not own an RV or don't want to drive yours all the way there from where you're based. If either of those is the case, we recommend finding a Joshua Tree RV rental.
Renting an RV also eliminates the need to stay in a hotel and gives you the freedom to camp at more places in and around National Parks like Joshua Tree.
Bonus Tip: If you have the time, we recommend checking out Pioneertown on your way in or out of Joshua Tree National Park. Originally created as an Old West movie set, it's full of great photo ops, little shops, and the famous restaurant/bar, Pappy and Harriet's.
Joshua Tree National Park is one of the crown jewels of our National Parks. It's one of the more visitor-friendly places we've been that truly offers experiences for everyone. We look forward to going back and doing more exploring and camping. If you have your own Joshua Tree recommendations, leave a comment!