Some of the links below are affiliate links, which means we will earn a commission on the products or services you purchase using the links. There is no additional cost to you and the earnings help keep this website running. Read the Affiliate Disclaimer for more information.
Known for its massive sandstone cliffs and spectacular canyons, Zion National Park is one of Utah's "Big 5" National Parks. It was also the state's very first National Park and has become a top destination for travelers from all over the world. We explored Zion National Park in May of 2020 (in our pop-up truck camper) as part of our Big 5 tour through Utah and have some recommendations for your visit.
Zion National Park Guide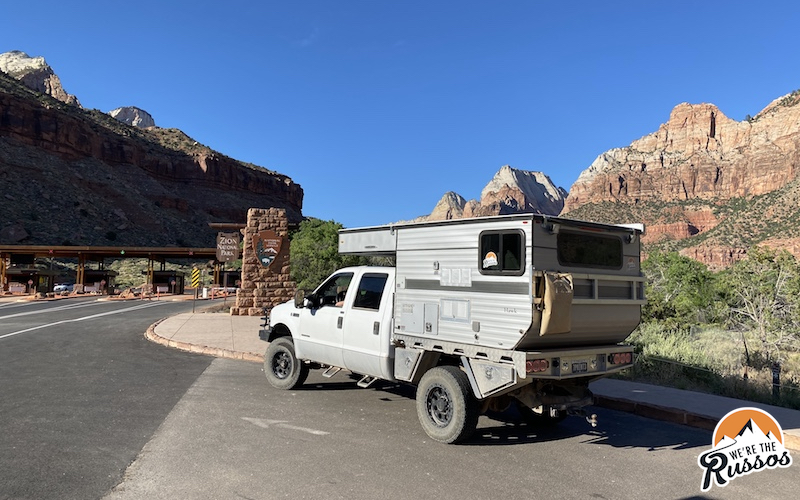 When to Visit Zion National Park
Different times of year will give you different experiences at Zion National Park, both in terms of crowd sizes and weather. As with most National Parks, Zion is busiest during summer (May – September) so if you're looking to go when it's a bit quieter, fall and winter would be your best bet.
If you don't mind the crowds or just prefer to go in spring or summer, you should plan on using the park's free shuttle buses to get in and out and to access most hiking trails in Zion Canyon and the Zion Canyon Scenic Drive. All available parking within Zion is often full by 9am during peak seasons (so get there as early in the morning as you can if you're hoping to drive in and park), but you can park in Springdale and use the town shuttle to reach Zion National Park's Visitor Center.
We got very lucky when we visited in May and were able to drive right in and park near the Narrows Trailhead, but we wouldn't count on that luck for every visit.
Zion's weather can also fluctuate and create different experiences for visitors. Temperatures can easily swing 30+ degrees throughout the day and night, no matter the season. Summer temps can climb well over 100°F and it's not uncommon to fall below freezing during winter with occasional snow. As long as you prepare with the right clothing, gear and water, you can enjoy the park all year round.
However, be aware of the environmental conditions when you visit. Flash flooding can shut down certain areas of the park during monsoon season (July – September) and during winter months, snow may close some areas completely or require winter gear to explore them. Also be aware that depending on how wet the winter is, spring can see high river levels and require extra preparation and skill to traverse waterlogged areas (more on this in the "hiking" section below).
What to Do at Zion National Park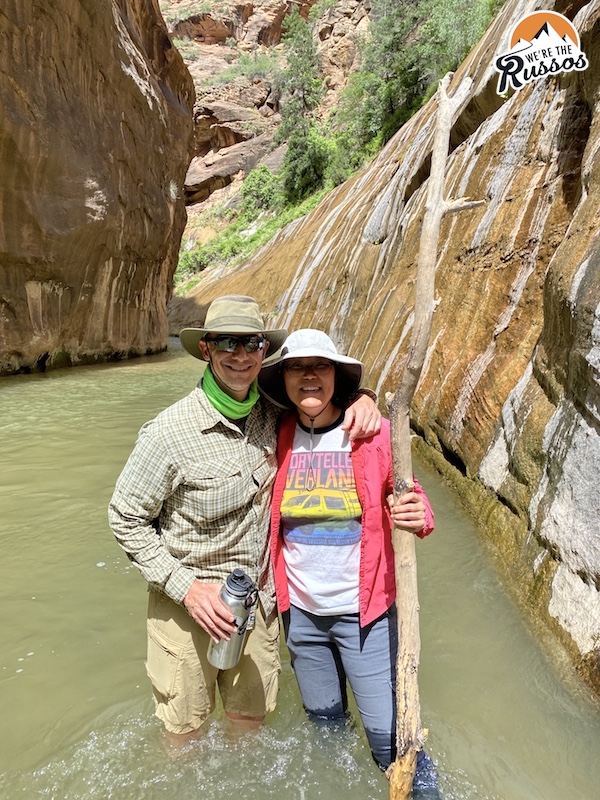 Once you're inside the park (whether driving yourself or taking a shuttle), there's no shortage of things to explore. We had limited time on our visit and can't wait to go back so we can see and do more.
Hiking for All Levels of Adventure and Experience
Some of the most scenic and adventurous hikes can be found at Zion, but even the "easy" ones require some planning and preparation. Be sure to research current trail and weather conditions (including potential closures) before going out to ensure you have a good and safe hike. For instance, as of this article, some trails are closed due to major rockfalls.
The most popular trails are in Zion Canyon, which is also the most visited part of the park so be prepared for crowds. Most Zion Canyon hikes are accessible only by the park shuttle from March through November, and require stopping at the appropriate shuttle stop.
On our visit, we did the Narrows hike…well, as much as we could. About 60% of this hike is spent wading, walking and swimming in the river! When we went, the water level was pretty high and we didn't have the necessary gear so we didn't make it the entire way. Next time we'll plan in advance and look at getting a Narrows rental package from a local outfitter (like the dry bib package) which comes in handy to stay dry and warm.
While the Narrows hike is a strenuous one, there are also moderate hikes (like the Canyon Overlook and Watchman trails) and easy hikes (including the Pa'rus and Grotto trails). Some of the easy hikes are wheelchair accessible and are also great options if you're limited on time but still want to get out and do some light exploring on foot.
There are longer hikes in the Zion Wilderness as well. These hikes aren't loops, so you can go as far as you want before turning around and heading back the way you came. Note that there's a group size limit of 12 people on these trails. We hope to check some of these out on future visits.
Tip for pet lovers: The only trail that permits pets is the Pa'rus Trail, which begins at the Zion Canyon Visitor Center. Also, as tempting as it is to let your dog take a dip in the Virgin River, it's strongly recommended to keep pets out of the water to avoid potentially dangerous toxins and bacteria.
Backpack Through Zion's Famous Canyons
Looking for a more adventurous experience on foot? Zion has over 90 miles of trails and dozens of designated sites for day trip or overnight backpacking, including the La Verkin Creek and Hop Valley trails. Backpacking is one of the best ways to really embed yourself in the natural environment of these parks and get a full, well-rounded experience.
If you want to spend more than a day on the trails, there are backpacking campsites. Half of these sites allow you to make reservations online ahead of time, while the other half are first come, first served. Most reservation sites fill up within minutes of becoming available each month, so make sure you're online as soon as that month's sites open up for reservations.
Also note that all overnight backpacking requires a Wilderness Permit (ranging from $15-25) which must be obtained in-person at the Zion Canyon Visitor Center Wilderness Desk.
Tip: With both backpacking and hiking, it's a great idea to have back-up trails in case your first choice(s) happen to be closed or are too crowded.
Learn About Zion's Human History
Zion's Human History Museum tells the story of the park's rich human past, from the Southern Paiute culture and pioneer settlement, to Zion's growth as a National Park and the important role water has played throughout time for the people who have inhabited it. It also features temporary exhibits on various park-related topics and you can watch a video that provides a great overview of the park. Rangers are also on hand here and we always recommend chatting with them to get recommendations and find out about current park conditions.
Bonus Activities
Biking: Cycling is a great alternative to driving or taking shuttle buses to explore Zion. Biking is allowed on all park roadways (including Zion Canyon Scenic Drive) and on the Pa'rus Trail. Electric bicycles are also permitted in these areas.
Birding: 291 bird species can be found in the park, making it a great place to break out the binoculars and test your luck at spotting Zion's avian inhabitants like the California Condor, Peregrine Falcon or Mexican Spotted Owl.
Canyoneering and Climbing: Zion is a top destination for climbers and canyoneers, and when you lay eyes on the rock formations and canyons, you'll see why. If that's up your alley, be sure to read up on permit requirements and safety tips.
Sunsets and Stars: Nothing matches the orange glow of Zion's cliffs at sunset and the dark skies it offers for stargazing. The most popular spot for both of these is the Museum Patio. If you're camping within the park, great views of sunset, as well as the night sky, can be found at the South and Watchman Campgrounds.
Fun Fact: The park has its own "personal promise" known as the Zion Pledge. It's a good reminder of how you can explore this and other National Parks responsibly, and something we try to practice at every place we go.
Where to Stay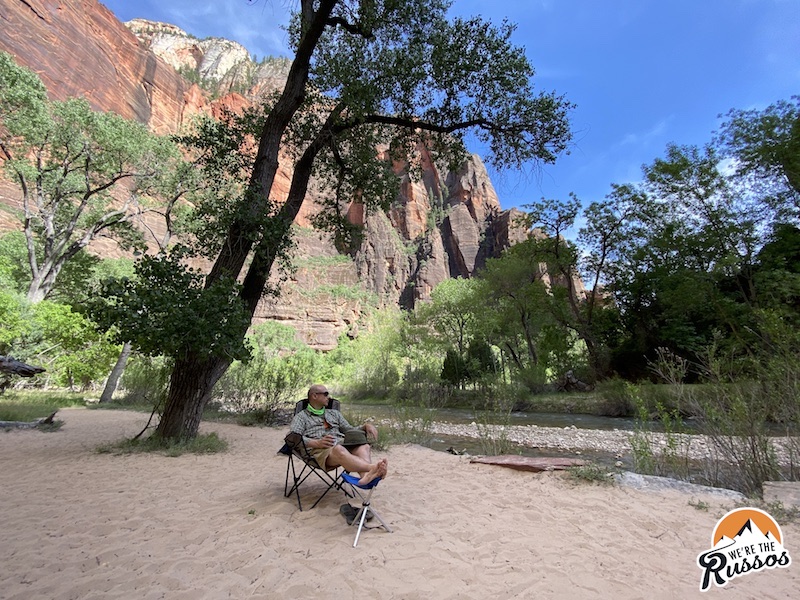 Zion National Park Camping
There are three campgrounds within Zion National Park:
Watchman Campground – This campground is located next to the Zion Canyon Visitor Center. It's open year-round, allows you to make reservations ahead of time, and has both tent and RV campsites. Generators are not permitted, but 95 of the sites have electrical hookups for those who need power. There is also a dump station and RV fill station for potable water. Fees range from $20-30 per night. Watchman also offers group campsites for $50, but note that RVs are not allowed in these sites.
South Campground – Also located near the Zion Canyon Visitor Center, South campground has tent, dry RV, and group campsites available by reservation from March – October. Reservations are a must because the campground is full nearly every night during the reservation season. Note that the dump station and potable water fill at this campground are seasonal. Sites are $20/night ($50 for group sites).
Lava Point Campground – This campground is usually only open May – September and is about a one hour and 20 minute drive from the South Entrance of Zion Canyon. There are 6 primitive campsites available on a first come, first served basis. Lava Point has pit toilets and trash cans, but no water. Also note that vehicles longer than 19 feet are not permitted on the road to the campground.
Free Camping Near Zion National Park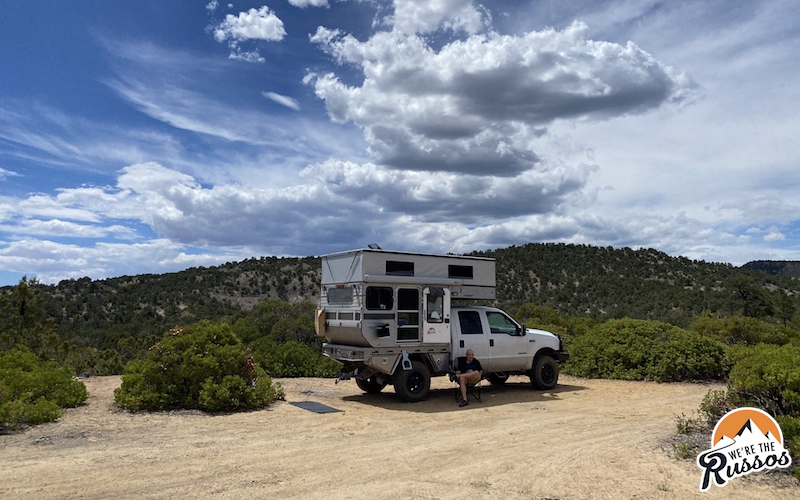 You probably know by now that we're big fans of free, dispersed camping on public land. Since we were on our way to Bryce Canyon National Park when we visited Zion, we opted to snag a dispersed camping spot between the two parks. We ended up finding a great free camping spot in the Dixie National Forest. This is a great option if you're hitting Zion as part of a bigger trip and may not have time to stay inside the park, or if the park campgrounds are full.
Note: If you're planning to go from Zion to Bryce Canyon or Grand Canyon National Parks, you may need to pass through the Zion-Mount Carmel Tunnel. There are vehicle size restrictions and permits needed for certain large vehicles to use the tunnel, so be sure to check out the NPS details on the tunnel before passing through.
The Zion Lodge
If camping isn't your thing, The Zion National Park Lodge operated by Xanterra Travel Collection is located three miles north on the Zion Canyon Scenic Drive. It's open year-round and offers motel rooms, cabins, and suites. The lodge also has a gift shop and post office. Reservations are recommended.
Don't Have an RV? Rent One!
If you want to explore Zion in a camper but don't have one, or don't want to drive your RV all the way there from where you are, consider renting an RV. There are all types of rental RVs available from small travel trailers and Class B camper vans to 5th wheels.
>>Use this link to Browse RV Rentals<<
We've rented a Class B RV for our trip to Hawaii and had a great time touring Maui in a camper. Renting an RV allows you to fly into your destination, rent and use an RV during your stay, and then return it when you're ready to fly back home. Plus, it eliminates the need to stay in hotels and gives you the freedom to stay at different places, like park campgrounds or camp for free on public land.
Travel Tip: If you are flying in, the nearest major airport with direct flights from many foreign and domestic destinations is Harry Reid International Airport in Las Vegas (formerly McCarran International Airport). Note that it is a three-hour drive to Zion National Park. St. George Regional Airport is the closest airport to Zion with limited commercial flights, and is a one-hour drive to the park.
Have fun Exploring Zion National Park!
Whether you're looking to do a "Big 5" tour through Utah like we did, or just want to cross another National Park off your list, Zion is a must-visit destination. We are eager to return with more time and gear so we can experience more of what the park has to offer. If you have any tips for visiting Zion, let us know in the comments!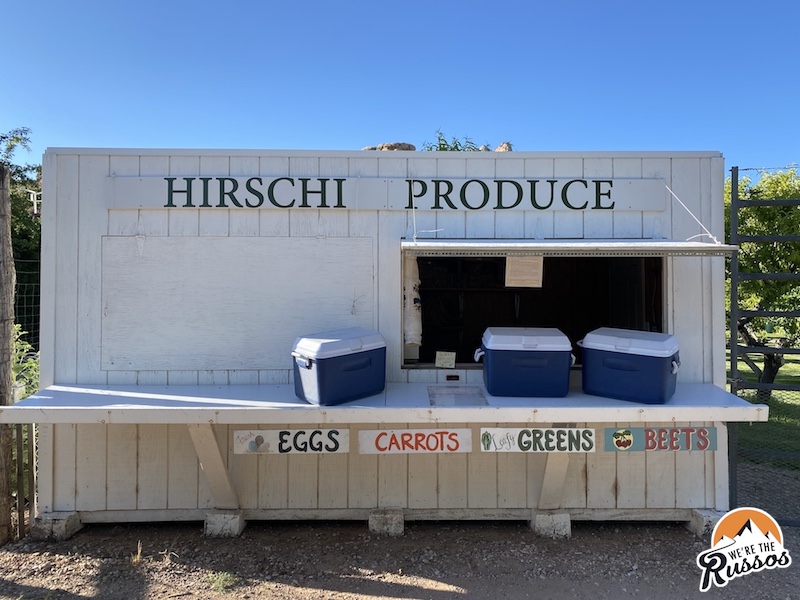 Bonus tip: Keep an eye out for road side farm stands as you drive to and from Zion National Park. We purchased some great tasting produce during our visit in May.