Some of the links below are affiliate links, which means we will earn a commission on the products or services you purchase using the links. There is no additional cost to you and the earnings help keep this website running. Read the Affiliate Disclaimer for more information.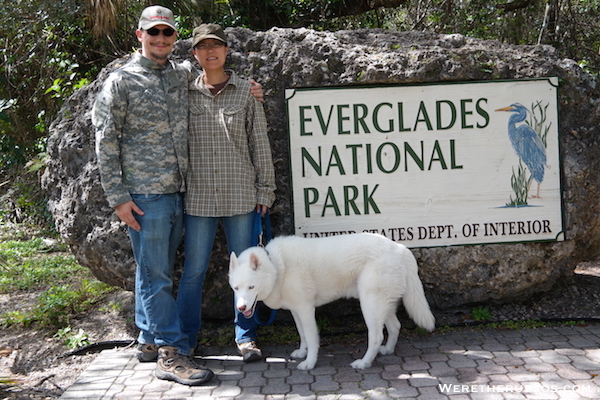 "What were we thinking?" There is no doubt that the Everglades National Park is beautiful. The 45 minute drive from the park entrance to Flamingo Campground alone was memorable. Even our campsite had breathtaking views. When we booked our two night stay at Flamingo Campground in Everglades National Park, we had plans to go on a python talk with the ranger, take a canoe trip and even try slough slogging. Well, none of that happened and we spent a total of about 2 hours outside our motorhome during our entire stay. We've never been so happy to leave a place. Why? Mosquitos.
It wasn't until we visited the Flamingo Visitors Center that we learned this park is where mosquito repellants are tested for effectiveness due to its high concentration of mosquitos. I had to laugh at the small print under the mosquito meter.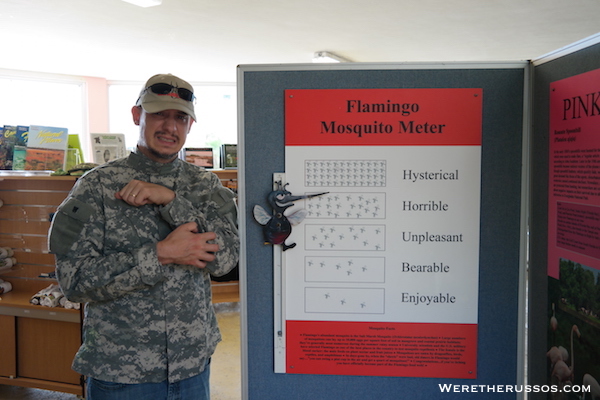 "Flamingo's abundant mosquito is the Salt March Mosquito. Large numbers of mosquitoes can lay up to 10,000 eggs per square foot of soil in mangrove and coastal prairie habitats; they're generally most numerous during the summer rainy season. University scientists and the U.S. military have selected Flamingo as one of the best places in the country to test mosquito repellants. The femal is the blood sucker; the male feeds on plant nectar and fruit juices. Mosquitoes are eaten by dragon flies, birds, repitles, and amphibians. In days gone by, when the "skeets" were bad, old timers in Flamingo would say…"you can swing a pint cup in the air and get a quart of mosquitoes!" Congratulations…if you're itching you have officially become part of the Flamingo food web!"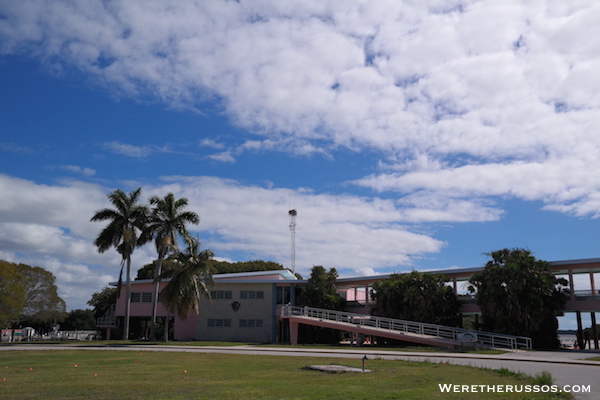 And we were knee keep in the food web! I remember waking up in the middle of the night to the buzzing sound of mosquitos flying around my face and swinging my arms violently ready for battle. I'm not a violent person, but these flying blood suckers were causing my entire face to swell up and I wanted them dead. Some people don't have a reaction to mosquito bites, but I happen to have what they call a sever reaction or "skeeter syndrome". In retrospect, we should have never gone to the Everglades, but it was February and Floridians said that was a good time to go with the least number of mosquitos. Well, El Nino did me no favors this wet and rainy winter in Florida!
If you have the same reaction to mosquito bites as I do and want to visit Everglades National Park, my suggestion would be to cover yourself in Deet, the natural stuff does not work. And wear clothes that are tightly woven such as bug shirts and pants. The mosquitos will bite right through regular jackets and jeans and I learned that the hard way. Most of my mosquito bites were suffered while taking these photos, so I hope you enjoy them! 🙂
RV Camping at Flamingo Campground in Everglades National Park
Flamingo campground is at the southern tip of Everglades National Park, about a 45 minute drive from the entrance. The drive was beautiful, but be careful driving by each pull out. We had a Kia sedan pull out right in from of us as we were driving 55 MPH. This was the first time we had to slam on the breaks and put it to the test. Luckily, we were able to stop in time.
We drove up to the ranger station to check-in and they gave us a map of the campground and directions to our campsite. It was the fastest check-in process we've experienced. The campground has four loops and our campground was in T loop.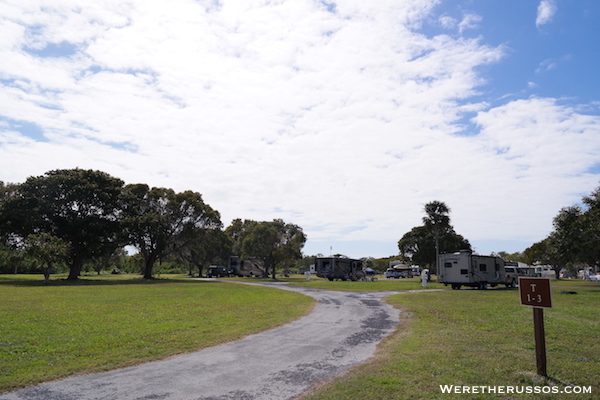 Each site in this loop only has electric hookups with 30 or 50amp at a rate of $30/night. The electricity went out a few times while we were there. Joe had to go outside and switch us from the 30amp plug to the 50amp plug and his hand was covered in mosquitos. Be sure to plug in your EMS if you have one. We used our Progressive Industries portable EMS.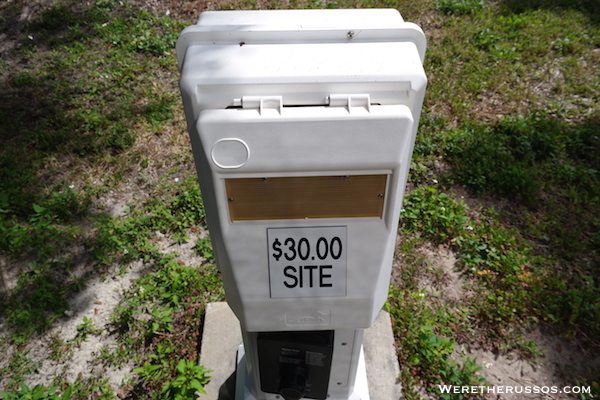 Our site was T-3, I think it was the best site in the entire loop because of the views. We had reservations at the campground, but we did not receive our site assignment until we arrived. When pulled into our site, an osprey landed on a tree next to us with a fish in its mouth.
Each site is pull-thru with a long concrete pad, picnic table and fire ring. We spent most of our time inside the RV enjoying the views from our dinette with a glass of wine. Every time we opened the door, mosquitos swarmed in and we had to run around killing them. We had to inspect Leo every time he went out for a potty break because the mosquitos loved to land on him.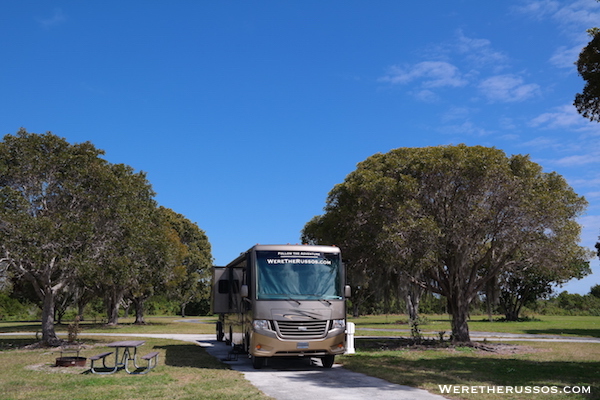 There is a large dumpster by the dump station, which is near the middle of T loop. The dump station has potable and non-potable water. The ranger warned us that vultures were bad and to keep the campsite clean and put all trash in the dumpster.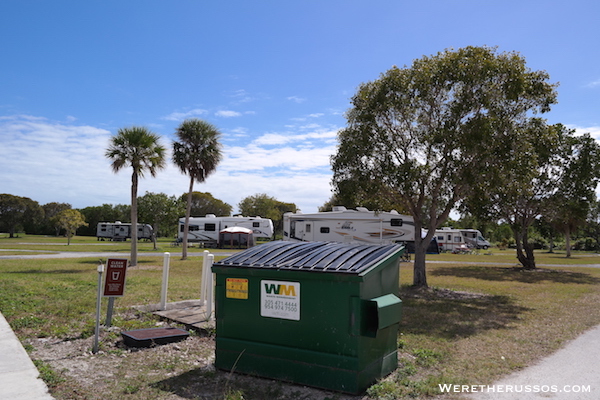 The restrooms were clean and had mosquitos flying around. There are showers, but no hot water. The tent camping loop had solar heated showers, but we did not check them out.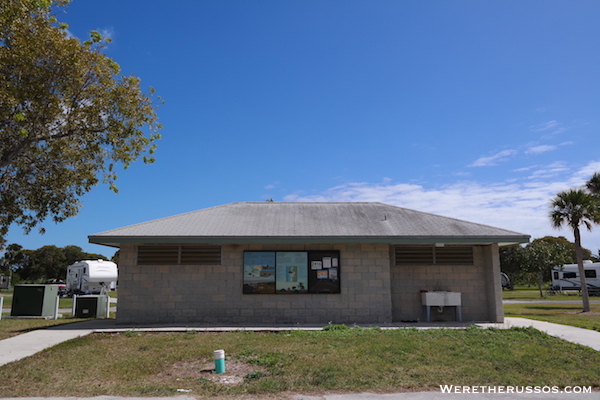 Joe and Leo did walk around a bit when we took a drive to Seven Mile Pond to see if the American crocodile was there.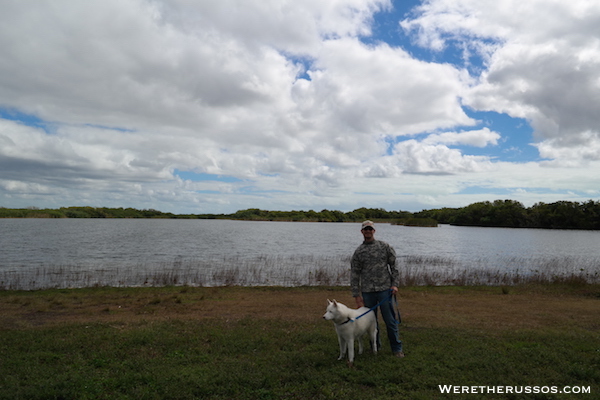 My reward for staying at the campground was getting to see this snapping turtle cross the road as we made our way out of the park.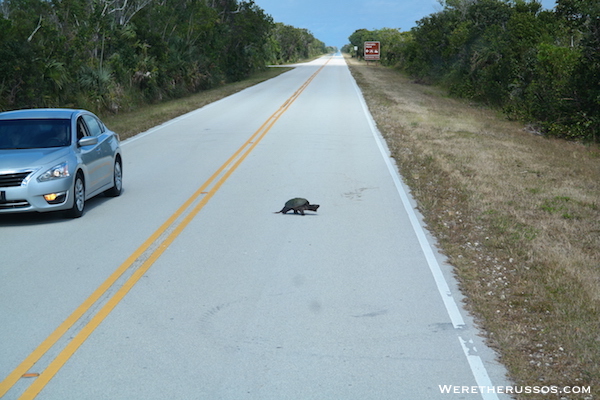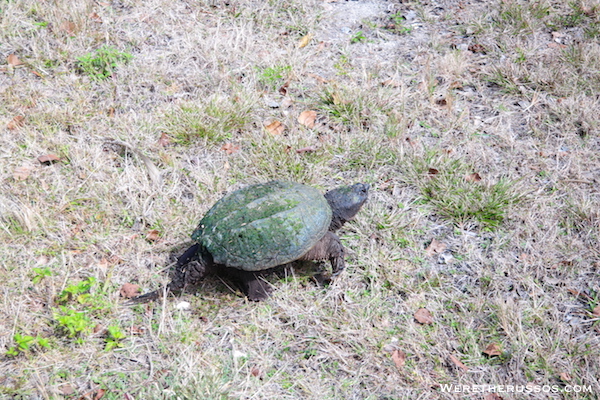 Overall, our RV camping experience at Flamingo Campground was a memorable one to say the least. I will probably never go back to Everglades National Park and if I do return, it will only be for a day trip. It was unfortunate we didn't get to hike the trails, take a canoe trip and go on the ranger lead activities. The campground was one of the most peaceful and beautiful places we've parked our home. If only the mosquitos would disappear! Remember to cover yourself in Deet if you decide to stay at the campground.
Notes:
$30/night electric only in T loop – $15/night for Senior and Access Pass holders
30/50 amp
Pull-thru sites
Dump facility on site
Restrooms and showers (no hot water)
Dog friendly
Poor AT&T cell service, no Verizon service
Looking for a unique overnight RV camping experience? Read our Harvest Hosts Review and discover their camping on farms, winery camping, and museum programs.