Some of the links below are affiliate links, which means we will earn a commission on the products or services you purchase using the links. There is no additional cost to you and the earnings help keep this website running. Read the Affiliate Disclaimer for more information.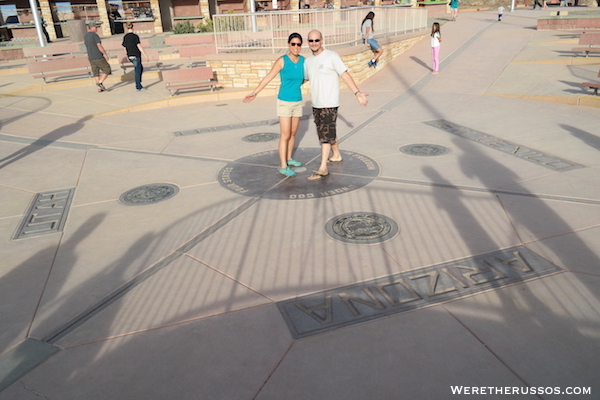 We visited Four Corners Monument on our way from Mesa Verde to the Grand Canyon South Rim. This is the only quadripoint in the United States where four states come together and visitors can be in Arizona, Colorado, New Mexico and Utah at the same time.
There were no signs before the turn and we actually missed it. Instead of turning around, we decided to get to our Four Corners Monument RV camping spot. Parked the motorhome, detached the tow car and returned in the Jeep. This worked out well because although the area has RV parking, the road was pretty rough and we were glad to be in the Jeep.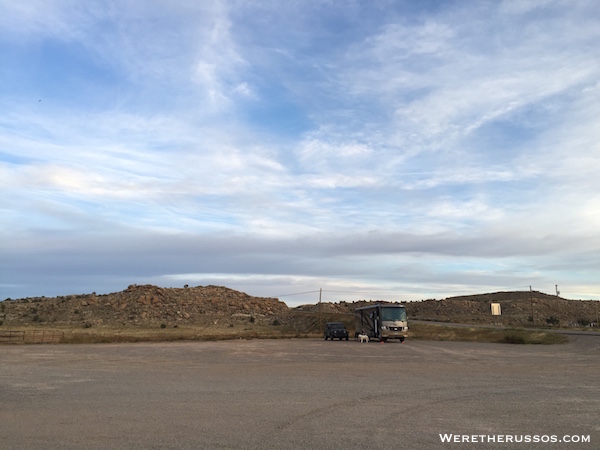 The entrance fee was $5 per person and the annual national park pass is not accepted. The dirt parking lot was large with plenty of spots outside the monument along with a few non-flushing toilets. When we arrived, there was a short line of people waiting to take a photo. Everyone had their own pose and it was fun to watch and to get ideas. There were stalls surrounding the monument where Native Americans were selling goods, but most of the stalls were empty during our visit.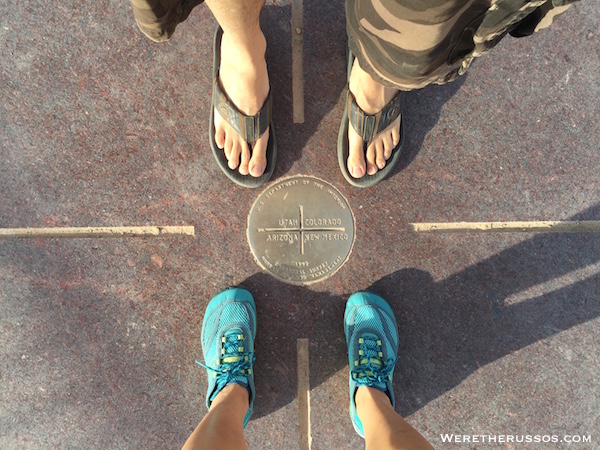 Afterwards we headed back to Teec Nos Pos Trading Post to spend a night in the gravel area of their large lot. The trading post is less than 7 miles from Four Corners with a decent selection of produce, packaged goods and beautiful Native American rugs. There is also a gas station that closes at night.
We were able to spend the night for free with our Harvest Hosts Membership. Members have access vineyards, farms, museum and more. Read our Harvest Hosts Review. Use our referral link to receive a discount.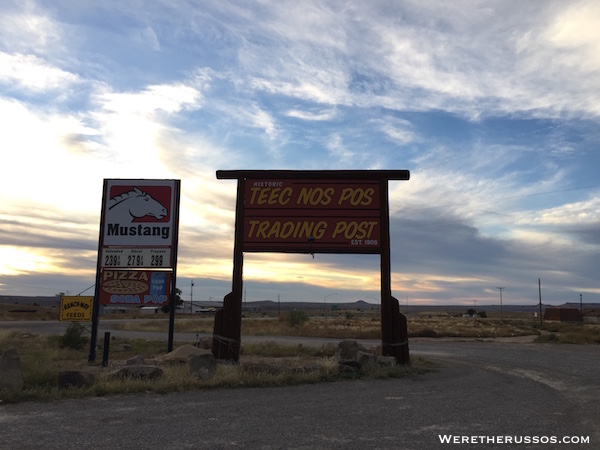 We met a wonderful couple from Minnesota in a pop-up truck bed camper and they were the first RVers we hosted in the motorhome. It was an enjoyable night of fun conversations over scotch and we look forward to seeing them again down the road. At night, the area was dark and quiet, with some road noise. Our only neighbors were the sheep and the only problem was lack of AT&T service in the area.