Some of the links below are affiliate links, which means we will earn a commission on the products or services you purchase using the links. There is no additional cost to you and the earnings help keep this website running. Read the Affiliate Disclaimer for more information.
Joe has handed the January 2016 expenses reporting duties to me and I'm very happy to say that this year is off to a good start. I think we've really gotten a good feel for RVing full time and found our groove. For those of you who have been following our reports since we started full timing know that we have been under budget every month. This month is no different and that includes a two day trip to Walt Disney World and a four night stay at Fort Wilderness, which cost us $742! That was the main highlight for January and you'll notice that we started paying for health insurance which will be a recurring fixed cost at $462.
To view all reports, RV Living Costs: Full Time in a Motorhome for One Year.
Full Time RVing Costs: Motorhome Edition – January 2016:
Total Expenses: $2,856
Cost Per Day: $92.13
Total Miles Driven: 1,204
Generator Hours: 6
Jeep MPG: 17
RV MPG: 6.5
Nights At RV Parks / Family Farm: 19
Nights Spent Dry Camping: 12
Meals Eaten Out: 9
Expenses:
This month our expenses went up slightly, spending a total of $2,856 compared to $2,829 last month.
Here are a few notes about our expenses this month compared to previous months:
Food costs continue to decrease. We spent $366 total on groceries, eating out, coffee and alcohol. This is the lowest food cost we've reported since hitting the road in September. Most of our meals were made at home because we love to cook. Out of the nine meals we ate out, two of those meals were a treat from our family (Thank You!). We did eat our way through the Thai food market twice and feasted on the best Cuban sandwich and potato ball in Tampa, FL.
Fewest miles traveled in one month. January was the first month we stayed in one state for an entire month and traveled a short distance when we did move. As a result we spent $188 on gas compared to $353 last month and $907 in September 2015. It also helped that gas prices stayed low. We did see a decrease in MPG as a result of doing more driving on surface streets.
Miles on the RV: 506 – avg mpg 6.5
Miles on the Jeep: 698 – avg mpg 17
Below is the breakdown of fixed and variable costs. We reorganized the chart to show the fixed costs at the top and variable costs at the bottom.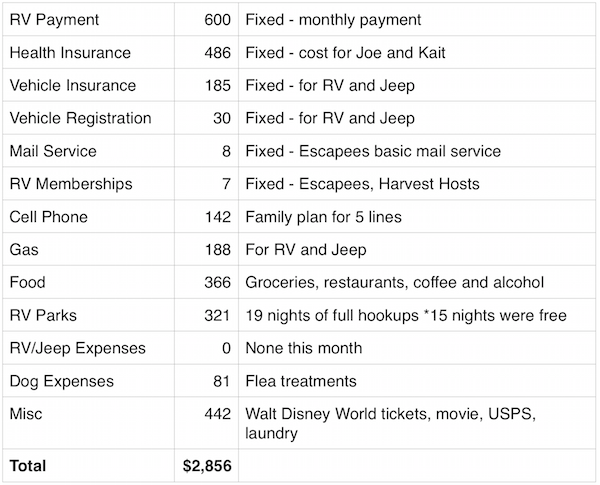 Lessons Learned:
Some things we learned this month that we'd like to pass along.
Check the weather more frequently in Florida. We use Wunderground weather app and find it to be fairly accurate and up to date. Instead of checking it once a day, I've gotten in the habit of checking it two or three times a day especially if there is a possible storm rolling in. A sunny forecast in the morning can quickly change to thunderstorms in the afternoon and tornado warnings in the middle of the night as we experienced during the Tampa RV Show aka Florida RV SuperShow.
10G data plan was not enough. We upgraded our AT&T family plan to 15G in January. This has allowed us to upload more videos from home instead of driving to a coffee shop. Most of our videos come in around 500mb and some coffee shops have slow upload speeds, which means we can be there for 3 hours to upload a 5 minute video. Wifi access at RV parks have been non existent this month and we've relied heavily on our phones. By no means is 15G enough for us to freely use our phones, but it's a significant improvement from the 10G plan we had.
To view all reports, RV Living Costs: Full Time in a Motorhome for One Year.