Some of the links below are affiliate links, which means we will earn a commission on the products or services you purchase using the links. There is no additional cost to you and the earnings help keep this website running. Read the Affiliate Disclaimer for more information.
February flew by and our expenses got away from us. I was hoping to keep our daily expenses under $90, but with unexpected repairs and a visit from family, we ended up spending more than we anticipated. We had a great time as we went over our target of $89/day and smiled with each swipe of the credit card. The important thing for us is to have a good time without spending recklessly, otherwise, what's the point? Although, we had one of the highest daily expense since we started full time RVing, we are still under budget. That's a win for us!
To view all our reports, visit our Cost of Living Full Time in a RV page.
Full Time RVing Costs: Motorhome Edition – February 2016:
Total Expenses: $2,835
Cost Per Day: $97.76
Total Miles Driven: 1,658
Generator Hours: 9
Jeep MPG: 17
RV MPG: 6.5
Nights At RV Parks: 5
Nights Spent Dry Camping: 24 (4 nights included free electric hookup)
Meals Eaten Out: 11
Expenses:
Our total expenses were less this month compared to last month ($2,835 vs $2,856), but February was a shorter month, which resulted in higher daily expenses.
Here are a few notes about our expenses this month compared to previous months:
Food costs doubled in February. We spent $741 on groceries, eating out, coffee and alcohol. This is one of the highest food costs we've had and a big part of that was eating out more in general and also spending several nights boondocking at Cracker Barrels and dining there. We also spent close to $100 on one meal at Hillstone with Joe's friend, mom and aunt in Coral Gables. The more social activities we have in a month the more we tend to spend.
February gas costs increased because we drove more and our MPG is still on the low side as a result of driving primarily on surface streets. We put 978 miles on the Jeep compared to 698 last month. Most of those miles came from driving from Key Largo to Key West and from Miami to Sombrero Beach.
Miles on the RV: 680 – avg mpg 6.5
Miles on the Jeep: 978 – avg mpg 17
Below is the breakdown of fixed and variable costs.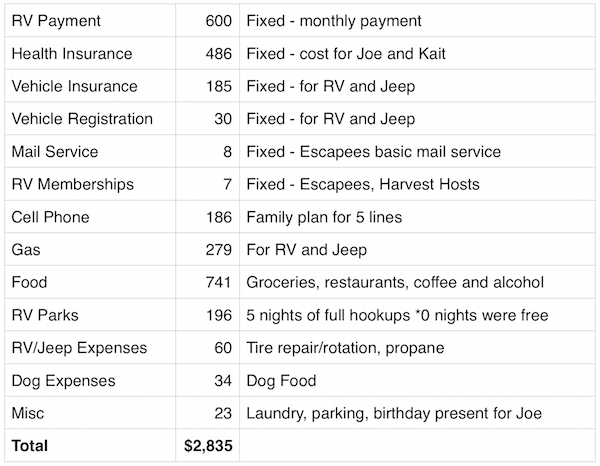 Lessons Learned:
Some things we learned this month that we'd like to pass along.
Expect the unexpected. We encountered a tornado warning in Florida and can't stress enough the importance of being prepared for different situations. And for the second time since we started full timing, we found a screw in our Jeep tire and had to take it in for repairs. Another reason we have a pre-departure check list, which includes checking the tires before taking off. Joe spotted the screw during our routine check and was able to swap it out for the spare before we left our site at John Pennekamp in Key Largo.
Free camping is available in Florida. We paid for five nights of RV camping in February thanks to the availability of overnight parking at casinos in South Florida. We spent 11 nights camping between the Seminole Casino in Immokalee and Miccosukee Resort & Gaming in Miami. The casino in Immokalee has a three day limit with the ability to extend and electric hookup. Miccosukee is dry camping and did not have a limit, although we had to leave before Willie Nelson rolled into town for his concert.
Newer Costco Warehouses have propane. The cost of propane is significantly lower at Costco compared to anywhere else. We've been able to fill our propane tank there for around $1.79/gallon. Since we also get gasoline and shop at Costco, it makes it very convenient to get propane as well.
To view all reports, RV Living Costs: Full Time in a Motorhome for One Year.