Some of the links below are affiliate links, which means we will earn a commission on the products or services you purchase using the links. There is no additional cost to you and the earnings help keep this website running. Read the Affiliate Disclaimer for more information.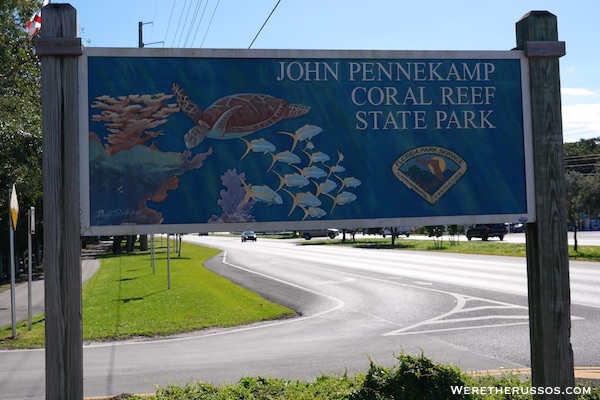 Considered America's first undersea park, John Pennekamp Coral Reef State Park in Key Largo is a popular destination for visitors who enjoy life on the water and below. The park is approximately 70 nautical square miles and offers activities from nature walks and kayaking to glass bottom boat tours and scuba diving. We were lucky to get a last minute campground reservation in the middle of February thanks to a cancellation that popped up on Reserve America. If you are planning to winter in Florida, try to book your campsite as soon as possible or take a chance like we did.
RV Camping at John Pennekamp State Park Key Largo, Florida
The drive from Homestead, Florida to Key Largo was beautiful, even during a thunderstorm. As we approached John Pennekamp State Park, there were several large signs along US-1 with clear directions to the park which makes it easy to find. The drive to the park ranger's office was one of the most beautiful park entrances we've seen. The winding road is surrounded by tall lush trees.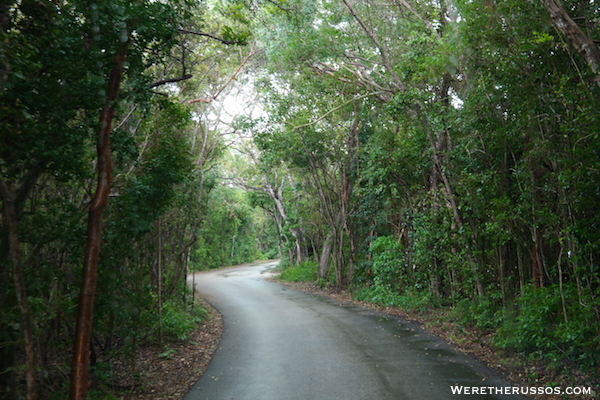 We finally arrived at the office and the ranger had us pull off to the side in a designated oversized vehicle pull off. The check-in process was quick and easy. We received a map of the campground, instructions on where to disconnect our tow vehicle and the gate code to get into the campground.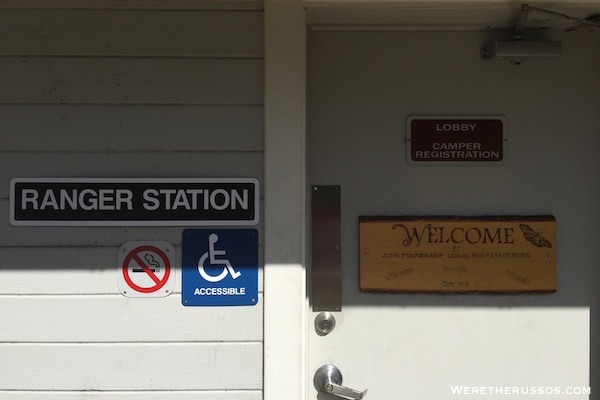 There is a large area where boats and trailers can unhitch before entering the campground. The area was fairly flat with plenty of room to detach and attach on the way out.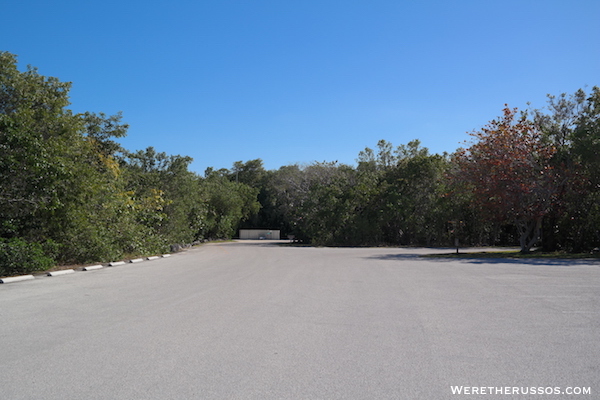 The road to the campground gate is one way which leads to a gate where a code is required. To the left is the dump station and dumpsters.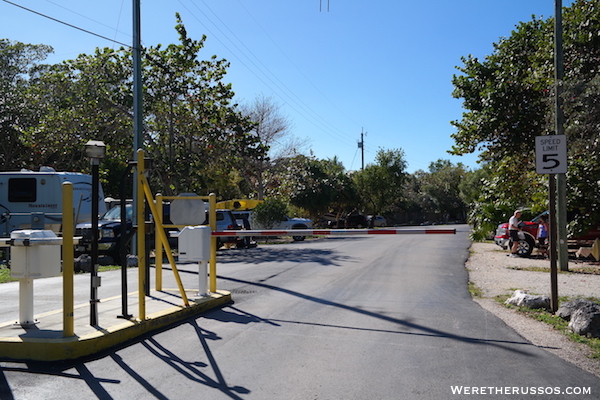 The campground has 47 sites and two are reserved for the camp hosts (sites 23 and 47). All of the sites are back-in with full hookups and we were in campsite 4. The site is gravel with a picnic table and trees between sites for privacy. We were able to park our 29' motorhome and tow vehicle without any problems.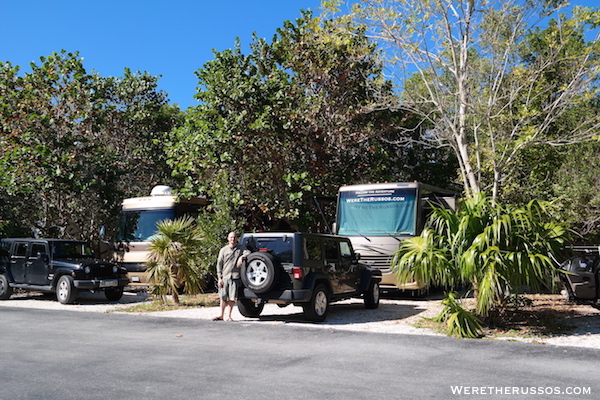 The back of the site is a wooded area which provided a nice view and privacy. Not very many mosquitos during our stay, but there were plenty of no-see-ums flying around.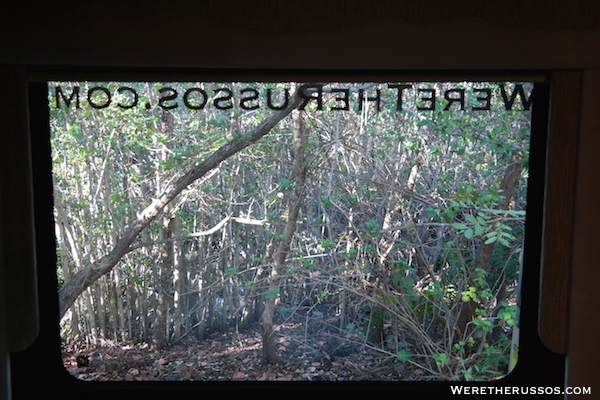 The bathroom and showers were standard for a campground. There are two washers ($1.50/load) and two dryers ($1.50/load) that accept quarters. We washed one load of laundry and it came out clean.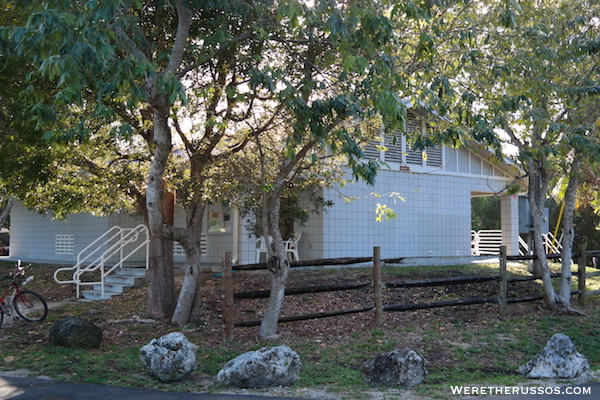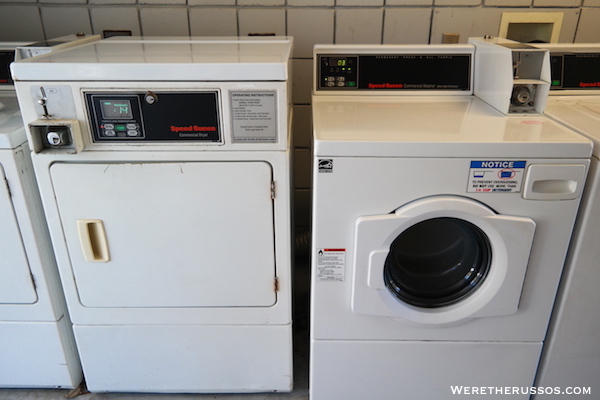 On the opposite end of the campground entrance is a dog friendly trail where the exploration well can be found. The well was dug in 1965 for desalination purposes.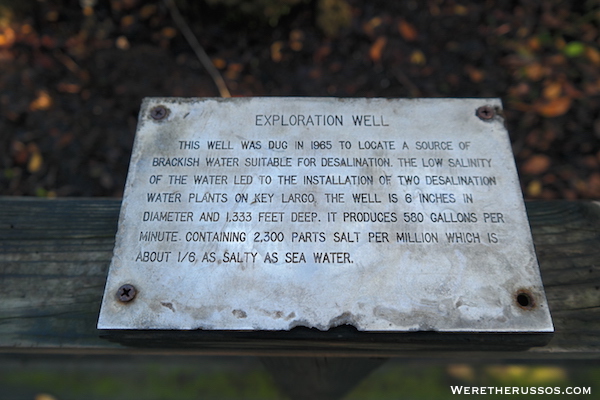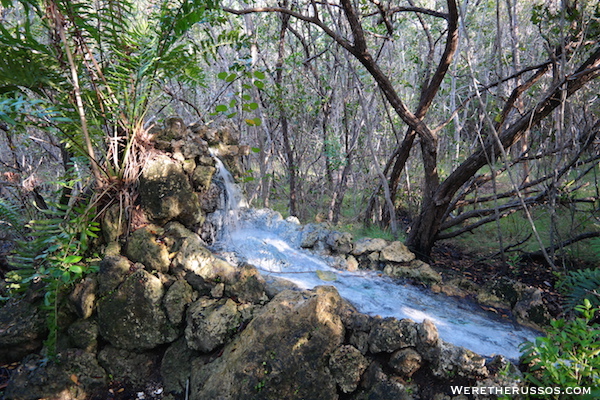 The best part about camping at John Pennekamp is the access to all the park activities. We went on a glass bottom boat tour ($24/each – 2.5 hours) to Molasses Reef where we got to see a sea turtle come up for air which was one of the highlights of the boat ride. It was a fun and educational boat ride and we would highly recommend it if you're in Key Largo. I will say, the waves were pretty rough while we were circling the reef and several people suffered from sea sickness. Something to consider if you want to go on the boat tour.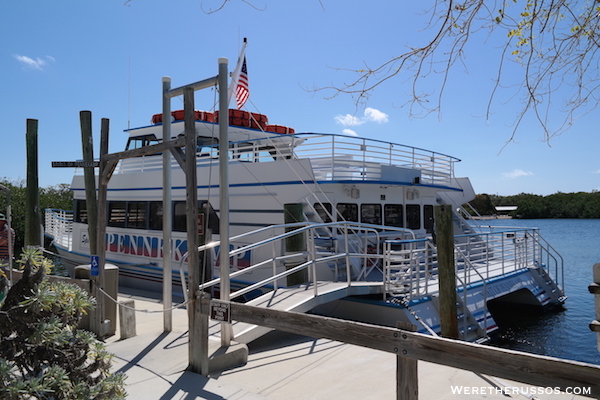 There is a 30,000 gallon salt water aquarium at the visitor center which is free to all visitors.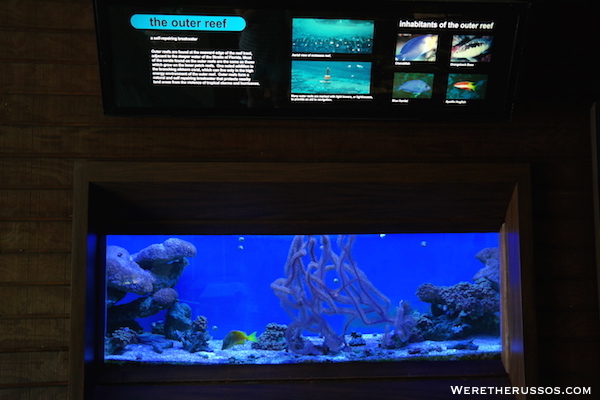 We even worked from the beach one afternoon and took advantage of the free wifi at the visitor center. Definitely one of the best "office" views we've had.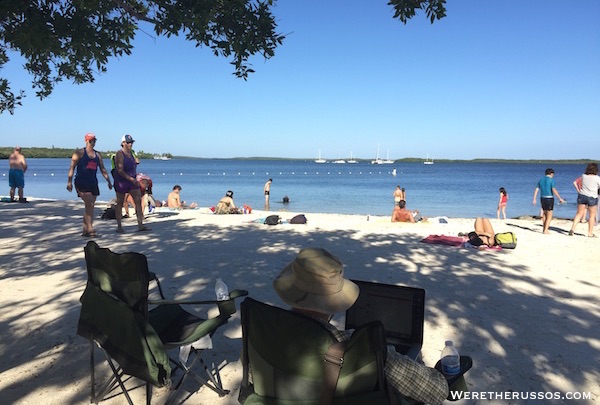 Other activities we wanted to participate in but didn't get a chance to were kayaking and snorkeling. Since we were only able to snag a three night reservation, our time at the park was limited and we didn't get to see or do as much as we had hoped. If we winter in Florida again, we will try to book at least a week.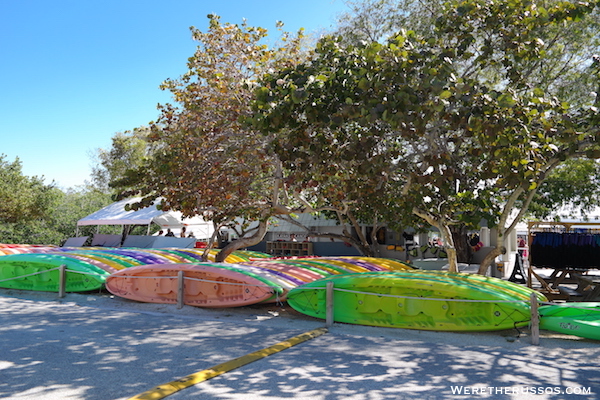 Tip: Once you check out of the campground, you can stay at the park until it closes at sunset. There are several RV parking parking spots near the marina.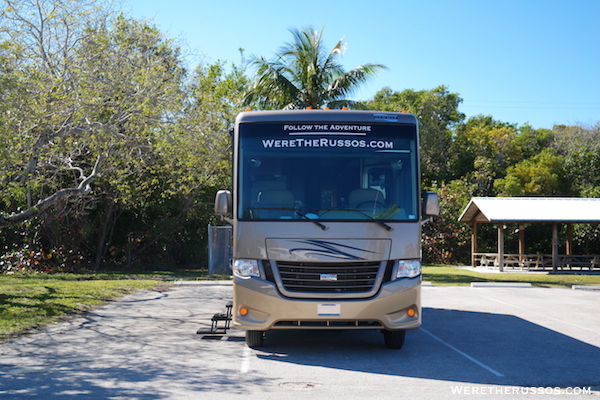 Overall, we had a great time RV camping at John Pennekamp State Park and wish we could have stayed longer. There are other state parks in the Keys that have beach access and ocean views, but we really enjoyed John Pennekamp because of all the activities available at the park. If you're looking for RV camping options in Key Largo, Florida check out John Pennekamp and maybe we'll see you there next winter.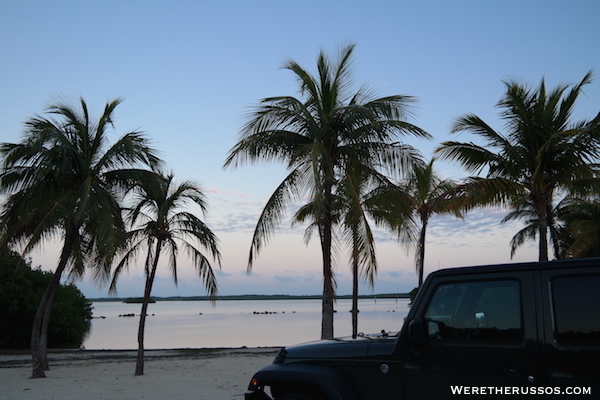 Thank you Jen and Deas of Nealys On Wheels for introducing us to this beautiful Florida State Park!
Notes:
$38.50/night for full hookups
30/50 amp back-in sites
Restrooms, showers and laundry
Dog friendly
Good AT&T cell service
Free wifi at visitor center
Frequently Asked Questions
Q: How long can you stay at John Pennekamp State Park?
A: The maximum length of stay at this state park varies. According to the Florida State Parks reservations page, the max is 14 nights during high season, possible stay of 28 continuous nights based on availability and no more than "56 nights of total occupancy in any one park in each six-month period, defined as Oct. 1 – March 31, and April 1 – Sept. 30."