Some of the links below are affiliate links, which means we will earn a commission on the products or services you purchase using the links. There is no additional cost to you and the earnings help keep this website running. Read the Affiliate Disclaimer for more information.
Want some ideas on where to eat in Barcelona? We pulled together a list of the best food in Barcelona, including the best paella in Barcelona, the best tapas in Barcelona, and the one Barcelona restaurant you have to go to!
Where to Eat in Barcelona
For a list of all Barcelona restaurants included in the video, read the post below.
Eat Like a Local in Barcelona
To eat like a local in Barcelona, meet up with the locals and let them introduce you to their favorite restaurants. Alex is a foodie in Barcelona who introduced us to some great spots. You can follow Alex's food adventures on Instagram @Barcelona200.
Flax & Kale, a popular healthy restaurant in Barcelona. Their slogan is Eat Better. Be Happier. Live Longer. The menu consists of gluten free options, and plant based dishes. Our favorites are the grilled greens with asparagus, grilled watermelon with goat cheese, Teresa's paleo bread and the spaghettini.
Els Sortidors del Parliament offers a variety of Catalan dishes including spicy patatas bravas and Spanish blood sausage. If you're in the mood for dessert, get an order of carquinyolis with muscat.
Where to Get Calçots & How to Eat Them Like a Pro
El Disbarat serves the popular Catalan dish, calçots. When these green onions are in season, they are fire roasted, served with a side of romesco sauce. Watch the video to see how to eat calçots like a pro.
Best Bakery & Croissant in Barcelona
The bread and croissants at Turris are incredible. This bakery has several locations in Barcleona serving freshly made breads and croissants daily. Our favorite artisan loaf is the walnut bread.
Dining on a Budget in Barcelona
Maoz Vegetarian is a good food option for those traveling on a budget. You can order a falafel pita or falafel salad and load it with an array of toppings from the bar. The best part is, you can visit the bar and load up as many times as you want.
Best Tapas Restaurants in Barcelona
For some of the best tapas in Barcelona, we recommend going on a walking tour to sample from a variety of restaurants.
La Plata for crispy fried anchovies. This small tapas bar is know for only having a few items on the menu. Grab a spot at the bar and enjoy a plate or two of the tasty anchovies.
Bar Jai-ca for la bomba or the bomb. While you're there, try the grilled prawns.
El Vaso De Oro for Padrón peppers. These fried green peppers are seasoned with salt and mostly mild in flavor. Everyone once in a while, you might get a spicy one so be careful. While you're there, try the seasoned potatoes in olive oil.
Gatamala for free tapas with your drink order. Depending on how long you stay and how many drinks you have, you could be sampling a variety of tapas. While you're here, try the tortilla de patatas, a well known potato omelette in Spain.
Best Paella in Barcelona
Suquet de L'Almirall for the best paella in Barcelona. This famous Spanish rice dish originated in Valencia and each restaurant has their own take on the classic. At Suquet del L'almirall, each order of paella is made from scratch, which takes about 25 minutes to prepare. A good balance of rice versus seafood, well seasoned and beautifully presented. The beach is just around the corner from the restaurant, perfect for a post paella stroll.
Best Restaurant in Barcelona
If you only eat at one Barcelona restaurant, head to La Pepita. They have a wide selection of tapas including the famous Catalan tomato bread and patatas bravas. The crunchy toast topped with tomatoes and olive oil is so simple, but delicious. Their version of patatas bravas is a bowl of golden potatoes drizzled with two sauces that make them simply irresistible.
There's a lot of food to try at La Pepita, so here's a dining tip: ask for a half order so you can try more dishes. Now, here are some other dishes to try: Iberian croquette, fried calamari with kimchi mayonnaise, Russian house salad, shrimp croquettes, house special anchovy.
The pluma iberica with fried calcots and spicy romesco is arguably the best dish on the menu.
If you saved room for dessert, get an order of the marvelous Gin & Tonic. It's on the dessert menu for a reason. This hand crafted cocktail by La Pepita's resident bartender is a great way to end the meal.
La Pepita is the kind of place where you can walk in, grab a seat at the bar and end up staying for hours. You'll likely make friends with the bartender and fellow diners ranging from locals to travelers from all over the world. Once you're ready to head out, enjoy an aperitif on the house and leave your mark on the restaurant.
Barcelona is an incredible city filled with delicious bites around every corner. Have fun exploring and share your favorite bites below. Want more? Read our Barcelona Travel Guide.
Where to Stay in Barcelona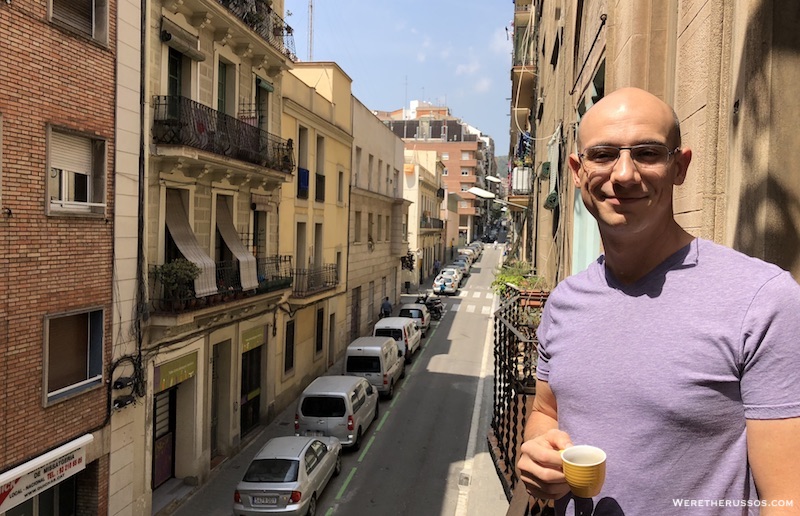 There are plenty of hotels, hostels and apartments for rent in Barcelona. After evaluating costs we decided to book shared apartments in Barcelona. Each location provided free WiFi, full use of the kitchen, and free laundry. Being able to make coffee every morning and cook our own meals not only saved us money, but it made us feel at home. Find lodging in Barcelona.