Some of the links below are affiliate links, which means we will earn a commission on the products or services you purchase using the links. There is no additional cost to you and the earnings help keep this website running. Read the Affiliate Disclaimer for more information.
Created at the end of the last ice age, the Niagara Falls are one of the most iconic waterfalls in the world. Surrounded by monuments, overlooks and attractions, Niagara Falls draws people in from around the globe. In this travel guide, you'll find all the information we gathered from our recent visit to Niagara Falls Ontario Canada.
Topics covered in this Niagara Falls travel guide include:
Rainbow Bridge Border Crossing
Niagara Falls Parking
Getting Around Niagara Falls
Things to Do in Niagara Falls
Where to Stay in Niagara Falls
Niagara Falls Ontario Canada

Rainbow Bridge Niagara Falls
The Rainbow Bridge is the most popular bridge to cross between Canada and the United States. The view of Niagara Falls from this bridge is spectacular. If you have time, take a walk on the bridge to see the falls from a different vantage point.
For the most up-to-date information on all three bridges, toll fees, wait times, head over to the Niagara Falls Bridge Commission. Before crossing an international border, be sure to read up on rules and regulations for each country: U.S. Customs and Border Patrol & Canada Border Services Agency. Items such as fresh fruit or folding pocket knives may be prohibited.
Niagara Falls Parking
There are many parking options available around Niagara Falls Ontario. We purchased a daily pass at Falls Parking (Lot A) 6635 Niagara Pkwy. This lot is open year round with in and out privileges. If you plan to visit Niagara Falls more than once, the annual parking pass is the better deal – Niagara Falls parking options.
Getting Around Niagara Falls
One way to get around Niagara Falls is via the popular bus service WEGO. On our driving tour around Niagara Falls, we saw several WEGO bus stops along the way. The bus service offers several routes with stops at hotels and popular attractions. We saw a WEGO stop at the Floral Clock where free parking is available and passes are for sale.
If you're going to purchase a WEGO pass, skip the expensive parking fee at Niagara Falls and take advantage of the free parking at one of the bus stops.
Things to Do in Niagara Falls Ontario Canada
Table Rock Visitor Centre – Grab a visitor guide to learn about the three falls that make up the Niagara Falls: American Falls, Bridal Veil Falls and Canadian Horseshoe Falls. I recommend going up to the second floor for a different view of the falls.
Night Time Light Show – Something worth sticking around for is the night lights at the falls. The colors vary depending on the day, but you can always make a special illumination request.
Up Close and Personal – Although there's no charge to view the falls, you can pay a fee to walk behind them or take a cruise to the heart of the falls.
Nikola Tesla Statue – According to the Tesla Society "Nikola Tesla designed the first hydroelectric power plant at Niagara Falls, New York which started producing electrical power in 1895."
Clifton Hill – Take a stroll through the touristy area of Niagara Falls. There are many photo opportunities in this area in addition to all the restaurants and attractions.
Parks & Gardens – The European-style Botanical Gardens are free to visit, but there is a fee to park. For free parking head to Queenston Heights Park and check out Brocks Monument, a 156 foot column dedicated to Major General Sir Isaac Brock, a Canadian hero of the War of 1812.
Floral Clock – This beautiful clock is on the way to Niagara-on-the-Lake where you can go for a horse drawn carriage ride around town.
Where to Camp in Niagara Falls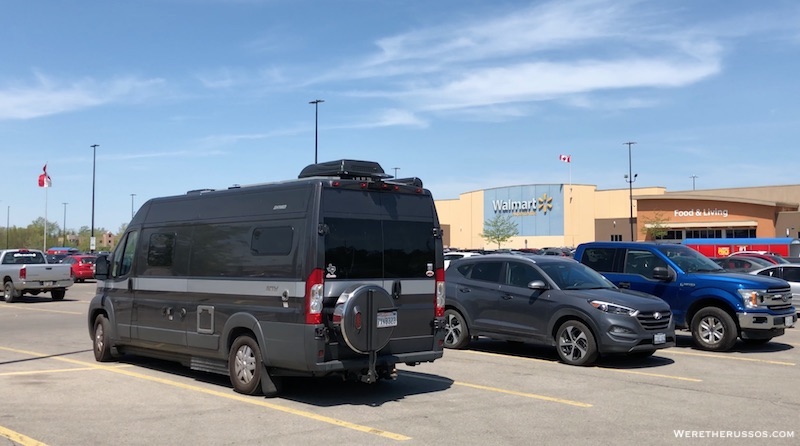 There is no shortage of lodge options near Niagara Falls. We ended up parking overnight at Walmart in an RV. Below are some other options.
To quickly find campgrounds, RV dumps, propane fills, potable water and more RVing/camping resources we use Allstays. Check out our AllStays Review.
Find nearby Harvest Hosts. Members have access to vineyards, farms, museums, breweries and more. Read our Harvest Hosts Review or use our referral link to receive a discount.
Check Boondockers Welcome to see if there's a host member in the area that can accommodate an overnight RV stay. Read our Boondockers Welcome Review or use our affiliate link to sign up.