Some of the links below are affiliate links, which means we will earn a commission on the products or services you purchase using the links. There is no additional cost to you and the earnings help keep this website running. Read the Affiliate Disclaimer for more information.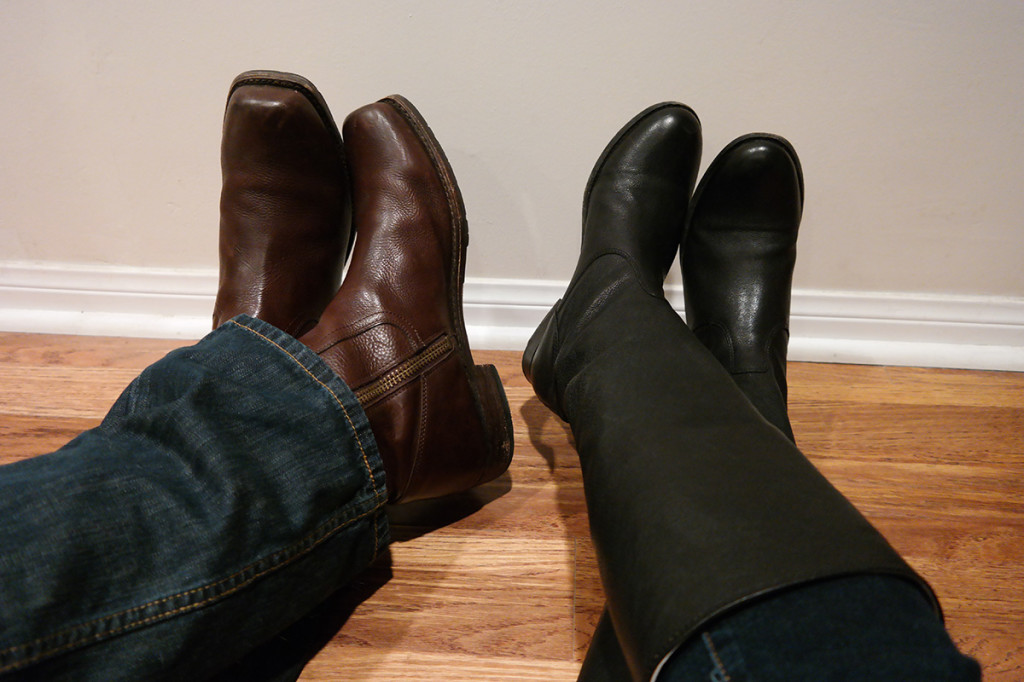 One of the most important items to pack for any trip is a pair of comfortable walking shoes. Having done quite a bit of traveling this fall and winter, the one thing we always packed were our Frye boots. Granted tennis shoes may have been lighter and easier to pack, but nothing beats a pair of well made boots especially when we're trekking through rain and all different types of conditions. We each own multiple pairs of Frye boots and this post will highlight our go to traveling boots.
Frye Men's Heath Inside Zip
When I was a kid, my father instilled a sense of buy once, cry once – meaning buy the best quality and only have to worry about spending the money once rather than having to repeatedly replace a poor quality item. That's exactly what I was thinking when I bought the Heath boots. At around $340, the boots are made with high quality thick leather that feels like it will never wear out. The soles are a combination of leather and hard rubber which are replaceable (as much as I wear mine, it will be time to replace them soon). Inside the boot, is an insole which provides cushioning and a heavy duty zipper along the side.
In typical Frye fashion, these boots were very stiff to start and I could only wear them for short periods until I broke them in, which took around one month of wearing them 4 to 5 times a week. Once they were broken in, it felt like wearing gloves on my feet.
For traveling, these are my ideal boots because they have a zipper on the inside which allows me to quickly unzip and pull them on/off when going through security. Once broken in, they are comfortable for all day wear, can withstand all conditions and are nice enough to wear on a night out with a sport coat or with a t-shirt – no need to pack multiple pairs of shoes! I took these to Paris and walked on average 4 miles a day for nine days without any problems. A huge deal considering I have flat feet and comfortable shoes are hard to find.
Frye Women's Melissa Button Back Zip
Kait's Frye boots of choice are the Melissa button back zip in black. These boots are also made with high quality thick leather, a leather and rubber replaceable sole and a heavy duty zipper along the back. I've never heard her complain once about these boots and its the one pair I can always find in her luggage.
A Note on Buying Frye's
When searching for Frye's online, you'll begin to notice that prices for a specific model of shoe can vary hundreds of dollars. As much as we like Frye's, we've gotten excited at the prospect of scoring a pair at half the price, but found out that there are a lot of counterfeit boots out there and it was too good to be true. We've also found Frye's being sold at discount shoe stores like DSW. It seems that they ship out their second hand boots to these discount resellers (we've even seen second rate boots come from Zappos) and found a big difference in quality/finish when comparing them to boots purchased direct from Frye. Considering that this something that may last 20 years or more, spend the extra money and buy directly from Frye or go to a reputable store like Bloomingdales (the warranty also goes from 1 to 2 years when buying direct from the company). Trust us, you may cry once but you'll smile every time you pull your boots on.
Disclosure: This review represents our own opinions of the products. We were not compensated in anyway for this review and purchased all of the Frye products referenced with our own money.