Some of the links below are affiliate links, which means we will earn a commission on the products or services you purchase using the links. There is no additional cost to you and the earnings help keep this website running. Read the Affiliate Disclaimer for more information.
When I sat down at the bar of La Pepita for a late lunch, I had no idea I was sitting next to the owner. While enjoying the delicious food and cocktails at her restaurant I got to pick her brain on other places to eat in Barcelona and she shared a list with me and explained why each one was special. With her permission, I get to share that list here. Get ready to eat like a local in Barcelona!
Eat Like a Local in Barcelona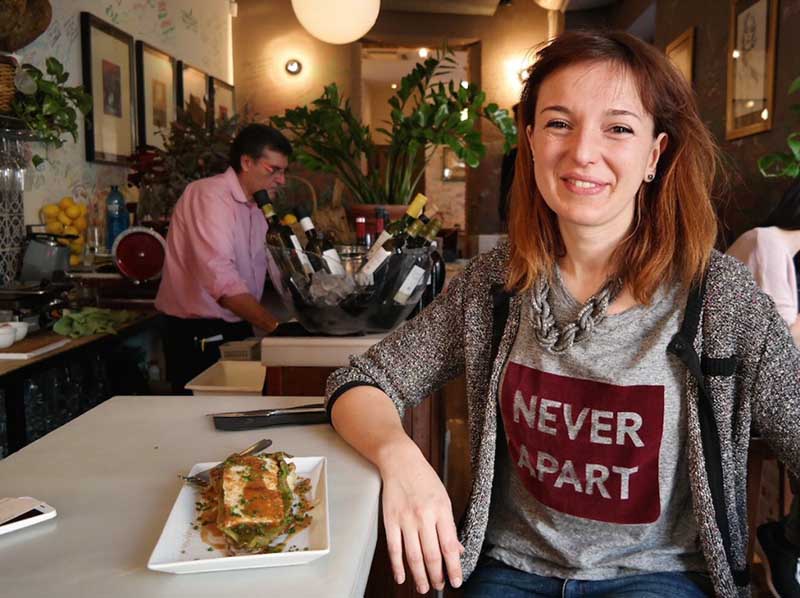 Local Food Guide: Sofia Boixet
Sofia is the owner of La Pepita, a family run bar and restaurant in Gracia. This popular eatery is serving up fresh, balanced and delightful dishes like marinaded sea bass with basil. The atmosphere is vibrant, friendly and warm. It's the perfect spot to grab an afternoon espresso, dinner with friends, a house vermut or all of the above.
Black Rice & Paella
Suquet de L'Almirall (Barceloneta). "This place has the best black rice" according to Sofia and a good paella. Situated next to the beach, it's also a great location for a post meal stroll along the boardwalk. I had the opportunity to try their Catalana Paella (mixed paella) and it did not disappoint. Can't wait to come back with Joe and try the black rice.
Beef & Foie
El Vaso De Oro (Barceloneta). Beef served with foie gras is a popular combination found in many restaurants and according to Sofia, this is the place to get it and she recommends the Russian salad to go along with it. The restaurant was closed when I walked by, so I didn't get a chance to try it, but adding it to the list for next time.
Bombas
La Cova Fumada (Barceloneta). La bomba, the bomb, is a potato croquette served with spicy aiolli and can be found in tapas bars throughout Barcelona. In addition to the bombas, Sofia also recommends their sardines and artichokes.
Fish & Tomato
La Plata (Gothic). This tapas bar only serves four dishes and has been serving the same dishes since it opened in 1945. Choose from fried sardines, anchovies on toast, tomato salad with onions or sausage on toast. They also have a good selection of wines to choose from.
Markets – Fresh Fish to Table
Mercat de la Llibertat. After talking to Sofia about how the Mercado de la Boqueria was over run by tourists and didn't feel like a real market, she immediately recommended Mercat de la Libertat and a great place to get freshly caught fish cooked to order: El Tast de Joan Noi. It's supposed to be some of the best fish in Barcelona. I don't know about you, but I'd like to extend my Barcelona trip a day to eat here.
Bars
Of course, we can't forget about the best spots for a libation. Sofia's top two bars are: Dry Martini, a speakeasy in L'Eixample and El Nus, a small bar in Gothic serving up cocktails with a smile.
Sofia's recommendations alone call for a separate trip to Barcelona. If you're visiting, be sure to stop by her restaurant. Go for lunch to avoid the crowds at dinner time and remember most places are closed for a few hours in the afternoon, so double check before heading over.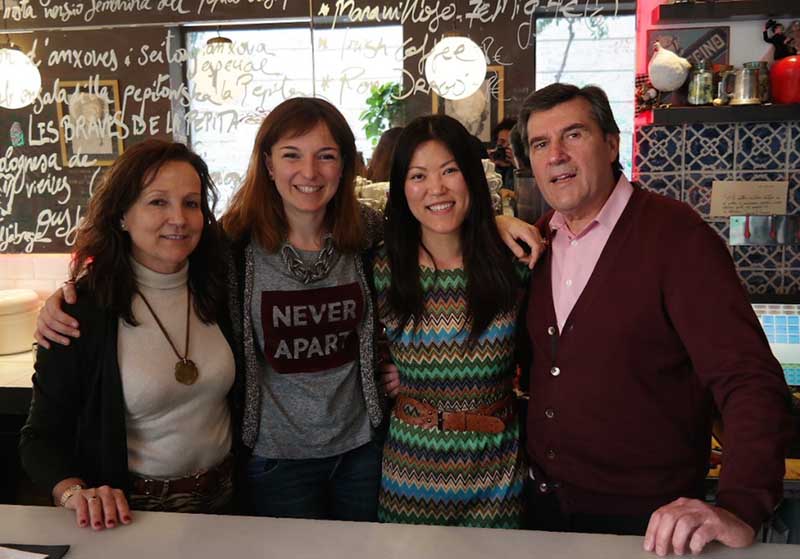 Want more? Check out my favorite bites in Barcelona.