Some of the links below are affiliate links, which means we will earn a commission on the products or services you purchase using the links. There is no additional cost to you and the earnings help keep this website running. Read the Affiliate Disclaimer for more information.
When we looked for RV camping in Green Bay, we came up empty. Luckily, we found Oneida Casino and made that our home base during our visit. Casino camping or overnight RV parking at a casino is quite popular among RVers. Throughout the United States, there are many types of casino camping options. Some casinos have RV parks with amenities and others offer a designated space either with or without hookups. We found Oneida Casino to be a convenient place to park our RV while visiting Green Bay.
Video review of this campground at the bottom of the post.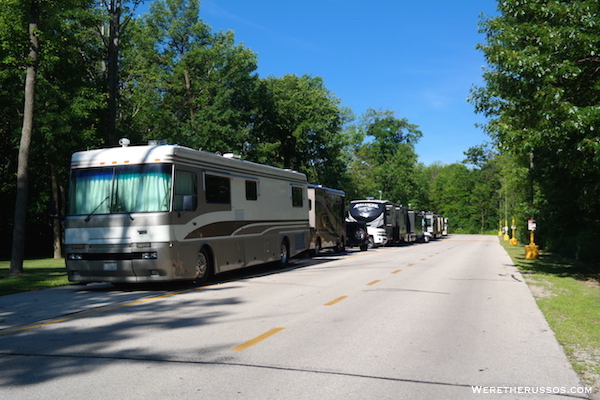 RV Camping Green Bay Wisconsin
Oneida Casino has ten designated RV parking spots that are first come first served. The cost is $15/night for a 50amp spot (sites 1 and 2) or 30amp spot (sites 3 thru 10). There is no water and no dump facility on site. No limit to how long you can stay.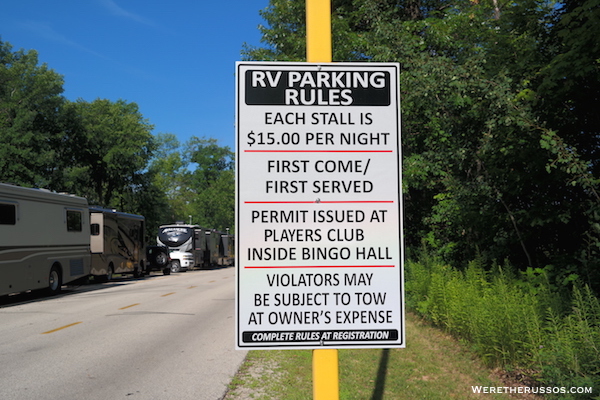 Each space is clearly marked by yellow lines. We pulled in on a weekday and there were a few open spots to pick from. According to the casino staff, the spaces fill up quickly when there is a Packers game in town. Several of the spaces are on a slope. We were in space 2 and had to use the leveling blocks.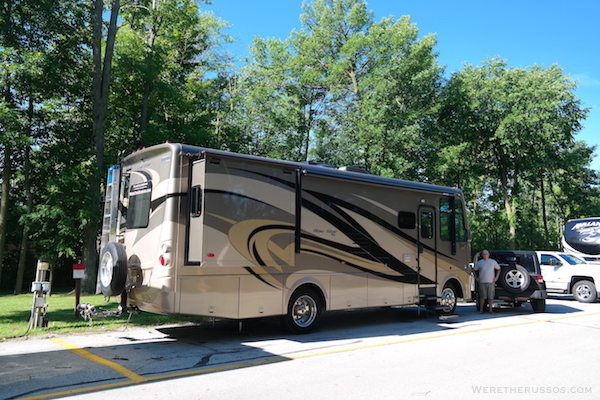 The electric hookup is easy to locate. Next to it is a post with the space number and a box to place the registration card. Next to each site is a picnic table. We did not use it because there were quite a few ticks in the grass.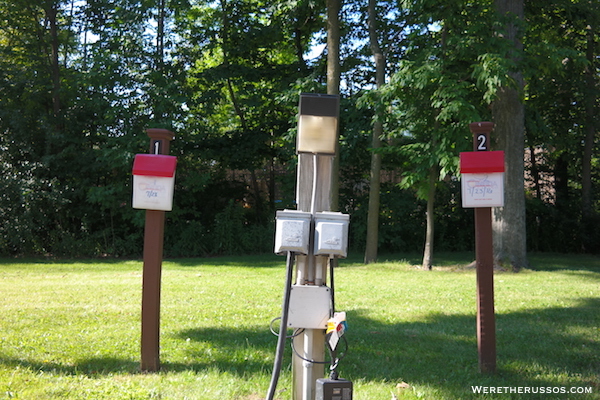 To register, walk down towards space 10 and head inside the brown building. Rules for RV parking is posted inside next to the check-in window. We were asked to sign up for a players card that came with a $25 credit.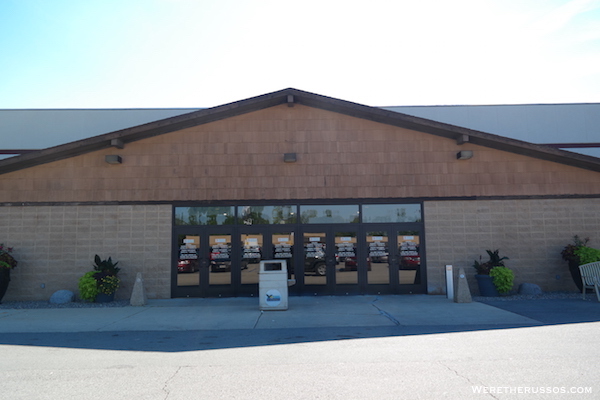 Overall, we found Oneida Casino to be a great option for visiting Green Bay at a reasonable price. We enjoyed walking around the casino grounds and there was security throughout the day so safety was not a concern for us. However, cars did use the road at night and some would blast loud music or rev their engine past midnight. After our stay, we went to the Cabela's near Lambeau Field to dump our tanks.
RV Camping Green Bay Video
If you enjoyed this post, check out Casino Camping – How to Find Overnight Camping at Casinos