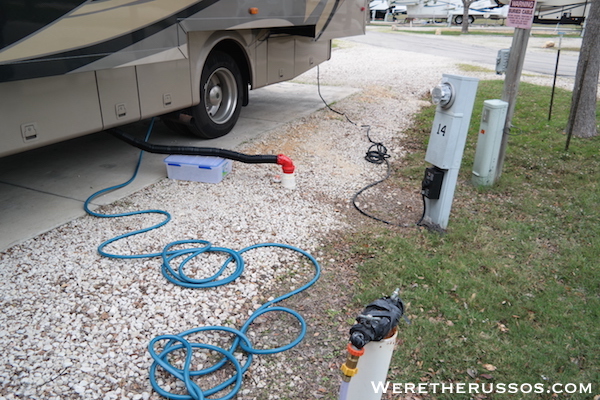 RV electrical systems are very sensitive and a lot of harm can be done if they are exposed to surges or low voltage when plugged into shore power or accidentally plugged into a 220v outlet. Diana, a fellow RVer who follows us on Facebook sent this note about an incident she witnessed, "We were camped at the fabulous Tiger Run Resort in Breckenridge, CO one afternoon & suddenly a massive power surge hit the campground. Our rig was fine, because we had a surge suppressor, but 3 rigs in camp had their systems fried." Unfortunately, others have had similar stories of their RV's plugged into shore power at an RV park and a surge or drop in voltage resulted in thousands of dollars worth of electrical damage to their RV. Before we took delivery of our Class A gas coach, we bought the Progressive Industries Electrical Management system and considered it as part of the insurance for our RV.
What We Ordered:
Progressive Industries PT30C 30 Amp Portable Electrical Management System
MSRP: $259.01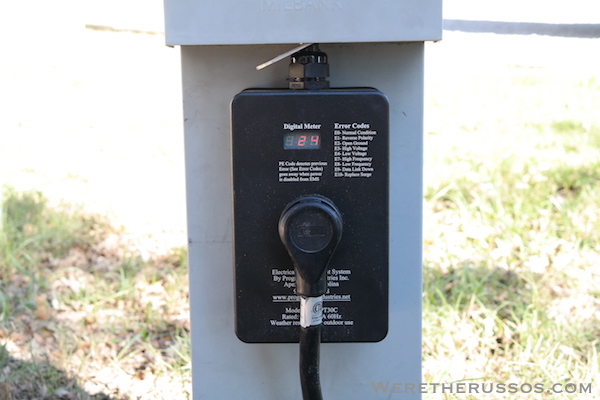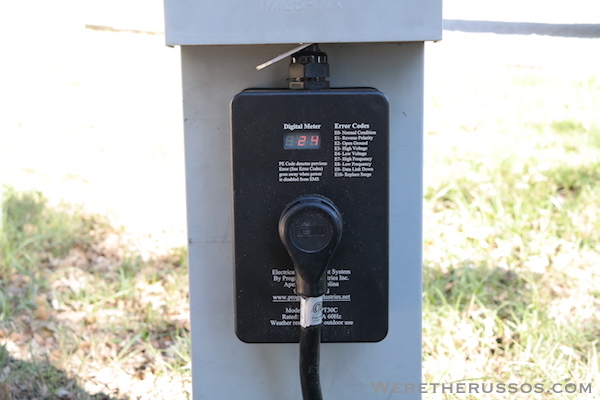 What We Like:
Peace of mind. Many products on the market are simply surge protectors and do not protect against the other electrical dangers that face a RV. Progressive Industries made this box to protect against high and low voltage, accidentally plugging into a 220v outlet, reverse polarity, AC frequency and open neutral. Having this box helps us sleep well at night because we don't have to worry about any electrical issues damaging our RV.
Plug and play. The Progressive Industries Electrical Management System simply plugs into shore power and the 30 amp cord from the coach plugs into the box. There is nothing to set up, turn on or worry about – simply plug and play. There is a read out on the box that cycles through simple diagnostic info – what voltage is coming in, how many amps are being drawn and what is the current status of the box. The display is easy to read and understand. It does take about 30 seconds for the electricity to come through once we plug in.
Easy to secure. The system sells for around $260, which makes it an expensive item for us. To make sure it doesn't walk away while we're gone, we use the steel loop on the box to secure it to the campground's electrical service box with a bicycle lock.
Weather resistant. The box is made to be weather resistant and can be left outside, which is importantbecause when we do plug in at a park, the box is outdoors. We've tested this in a heavy rain storm in Colorado and had no problems.
Made in the U.S. and comes with a lifetime warranty.
What We Don't Like:
Nothing – we have been very happy with the system and have used it since July 2015.
Overall:
This is the must have product we suggest for every RV owner. RVs are an expensive investment and this is good insurance to have against something that is a known problem in campgrounds with overloaded or antiquated electrical systems. If we could change one thing about the box is for it to be a bit smaller to take up less room in the bay.
If you found this review helpful and decide to purchase the system, please consider ordering through our Amazon affiliate link. There is no additional fee for the buyer and in return we receive a small percentage of the sale. Thanks for your support! We really appreciate it.
Disclosure: We paid for the product in this review and this review represents our own opinions.


Check out our strong>Check out our Top 10 Must Have RVing Gadgets