Some of the links below are affiliate links, which means we will earn a commission on the products or services you purchase using the links. There is no additional cost to you and the earnings help keep this website running. Read the Affiliate Disclaimer for more information.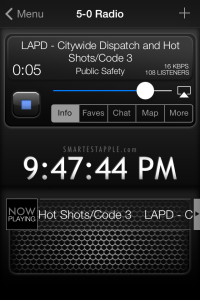 Ever wonder what's going on when you hear sirens in your neighborhood? What about just listening to the idle talk between officers out on the beat?  Scanner 5-0 is one of the best Police Scanner App I have found.
To start, they have a free version which comes with ads that pop up every time you select a new feed. If you're like me and bounce around from feed to feed, then spring for the paid version at $2.99 which eliminates the ads and has a few extra feeds. Once you are in the app, the navigation is very intuitive. You can search for scanner feeds by Country/state/county and then go through the list of feeds to find what you're looking for. Feeds aren't limited to the USA either and its interesting to listen to feeds from foreign Police agencies. If you feel like something a bit different, the have "Bonus Feeds" which include music and talk radio from around the world. My one gripe is that they leave dead feeds up, so you need to check and make sure that there is still something coming through.
Once you find something you like, you can add the feed as a favorite (which is located on the home screen). When selecting a feed to listen to, you are brought into the player screen which provides some basic info at a glance. For most feeds, there is a More Info section that provides a "key" of sorts for all of the codes they use over the radio so you can try and figure out what all of the lingo is they are using like "Code 3!".
Kait and I have found the app to be extremely useful. There have been times when we've heard sirens or helicopters in the neighborhood and wondered what was going on. Most of the time, this "disturbance" isn't being covered by local news (or if it is, you'll read about it the next day) so we turn on the scanner and can figure out what's going on. If there is news coverage, you get the actual "story" of what's happening rather than the spun version that's being shown on TV. We also use it when driving to list to the CHP and know about accidents, drunk drivers, etc. In a survival situation, this would be an invaluable tool (assuming the power/internet was still up) so you could get details on what's happening around you and make decisions based on real time information and not what's being shown on the TV.
Kait's favorite aspect of the app however is using it as a sleep aid. Its can be very monotonous at times so you can put it on and just pass right out
The free (lite) version of the iOS version
The free the Android version