Some of the links below are affiliate links, which means we will earn a commission on the products or services you purchase using the links. There is no additional cost to you and the earnings help keep this website running. Read the Affiliate Disclaimer for more information.
Allow me to be blunt. The Cubed Old Fashioned is the world's best old fashioned I've ever had. Kait and I LOVE a good old fashioned and this drink changed our lives and the way we think about cocktails.
The devil is in the details at Del Posto, which is consistently named one of the top restaurants in New York city. This seemingly simple cocktail will set you back $20, but by the time you're done, you realize you would fly across the country to have one.
The World's Best Old Fashioned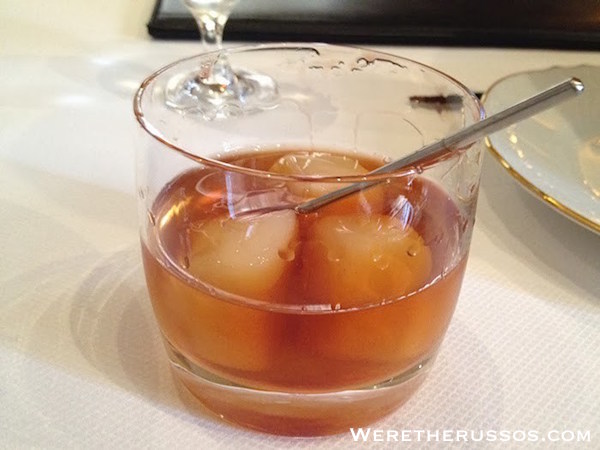 The magic in this old fashioned lies in the ice cubes. They are made with simple syrup, Luxardo cherry and Angostura bitters. The bartender then pours hand picked Stranahan's Whiskey over the cubes. That first sip reveals all of the flavor of the small batch whiskey which begins to move onto more traditional flavors as the cubes melt into the drink. What makes this drink worth the price of admission is the progression of flavor from the initial sip to the last drop – no two sips are alike. We haven't traveled to every place in the world, but we will consider this the world's best old fashioned until we find one that can beat it.
If you love this cocktail, be sure to check out off menu cocktail at £10 (Ten Pound) Bar in Beverly Hills.