Some of the links below are affiliate links, which means we will earn a commission on the products or services you purchase using the links. There is no additional cost to you and the earnings help keep this website running. Read the Affiliate Disclaimer for more information.
Joe and I love hot sauce, so much so we decided to make our own homemade cayenne pepper hot sauce. It took over 10 jars of hot sauce before finding the right balance of heat, salt, garlic and vinegar for our tastes. Luckily, we had a abundant supply of homegrown peppers and garlic to keep the hot sauce testing train moving. This is the cayenne pepper hot sauce recipe we settled on and the best part is, you can tweak it to your taste buds.
Cayenne Pepper Hot Sauce Recipe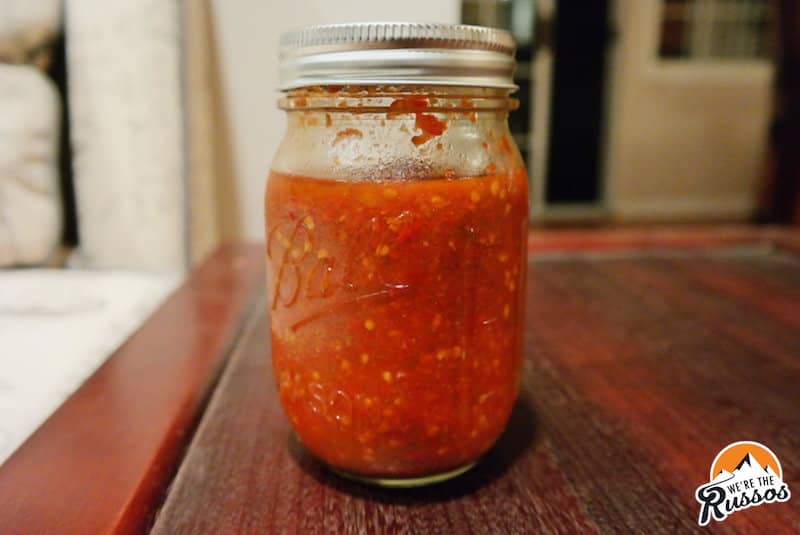 Ingredients and Supplies
A lot of cayenne pepper (dry or fresh), at least enough to stuff one mason jar full
Fresh garlic cloves
White vinegar
Salt
Blender (read: best RV kitchen gadgets)
How to Make Cayenne Pepper Hot Sauce
Add 2 cloves of peeled garlic to the bottom of the mason jar. For a more prominent garlic flavor, try adding 3 or 4 cloves of garlic.
Stuff as many fresh or dry cayenne peppers as you can into the jar. The more peppers in the jar the thicker the sauce will be.
Sprinkle 1 teaspoon of table salt in the jar.
Fill 3/4 of the jar with white vinegar.
Fill the rest of the jar with filtered water (we use this water purification system).
Close the jar with the lid and band.
Turn the jar a few times to combine the ingredients.
Leave the jar in a cool place for a few weeks. We started with two weeks and have gone as long as six weeks. The longer the jar was left to sit, the more potent the hot sauce became.
When you're ready to turn the goodness into cayenne pepper hot sauce, just open the jar and pour all the ingredients into a blender. Blend everything until it reaches a desired consistency.
Pour or spoon the blended sauce back into mason jar and top it with a storage lid and refrigerate.
Ways to Enjoy Cayenne Pepper Hot Sauce:
Put some on top an omelette, scrambled eggs or fried eggs. My favorite is soft scrambled eggs with a little bit of cayenne pepper hot sauce.
Add a spoonful to your favorite stir fry sauce (see more recipes)
Mix it into a guacamole for extra heat
Spice up a dipping sauce
Turn mild hot and sour soup into spicy hot sour soup
Tip: If you like your hot sauce extra spicy, harvest a few green cayenne peppers and add them to the jar. If you're not growing cayenne peppers, add a few serrano peppers for more heat.
Have friends that love hot sauce? This homemade cayenne pepper hot sauce is an easy and simple gift that you can make for them.