Some of the links below are affiliate links, which means we will earn a commission on the products or services you purchase using the links. There is no additional cost to you and the earnings help keep this website running. Read the Affiliate Disclaimer for more information.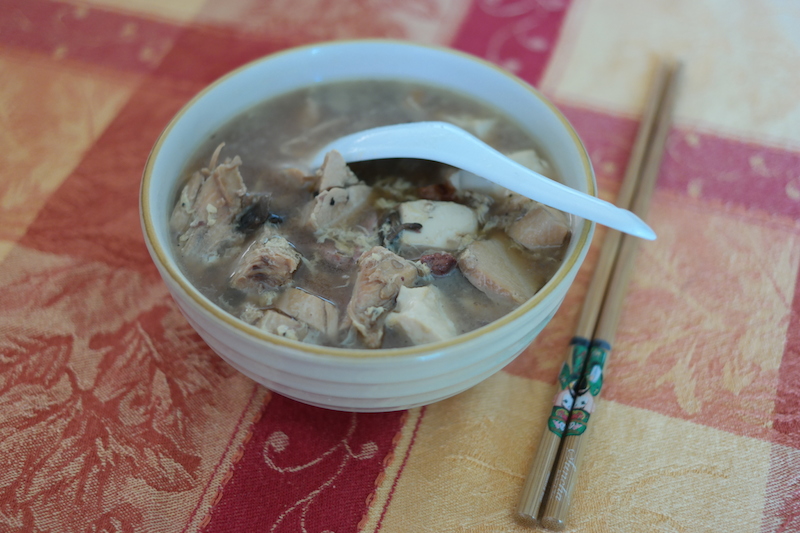 Growing up, my mom always made Chinese hot and sour soup when I caught a cold. The heat from the soup always soothed my throat and cleared my sinuses. Now, it's one of my ultimate comfort foods and is super easy to make. The key to a great Chinese hot and sour soup is to start with a good homemade chicken stock and the rest is up to your imagination and your taste buds.
Chinese hot and sour soup is very flexible. You can make it anyway you want and add whatever ingredients you feel like. Making this soup should be fun. Don't have left over chicken? Add some pork instead or leave out the animal protein all together. Want to clear your sinus? Add as much chili paste as your mouth can stand. We do sometimes!
Hope you have as much fun making it as we do!
Chinese Hot and Sour Soup
Servings 4 – 6
Ingredients:
2 quarts homemade chicken stock (watch the video at the end of this post)
1 inch piece of fresh ginger
2 cups left over chicken cubed
16 oz soft tofu cubed
8 oz white beech mushrooms (traditionally made with wood ear)
1/2 tablespoon white pepper
1/4 cup apple cider vinegar
1/4 cup gluten free soy sauce
2 tablespoon homemade hot sauce (or use Sambal)
2 large eggs beaten
You probably noticed that cornstarch is not listed in the ingredients above. That's because we don't like the texture or taste of the soup thickened with corn starch. You can definitely add a corn starch slurry to this soup base.
Directions:
Step One: Add chicken stock to a large stock pot and bring to a boil over high heat. Add the ginger, chicken, tofu and mushrooms and lower the heat to a simmer.
Step Two: This is where the fun begins. Add the pepper, vinegar, soy and chili paste to the stock. Stir and taste. If you prefer more tang, add more vinegar, if you prefer more heat, add more chili paste. Just be sure to add a little at a time and taste after each addition to get the right flavor.
Step Three: Once you've found the right balance for the soup, make sure the soup is at a simmer and pour in the eggs at a slow stream swirling it around. Allow the eggs to cook for a minute and the soup is ready to serve.
Note: If you are serving this soup to a large group, place the pepper, vinegar, soy and chili on the table for people to adjust according to their taste.
Directions for Hot Sour Soup in the Slow Cooker