Some of the links below are affiliate links, which means we will earn a commission on the products or services you purchase using the links. There is no additional cost to you and the earnings help keep this website running. Read the Affiliate Disclaimer for more information.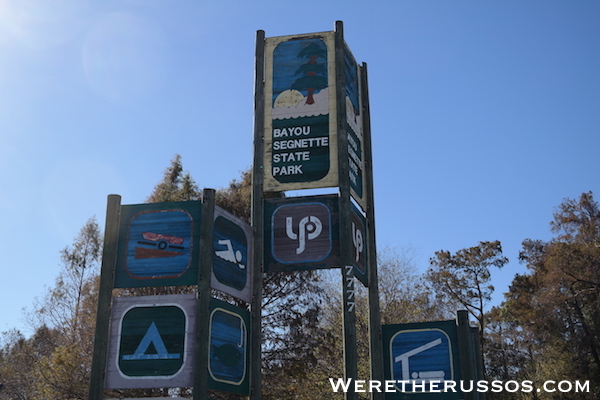 We ended up RV camping at Bayou Segnette State Park in Westwego, Louisiana because we wanted to spend some time in New Orleans and couldn't find any options that would work for us in the city. The RV park in the French Quarter was charging over $100/night, which was way out of our budget. Bayou Segnette State Park ended up being the perfect campground to visit the city and still be able to get away from the hustle and bustle of it all. The drive into the Garden District was about 13 miles each way and 30-45 minutes depending on traffic. The park was reasonable at $20/night for electric and water hookups and right outside the park entrance is a fresh seafood market with large sweet gulf shrimp for sale at less than $5/pound.
RV Camping at Bayou Segnette State Park
We arrived at 5pm without a reservation in early December and did not have any problems getting a site. We did call in the morning to make sure there were RV sites available before we drove over.
Enter through the main gate during regular hours (8am-7pm) which will lead you to a building with two lanes: one for cars and one for RVs (on the right). There is a separate gate for after hours access that requires a code, although the gate was always open when we used it.
The campground is a bit of a drive into the park and the dump station was the first thing to greet us so we took advantage and emptied our tanks.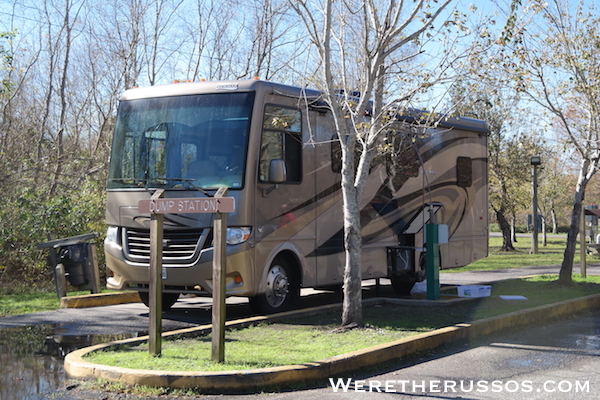 The campground has 98 back in sites not counting the two reserved for the campground hosts.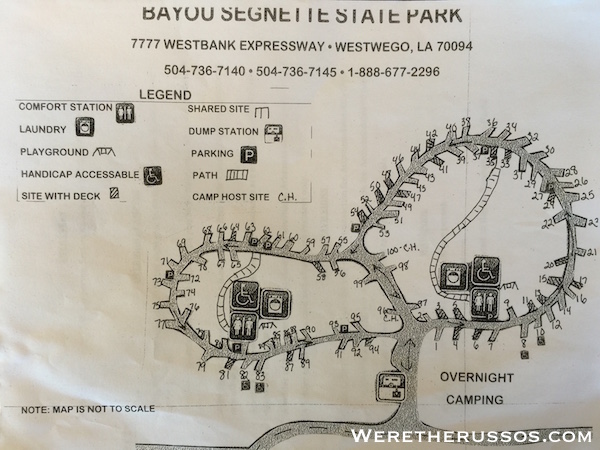 Our campsite was #60, towards the back of the campground which felt more secluded and private than other sites in the park. Each site is paved with electric and water hookup as well as a picnic table, fire pit and grill.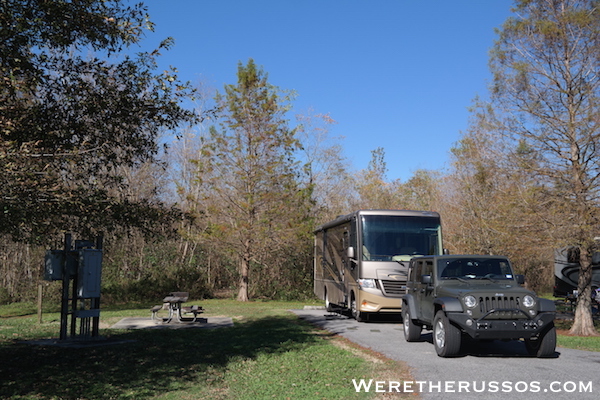 Each loop has its own restroom which included hot showers and laundry room. The restrooms were cleaned daily, but the condition was below average. The complimentary laundry machines did not appear to be operating and were unplugged during our stay.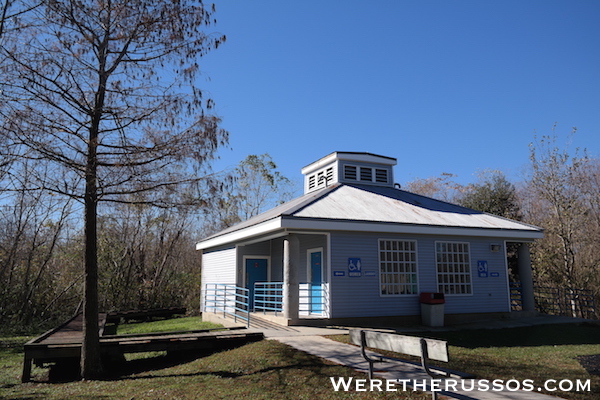 The toilet and sink were in good working order.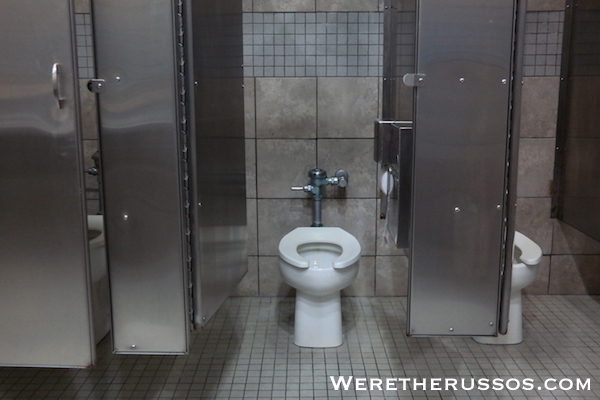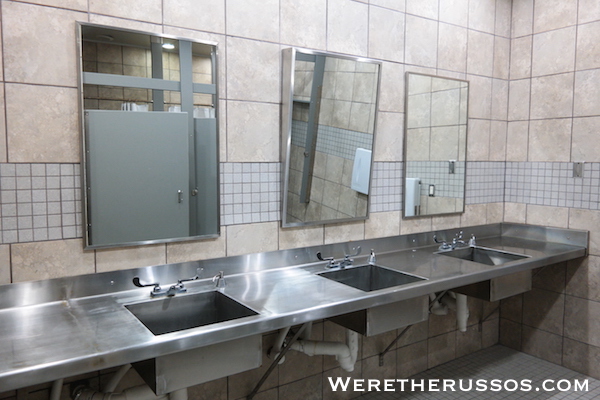 The shower is another story. The stalls were small with low water pressure, bad drainage and fairly grimy. It's the type of shower where if you drop something, you write it off as a loss.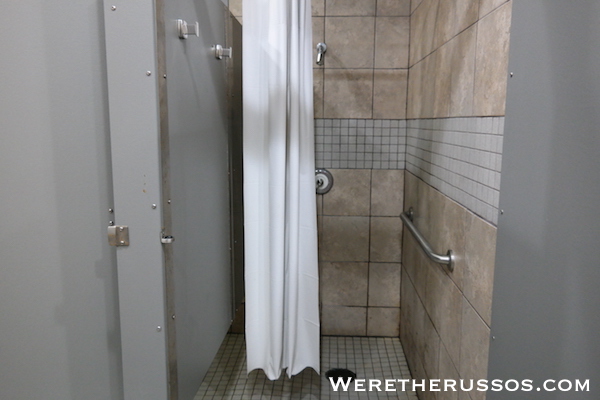 There are many activities at the park including boating, fishing, a wave pool and walking trails. Right outside the park is a great seafood market on US 90 at Louisiana Street. The fresh shrimp were so good we stuffed ourselves silly, but they also have other items such as blue crab and fish.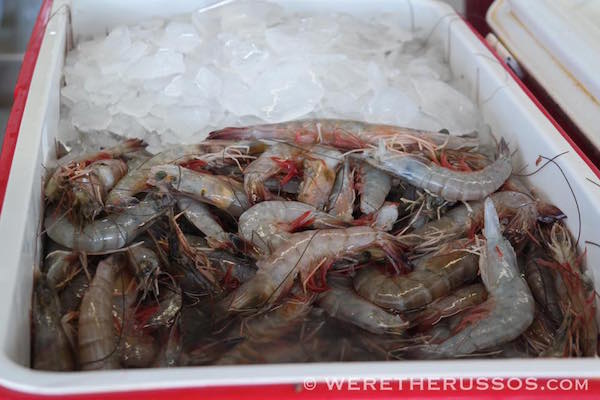 Overall, we enjoyed our stay at Bayou Segnette State Park. The sites are large and the campground was clean with the exception of the showers. The free wifi was very slow and unreliable so we ended up using our hotspot for internet access. Our neighbors were friendly and the campground was fairly quiet with the exception of boats driving by throughout the day. The main draw about this park is the close proximity to New Orleans at a good rate.
Notes:
$20/night for electric and water
30/50 amp
Back in sites
Dump facility on site
Restrooms and showers
Dog friendly
Good AT&T cell service
Free wifi, very slow
Check out our list of things to do in New Orleans and places to eat in Lafayette.
Looking for a unique overnight RV camping experience? How would you like to wake up on a vineyard in California or on a farm in Florida? Read our Harvest Hosts Review and discover their camping on farms, winery camping, and museum programs.