Some of the links below are affiliate links, which means we will earn a commission on the products or services you purchase using the links. There is no additional cost to you and the earnings help keep this website running. Read the Affiliate Disclaimer for more information.
The northeastern most state in the U.S., Maine is a great summer travel destination with a lot to offer. One way to experience the coast of Maine is to take a road trip to Acadia National Park. In this post I share many of the highlights covered in our road trip video below.
Road Trip to Acadia National Park
See Maine's rocky coastline, lighthouses, beautiful nature areas and sample all the delicious food including fresh Atlantic lobsters and potato donuts. This road trip guide starts in Kittery and ends in Lubec.
Kittery Trading Post – Kittery
The Kittery Trading Post has just about everything you could possibly want or need to enjoy the great outdoors. From hiking, fishing, kayaking gear to shoes, hats and backpacking gear, this place has it all. Even if you don't need any gear, it's a fun stop on your way to Acadia National Park.
Rocky Coast of Maine – Bald Head
From Kittery, Maine make your way to Bald Head Cliff via Coastal Route 1. Stop in at Cliff House Maine for breathtaking views of Maine's rocky coastline. Make this a stop on the way to the popular beach town Ogunquit and go for a walk on Marginal Way, a paved path known for incredible views.
Maine's Potato Donut – Scarborough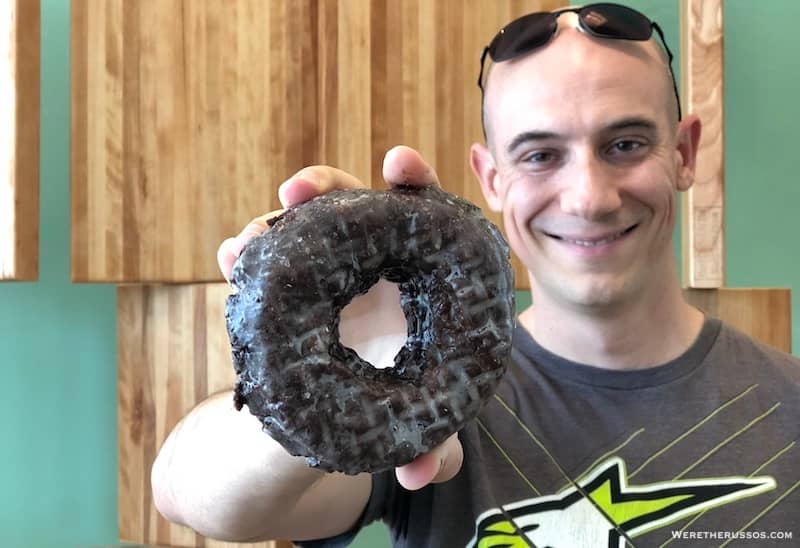 A road trip would not be complete without a few tasty food stops along the way. From Ogunquit make your way to The Holy Donut in Scarborough where the donuts are made with Maine potatoes. Joe's holding the dark chocolate with sea salt, one of the most popular offerings. Note: gluten free donuts are available, but sell out fast.
Best Bakery in Maine – South Portland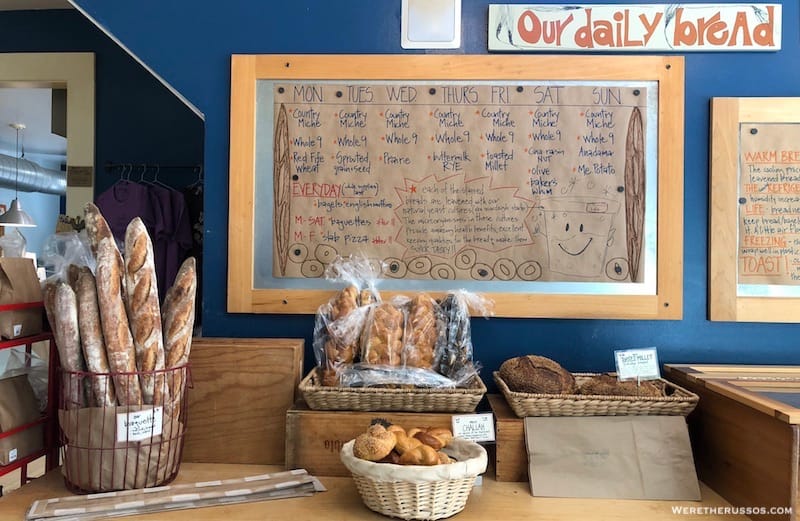 From Scarborough make your way to Scratch Baking Company in South Portland. We especially enjoyed the sea salt snacker and the baguette, but I have a feeling everything they make is delicious. The bagels are so popular they have a limit on the number of bagels each customer can purchase at a time.
Maine's First Capital – Portland
From South Portland make your way to Portland, the first capital of Maine. This charming city on the coast has quite the history. Established in the 1600s as a trading and fishing settlement, Portland has been renamed quite a few times throughout its history. Old Port is a good starting place where you can walk the cobblestone streets and explore the eclectic shops.
Acadia National Park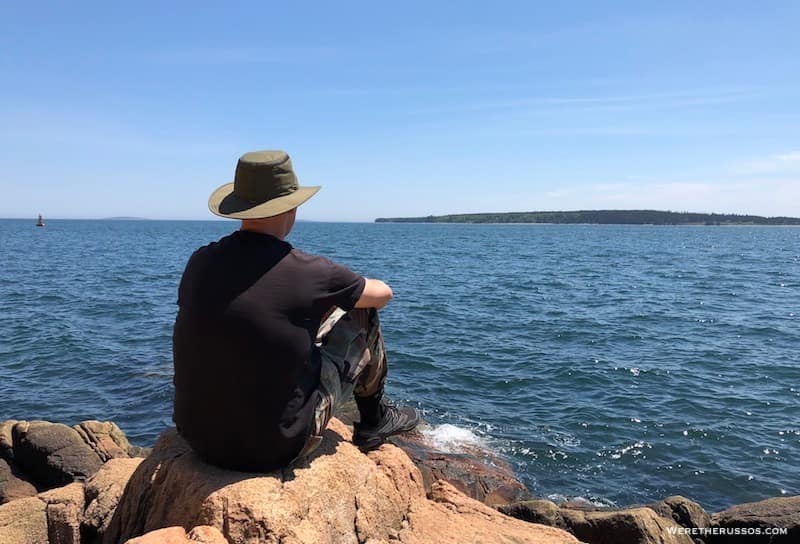 From Portland, make your way to Acadia National Park. Start at Hulls Cove Visitor Center where you can get trail maps, see program schedules and talk to the rangers. To get a good feel of the park, head out on the 27 mile scenic drive on Park Loop. Give yourself the whole day to explore as there are many overlooks and trails along the way. Below are some of our favorite activities.
This fairly level trail is over 3 miles round trip and an easy walk with beautiful views of Maine's rocky coast. Start at Sand Beach and make your way to Otter Point with a stop at Thunder Hole.
Jordan Pond is one of the most popular trails and most photographed areas in Acadia National Park. The 3 mile trail around the shore offers stunning views of the mountains. Make sure to have your bug repelling gear on as they're out in full force on this trail. You can find all the gear we love and use over at our store.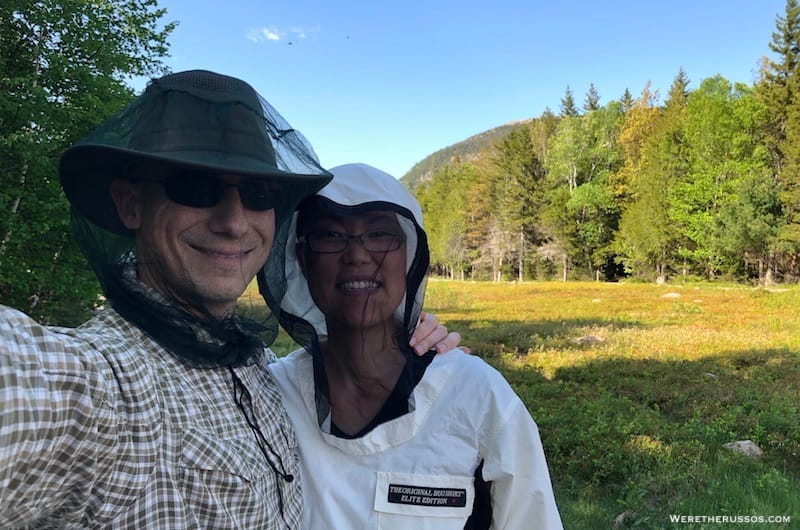 Cadillac Mountain
Either hike or drive to the top of Cadillac Mountain to see the panoramic views. I recommend staying for the sunset or arriving early to catch the sunrise. You can see the sunset time-lapse we captured in our video at the beginning of this post.
Bass Harbor Head Lighthouse
A worthwhile detour from Park Loop scenic drive is the lighthouse at Bass Harbor Head. Built in 1858, the light at Bass Harbor is red and darkens every four seconds.
There are several campgrounds to choose from inside the park. We took a tour of Seawall, a wooded campground with several loops for tent and RV camping. While there are no hookups or showers at the campground, each site has a picnic table and fire ring. You can pay for showers at a convenience store not too far from the campground entrance.
Blueberries & Lobsters – Bar Harbor
From Acadia National Park make your way to Bar Harbor, one of the most well known vacation spots in Maine. In case you don't know, a lot of blueberries are grown in Maine and you'll find all things blueberry in Bar Harbor. Go on a complimentary tour and tasting at Atlantic Brewing to sample their blueberry ale. If you're hungry for lobster, check out the Downeast lobster experience complete with blueberry pie.
Easternmost Point – Lubec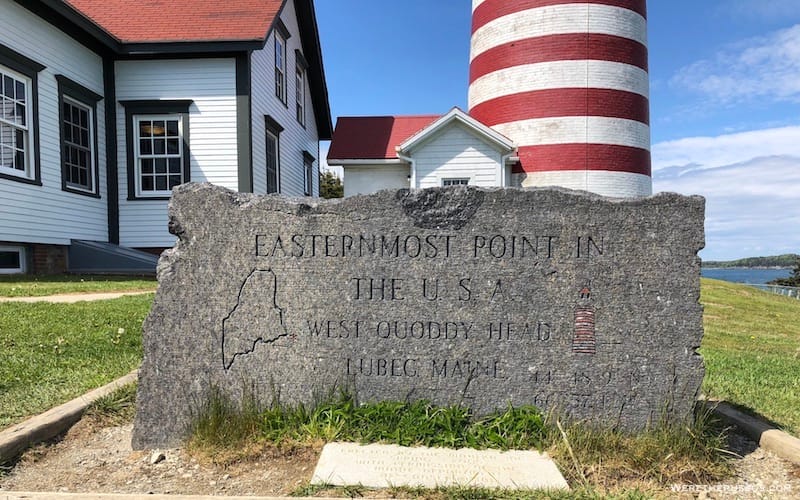 From Bar Harbor head to Lubec and make West Quoddy Head Lighthouse the final stop on your Maine road trip. Be the first person to see the sunrise in the contiguous United States from here.
Bonus Food Stop: for all you mustard fans, Raye's Mustard Mill in Eastport is about an hour drive from Lubec. The classic mustard gets two thumbs up from Joe.
Where to Camp in Maine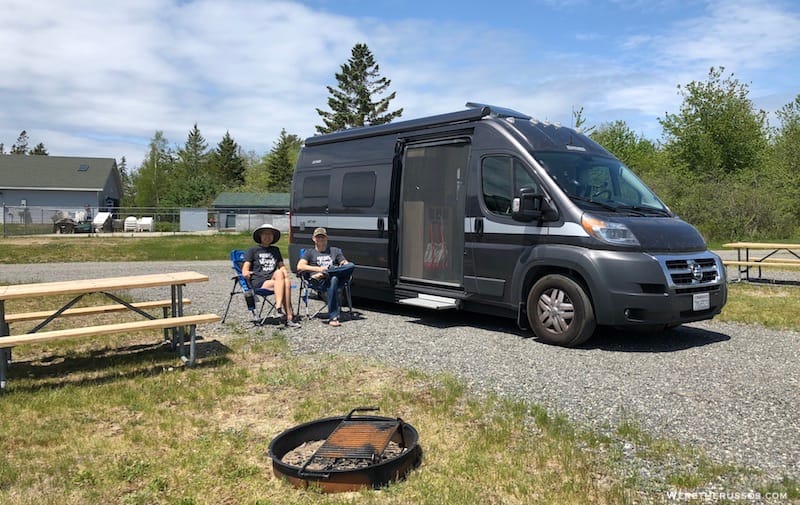 We stayed at Narrows Too Camping Resort in Trenton, Maine and Moody Beach RV Campground in Wells, Maine. Below are some more options.
To quickly find campgrounds, RV dumps, propane fills, potable water and more RVing/camping resources we use Allstays. Check out our AllStays Review.
Find nearby Harvest Hosts. Members have access to vineyards, farms, museums, breweries and more. Read our Harvest Hosts Review or use our referral link to receive a discount.
Check Boondockers Welcome to see if there's a host member in the area that can accommodate an overnight RV stay. Read our Boondockers Welcome Review or use our affiliate link to sign up.