Some of the links below are affiliate links, which means we will earn a commission on the products or services you purchase using the links. There is no additional cost to you and the earnings help keep this website running. Read the Affiliate Disclaimer for more information.
The Northeasternmost state in the U.S., Maine brings to mind fresh Atlantic seafood, a beautiful rocky coastline dotted with historic lighthouses, and the place that was our main draw to the Pine Tree State, Acadia National Park. Known as the Crown Jewel of the North Atlantic Coast, Acadia is one of the top 10 most-visited national parks in the country. After touring around Portland and getting our fill of Maine's delicious baked goods, we spent some time exploring some of what makes Acadia National Park such a special place. In this article, we share some of our experiences and things to know before you visit.
Acadia National Park Guide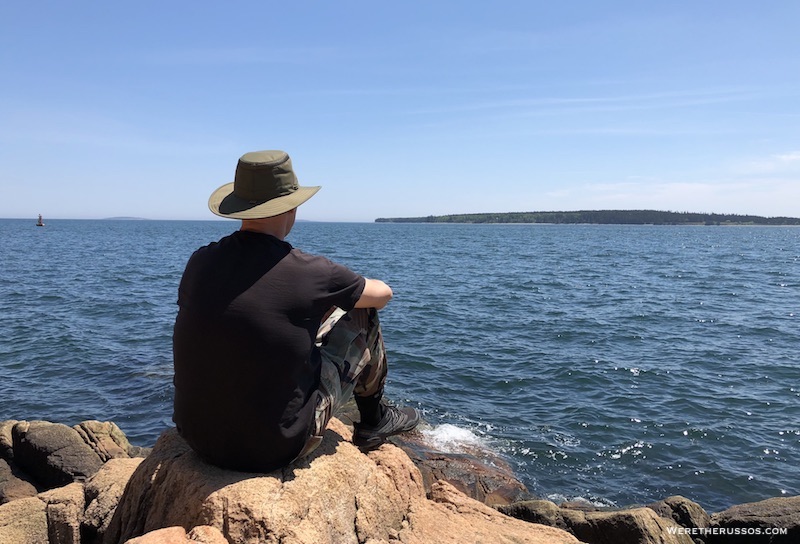 When to Visit Acadia National Park
As one of the more popular national parks, Acadia can be a crowded place during its peak season which runs from June – October. You could easily encounter heavy traffic, full campgrounds, long lines for buses, and full parking lots at trailheads. We visited just after Memorial Day and were glad we arrived after the holiday weekend. There was a ton of traffic leaving the park as we were heading in, so we had just missed heavier crowds.
If you do go during peak season, consider leaving your car wherever you're camping or lodging and take advantage of the fare-free Island Explorer shuttle which runs from late June through early October. The shuttle connects surrounding communities with trailheads, campgrounds, carriage road entrances, and popular destinations in the park (except for the Cadillac Summit Road). One cool thing about them is that ​​you can flag down buses to hop on at any time. As long as it's safe to stop, drivers will pick you up anywhere along the route. It's a great option if you want to sit back and enjoy the scenery while someone else does the driving (and not worry about fighting for those coveted parking spots).
Since the park is located on an island, Acadia sees all kinds of weather. If visiting in summer, be prepared for temperatures that can range from 45-90 °F, with the park's mountain peaks seeing cooler weather than lower elevations. The weather can also change quickly in summer and spring, from warm and sunny to cold and rainy, so it's best to have clothing and gear for all potential situations.
Fall can be a beautiful but crowded time to visit Acadia due to the incredible explosion of fall colors which usually peaks in mid-October and draws thousands of "leaf-peepers." Winter is a less crowded time to visit and offers fun activities like cross-country skiing, snowshoeing, and winter hiking. However, it's good to note that most of the park's main road is closed from December 1 until spring.
Bugs, bugs, bugs! Our biggest tip for those visiting any time from spring through fall is to be prepared for bugs. Mosquitos, ticks, and black flies will inevitably be part of your Acadia adventure so you should bring plenty of bug repellant gear with you. We took the extra step of wearing bug-protective clothing and sprayed down all of our hiking gear before heading out. A ranger we talked to also warned us to check ourselves, including our belly buttons (yes, belly buttons) for ticks at the end of each day. As long as you know what to expect and are prepared with protective clothing and spray, the bugs shouldn't detract too much from your visit.
What to Do at Acadia National Park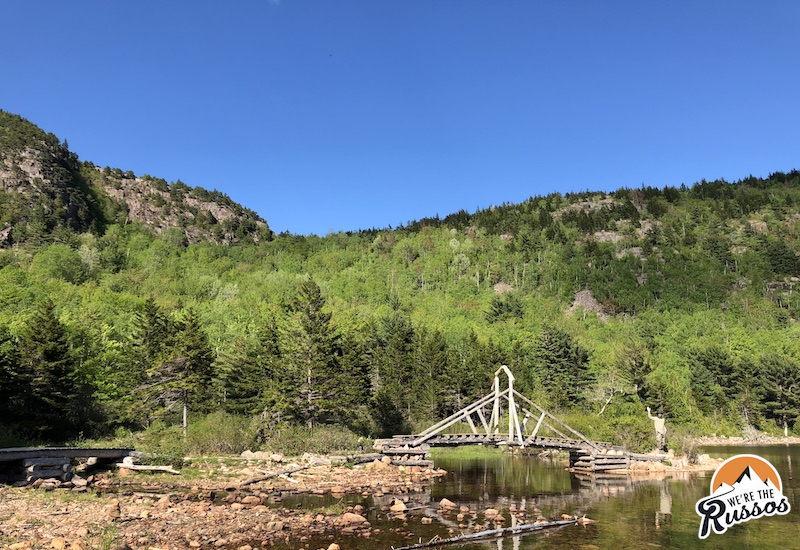 Acadia may be a bit smaller than some of the other national parks, but there is plenty to do and see. With miles of scenic roads and coastline, no shortage of hiking trails, beautiful lakes and ponds, and historic sites, you'll have no trouble filling your itinerary.
Drive Park Loop Road
A great way to kick off a visit to Acadia is by experiencing Park Loop Road, a 27-mile scenic drive with many overlooks and trails along the way. In fact, there are so many places to stop on the route that we spent an entire day doing it. Some of the areas we pulled off to explore were Sand Beach, Otter Point, Jordan Pond, and Cadillac Mountain. For the full experience, start your drive at Hulls Cove Visitor Center and go from there. The park's free Island Explorer Shuttle bus is also a great way to experience the loop without having to drive it yourself.
Hike Acadia's Trails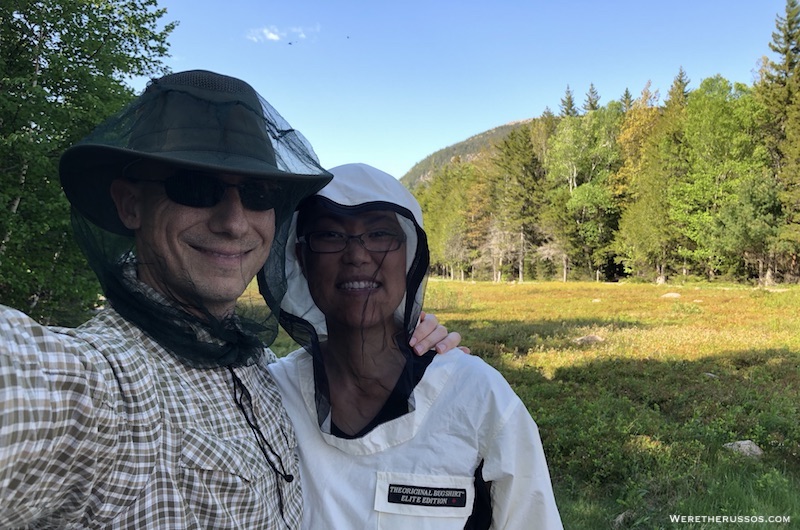 There are more than 150 miles of hiking trails in Acadia, passing through forests, along lakes and rocky coastline, and up mountains. While driving the Park Loop Road, we stopped to hike a couple of the park's trails, starting with Ocean Path Trail at Sand Beach. It was a nice, easy walk with beautiful views of the coast. This trail is a great way to access Thunder Hole and Otter Point as well, and we spent some time taking in the sights at both.
Continuing on, we next stopped at Jordan Pond and did a roughly 3 mile hike around the shore with scenic views of the Bubble Mountains. Jordan Pond is one of the most popular trails and most photographed areas of Acadia, so it's a must-do.
Other great hikes in the park include the Cadillac North Ridge Trail (a moderate out-and-back hike to the highest point both in Acadia and on the eastern seaboard), Ship Harbor Trail (a roughly one mile loop near Seawall which is great for birdwatching), and Beech Mountain Trail (a short loop with views of Long Pond and Mansell Mountain, and access to one of the few remaining fire towers in the area).
Fair warning: the bugs were out in full force during our hikes here and we were very glad to have our protective gear with us.
Explore the Park's Historic Sites
Acadia has no shortage of historic sites within its boundaries, including its famous carriage roads, the Beech Mountain Fire Tower, and historic buildings and bridges. Of course, you can't visit a coastal national park without seeing a lighthouse. We visited the Bass Harbor Lighthouse, built in 1858, and highly recommend checking it out during your visit.
Fun Fact: Did you know that light patterns and colors are unique to each lighthouse? This is just one of the interesting things you'll learn when visiting Bass Harbor.
Summit Cadillac Mountain
Acadia's Cadillac Mountain is the highest point along the North Atlantic seaboard and offers breathtaking panoramic views of the Atlantic Ocean, various islands, and Bar Harbor. This was the final stop on our Park Loop Road tour and while there are trails to hike to the top, we opted to drive up to the summit to save time and so we could enjoy the sunset from the comfort of our van. Once there, the epic views did not disappoint and shouldn't be missed by anyone visiting Acadia.
It's important to note that vehicle reservations are required for Cadillac Summit Road from May 25 – October 22. You must purchase vehicle reservations on recreation.gov before your visit (reservations are not available to purchase in person). Vehicle reservations are not required for other locations in the park or for those entering Cadillac Summit Road by foot, bicycle, or taxi.
Bonus Fact: Cadillac Mountain is the first place to view sunrise in the United States from October 7 through March 6.
Experience Bar Harbor
We spent much of our second day walking around nearby Bar Harbor which is one of the most well-known vacation spots in Maine and is known as the "Gateway to Acadia National Park." It's easily accessible from the park and offers picturesque views, shopping, and delicious food. For a real local meal, try the Downeast Experience which is a cornucopia of Maine's finest seafood topped off with blueberry pie for dessert. While there, we enjoyed the complimentary tour and tasting at Atlantic Brewing where we drank some refreshing beers and played a game of cornhole. Bar Harbor is the perfect place to unwind and recharge after a day of hiking in Acadia National Park.
Bonus Activities
Take a dip in Acadia's refreshing lakes: You can swim at 3 of Acadia's beaches: Sand Beach, Echo Lake Beach, and Lake Wood. Swimming at most other lakes and ponds in the park is not allowed as they provide drinking water to local communities.
Cycle the park's carriage roads: Carriage roads in Acadia have crushed rock surfaces that are perfect for bicycling. You can also bike on Park Loop Road but it's not recommended during busy times (10am – 4pm) due to high traffic.
Find your inner ornithologist: Acadia is sometimes referred to as the "warbler capital of the world" and is a great place for birdwatching. Hot spots for spotting feathered friends include Seawall, Cadillac Mountain, and Schoodic Peninsula.
Stargaze: Like many other national parks, Acadia is a great place to admire the night sky. Top locations for stargazing inside the park include Seawall, Jordan Pond, Ocean Path, and Sand Beach.
Check out our Acadia National Park travel video to see more of what we did on our trip.
Where to Stay
Whether you stay within the park or in surrounding areas, you'll find plenty of options for lodging depending on what you're looking for.
Acadia National Park Camping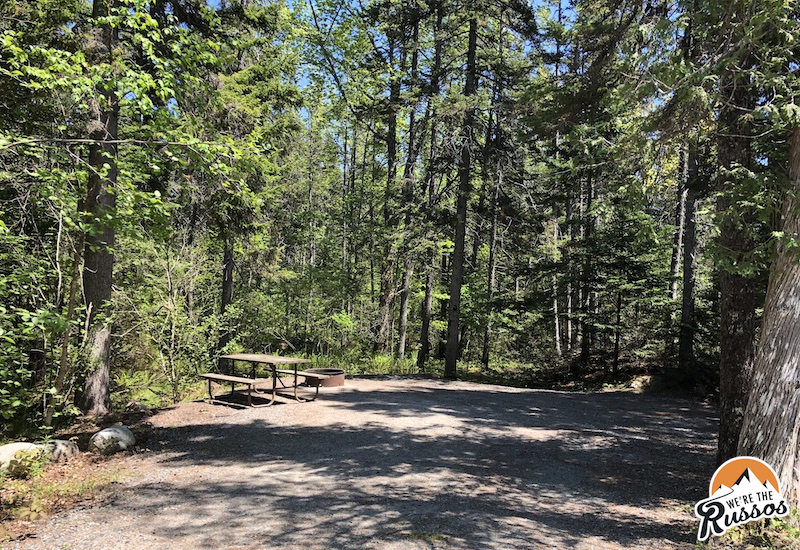 There are four campgrounds within Acadia National Park: two on Mount Desert Island, one on the Schoodic Peninsula, and one on Isle au Haut. Advance reservations are required for all of these campgrounds and must be made in advance. No same-day sites are available. We definitely recommend reserving as far in advance as you're able to, especially if you're hoping to snag a spot during the busy season.
The campgrounds are also only open from May – October, so you should visit the park website for more details about when and how to reserve a site.Unlike other national parks we've covered, there is no backcountry camping nor overnight parking allowed in Acadia. Here's some more information on the park's four campgrounds:
Blackwoods – Located on the east side of Mount Desert Island, Blackwoods offers all wooded sites that are within a 10 minute walk of the ocean. While most sites are set up for tents, there are some RV sites as well. Flush toilets, running water, and a dump station are also available, but there are no showers.
Seawall – We drove through Seawall (located on the west side of Mount Desert Island) during our visit and found it has several loops for both tent and RV camping. There are no hookups or showers, but each site has a picnic table and fire ring. There are also flush toilets and a dump station available. The campground is somewhere we'd like to camp in the future, but we did notice there were tons of bugs taking up residence there as well, so we were glad we had gotten a spot outside the park for this visit.
Schoodic Woods – Schoodic Woods is the park's newest campground and is the only one on the mainland section of the park. It has primitive, hike-in tent sites; drive-up tent and small RV sites; RV sites with electric only; and RV sites with both electric and water. Both vault and flush toilets are available, as well as a dumping station.
Duck Harbor – Located on Isle au Haut (and inaccessible to cars), Duck Harbor offers a more remote camping experience. The campground has five lean-to shelters and any tents you bring must fit inside. You'll need to take a ferry to Duck Harbor and must carry in and carry out everything you need and use…including trash. Composting toilets and hand-pumped water are available.
Camping Outside Acadia National Park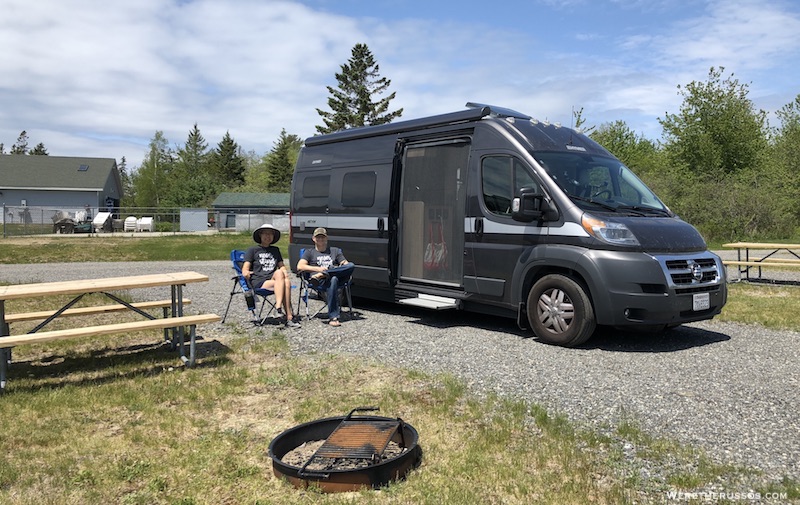 When there's availability, we always prefer to camp inside the national parks we visit. However, on our visit to Acadia, we chose to camp outside of the park, in large part due to our uncertainty about the bug situation which others had warned us about. We got a spot at Narrows Too Camping Resort in nearby Trenton. Ultimately, we think we made the right choice since unlike the park's heavily wooded campgrounds, Narrows Too was a much less hospitable place for bugs…making it more hospitable for us.
If you too are worried about bugs or find the park's campgrounds full, there are plenty of options for lodging in the surrounding areas, including Trenton and Bar Harbor…all with easy access to Acadia National Park. Members of Harvest Hosts and/or Boondockers Welcome can also find overnight camping options near Acadia.
We feel like we barely scratched the surface with our visit to Acadia, and Maine in general. It's such a beautiful part of our country with a rich history, spectacular nature, and great food. We can't wait to revisit during our next Maine Road Trip. If you have any other tips or recommendations for visiting Acadia National Park, or questions about our trip, drop them in the comments below.