Some of the links below are affiliate links, which means we will earn a commission on the products or services you purchase using the links. There is no additional cost to you and the earnings help keep this website running. Read the Affiliate Disclaimer for more information.
According to the Recreation Vehicle Industry Association (RVIA), the average RV owner only uses their recreational vehicle in some fashion three to four weeks per year. When I read that statistic, I was a bit surprised that the number was so low, especially considering how much RVs can cost. This got me thinking about ways RV owners can use their camper beyond camping, which resulted in this post on how to get more use out of your RV by making it more of a year-round vehicle.
While the median annual usage for current RV owners remains steady at 20 days, people intending to buy an RV plan to use their RV a median of 25 days per year.

RVIA.org
How to Get More Use out of Your RV
If you don't feel like reading the article, you can watch the video:
1. Motorhome as a Daily Driver
If you have a small drivable RV such as a Class B camper van or small Class C RV, you can easily use it as a daily driver for errands around town or to take the kids or grandkids to their activities.
We were driveway surfing with friends recently and joined them at their son's middle school football game. As we watched them pack all the gear into their SUV, I thought about how a van-based camper would be a great game day vehicle for them. A small motorhome that seats four or more can transport their whole family from activity to activity and haul all the gear they need with the comforts of home.
Kait loves using our camper when we go grocery shopping because when we get out of the store, all of the perishables go right into the fridge and we don't have to worry about racing home to keep things fresh (or having the ice cream melt). Depending on how the motorhome is setup, you could also carry long and bulky items back from the home improvement store.
2. Use Your Camper for Day Trips
Heading to a place like an amusement park or national park for the day? Consider taking your RV (drivable or towable). Sure you might pay more in fuel and parking, but the RV becomes a "home base" where you can take a break, make a home-cooked meal and have a spot for the children (or adults) to take a nap if needed.
When Kait and I took my mom to Disneyland a few years ago, we all got soaked on Splash Mountain. Since we took my mom's sedan to the amusement park, we didn't have the camper with us. But if we had driven the RV, we would have been able to change into dry clothes and have been more comfortable the rest of the day.
We did take the ProMaster camper van to Universal Studios a few years ago and used it as a place to cool off from the heat, make lunch and enjoy a cold beverage. Check out our video below from that day trip to get an idea of how you can get more use out of your RV.
3. Turn Your RV into a Hobby Vehicle
If you have a hobby like mountain biking, kayaking, or climbing, your RV can be the perfect adventure vehicle to take and haul all the gear you need. Check out the video below to see how this Mode4x4 adventure van owner uses his camper to get to out-of-the-way places so he can go paramotoring—something I'd love to try one day!
4. Turn Your RV into a Mobile Office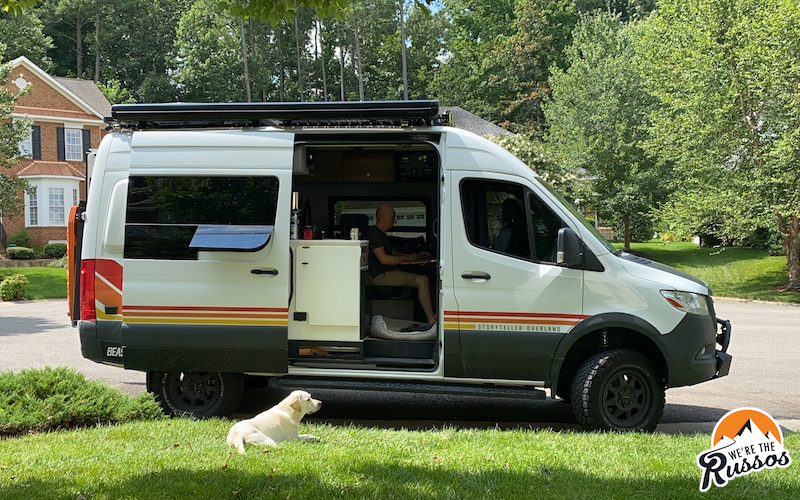 With more and more people having the option to work from home, your RV can serve as an ideal mobile office. Digital nomads have been doing this for a while, but even if your RV is just parked in your driveway, it can be a quiet place to escape to so you're not being interrupted by children, pets or other distractions.
Up for a short drive? You can always park your mobile office somewhere interesting for the day. Since Kait and I travel and work remotely, sometimes we just need a change of scenery. While street camping with family this year, Kait and I wanted to escape the heat and noises of the neighborhood so we drove our pop-up truck camper to the beach and worked from there for the day. Once we called it quits, we went for a long stroll along the boardwalk and I even took a dip in the Pacific Ocean.
Our friend and author, Kevin Tumlinson, uses his camper when traveling to various writer conferences around the United States.
5. Use it as a Guest Room
In our newsletter, I asked readers to share ways they use their RV in non-traditional ways and Marc's response was my favorite: "We occasionally use our expedition trailer as a guest bedroom in the warm weather months. It gives folks that are visiting a bit more privacy and is parked so as to see the mountains."
We know a family that used their small travel trailer as a college dorm room when their daughter's school switched to virtual classrooms last year and she wasn't able to move away for college.
6. Rent Your RV for Extra Cash
Regardless of how often you use your RV each year, if you're open to renting your RV to earn some extra money, there are several websites that make it possible.
Since we have never listed our camper through an RV rental service, I can't speak to that aspect of the experience. However, you can learn more by checking out the Rent My RV page.
7. Use Your RV in Emergencies
I was living in Los Angeles during the 1994 Northridge earthquake. The quake cause so much destruction that we didn't have water or power for over a week. While we were using candles and trying to eat all of our frozen food before it went bad, some neighbors moved into their RVs. With generators and built in water systems, they were able to use the RVs as an emergency shelter with all the comforts of home.
An RV is the perfect bug out vehicle if you need to leave an area during a disaster. Since you have the ability to cook, sleep and access to a bathroom (in most RVs), you don't have to worry about trying to find a hotel when they may all be booked with other people fleeing the storm.
An RV can also be used in place of a generator to help power appliances in your home like the fridge if you have an on-board generator or a larger battery bank. We recently had a power outage and moved all of our perishables out of the fridge and into the camper fridge. While the outage only lasted about five hours, had it continued into morning, we would have gone in our camper to make coffee, etc… to get our day started.
Check out our article on RV Safety and Prepardness.
As you can see, you don't just have to use a camper for camping or unforgettable road trips to Yellowstone National Park. RVs can be adapted to any number of roles, only limited by how imaginative you can get. I'd love to hear some of the creative ways you're using your RV, so please leave a comment and let me know.