Some of the links below are affiliate links, which means we will earn a commission on the products or services you purchase using the links. There is no additional cost to you and the earnings help keep this website running. Read the Affiliate Disclaimer for more information.
Not far from Corpus Christi is Padre Island National Seashore, 70 miles of undeveloped barrier island along the coast of Texas. This costal wilderness is home to nearly 400 bird species and is the prime nesting beach for the Kemp's ridley sea turtles.
Padre Island National Seashore
Beach camping is what drew us to Padre Island National Seashore. As we discovered, the island has much more to offer.
Malaquite Visitor Center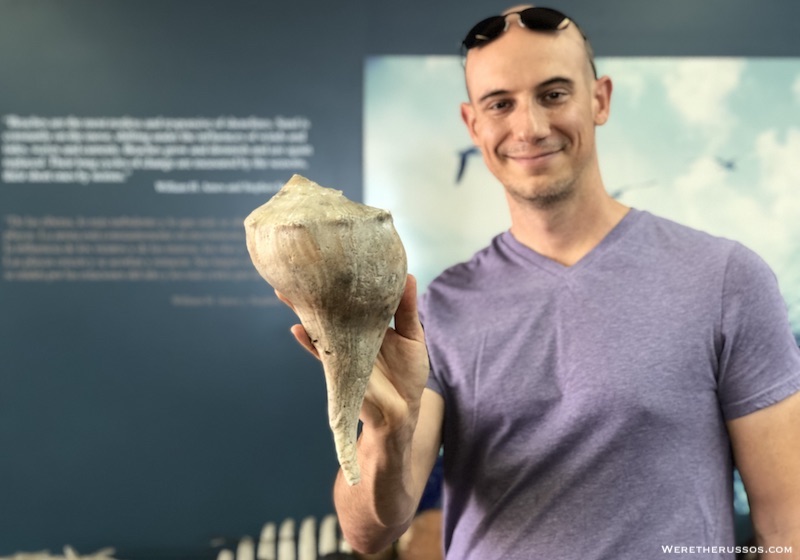 Start your day at the Malaquite Visitor Center where you can sign up for a variety of ranger led programs such as a birding tour or a seabean talk. There are exhibits inside that explains the history of this barrier island and its inhabitants. You can even pick up a lightning whelk, the official state shell of Texas.
Kemp's Ridley Sea Turtle
The most well known creature on the island is the endangered Kemp's ridley sea turtle. Every two years, the females will come ashore to lay their eggs which makes nesting season a busy time of year on Padre Island. Learn more about Kemp's ridley sea turtles and the hatchling release program.
Sea Jellies & Jelly-like Organisms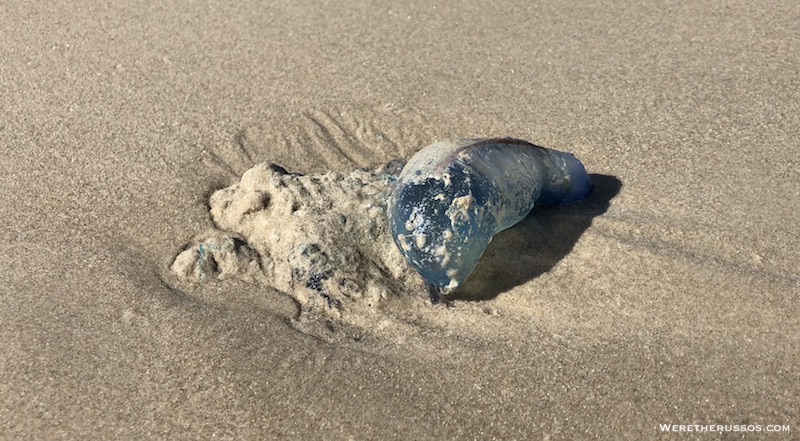 Go for a stroll along south beach and you'll discover a variety of sea creatures that have washed ashore. Can you believe this Portuguese man-of-war is made up of a colony of hundreds of animals? Each animal has a specialized job working together as a single unit. Be careful not to get stung by one of these!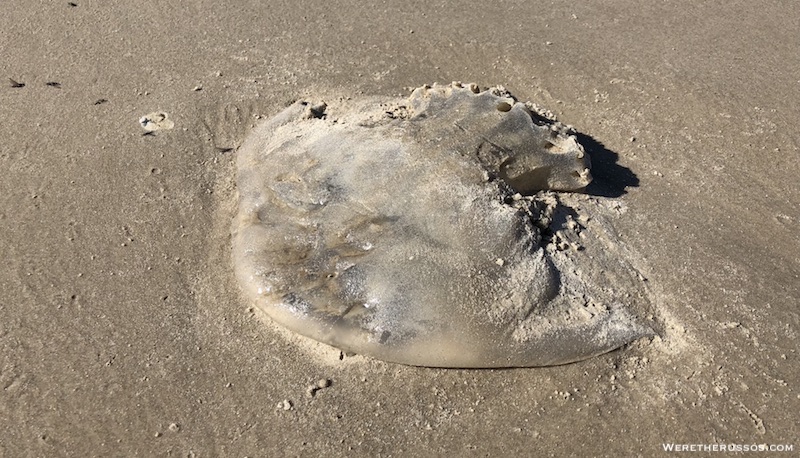 The most popular jellyfish on the beach has to be the cabbagehead jellyfish. Most of them look flat like this one covered in flies, but keep an eye out for recently washed ashore ones that still look like a cannonball.
Camping on Padre Island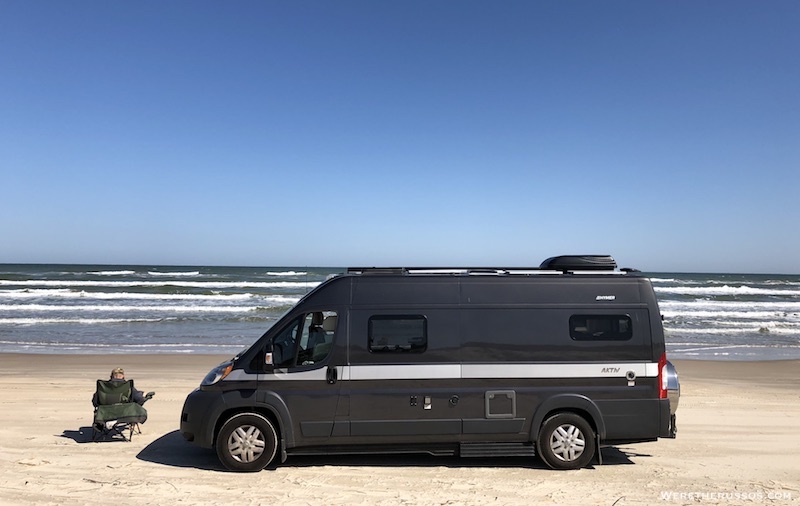 Primitive camping is abundant on Padre Island. South Beach is the most popular beach camping destination. Be sure to pick up a high tide flyer at the visitor center if you plan on camping on the beach. We saw tent campers, car campers, large RVs and small RVs all along the beach.
Although there are no amenities on the beach, there is an RV dump station not far from Malaquite Visitor Center. Our favorite spot is North Beach where it's less crowded, plus we were able to get Verizon with our weBoost cell signal booster. Read How RVers Stay Connected on the Road.
The funny thing is, I thought beach camping at Rincon Parkway in Ventura, California was awesome until I experienced beach camping on Padre Island.
Note: camping is on a first-come, first-served basis and you'll need to fill out a permit at the kiosk. North Beach and South Beach camping is free with paid park admission.
USS Lexington in Corpus Christi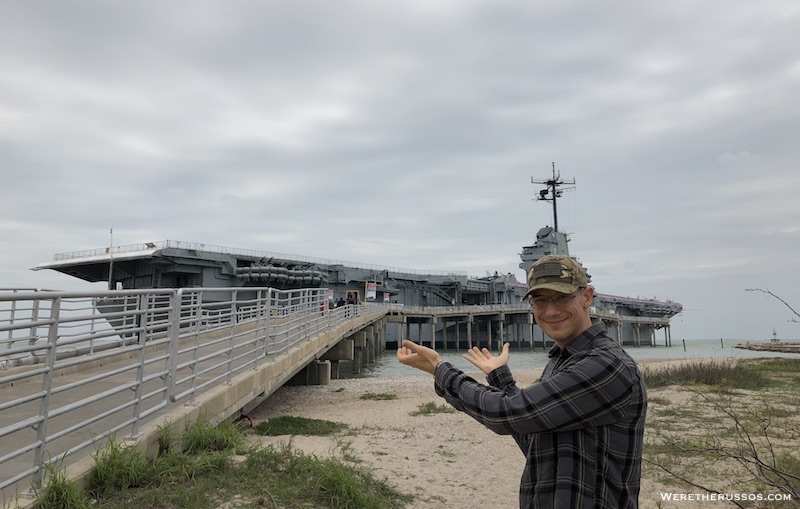 While you're driving in or out of Padre Island, be sure to visit the USS Lexington in Corpus Christi. Watch a 3-D movie, check out aircraft on the flight deck or browse the 440 model warbirds and warships on display. Go on a self guided tour or book an overnight camping stay aboard the CV-16 aircraft carrier.
Thinking of beach camping in Hawaii?Check out our blog about renting a campervan in Hawaii and our Maui camping experience.