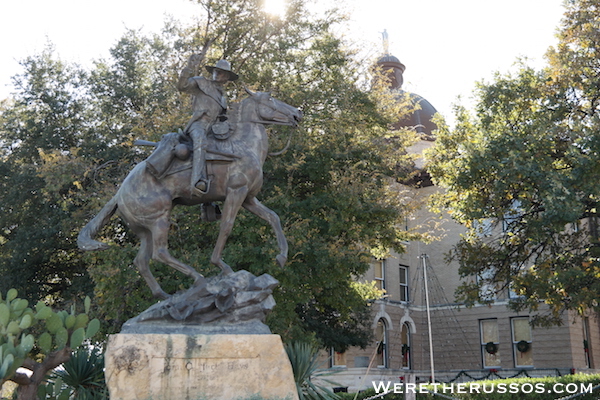 There are many reasons to visit San Marcos, Texas and we had the opportunity to discover a few of the many reasons why locals love this city. Where is San Marcos you ask? It's in Texas Hill Country along Interstate 35 between San Antonio and Austin. The city is a popular destination for water sports enthusiasts with several rivers and creeks that flow through it and is also home to Texas State University. We got to explore San Marcos for a few days and even ventured into nearby cities for some famous Texas style BBQ. San Marcos is also very dog friendly, which made it more enjoyable for us and Leo, our Husky. Although we didn't get a chance to tube or kayak down the rivers due to the cool weather, we did get a chance to see the city and try some great food.
We started the day at Courthouse Square (pictured above) and walked down LBJ Drive until the manske roll signs outside Gil's Broiler caught our attention. Their "famous" cinnamon rolls are served warm with optional toppings such as chocolate and ice cream. The restaurant had a Yelp check-in offer during our visit which made the roll half off. According to another sign on the building, Gil's is the oldest business in San Marcos. The cashier told us the restaurant is also known for their daily burger specials which we didn't get a chance to try, but it sure looked good. We did get to sample the regular roll which was warm, gooey, and oh so cinnamony.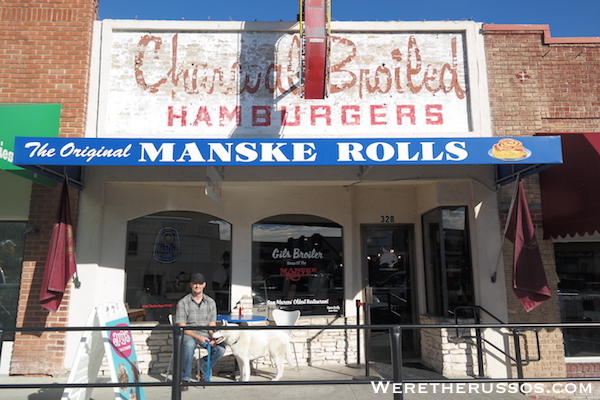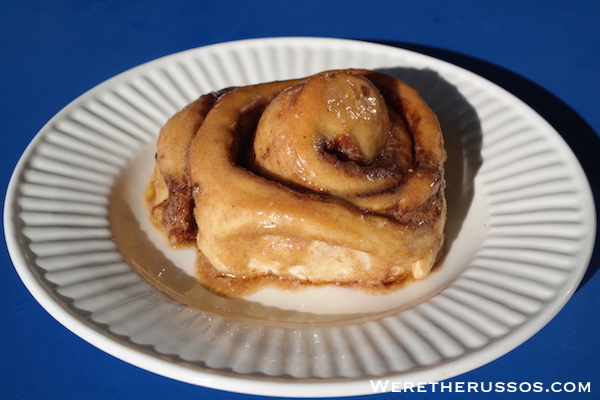 Once we licked our plate clean, we decided to look for a coffee shop and found Stellar Cafe. The cozy coffee shop was warm and inviting with comfy looking couches and free wifi. In addition to coffee, there was also a good selection of loose leaf teas and red espresso, which is 100% rooibos and naturally caffeine free. When we found out Stellar Cafe sources beans from the best roasters in Texas, we knew we had to try a pour over coffee which was great and just what we needed after the cinnamon roll.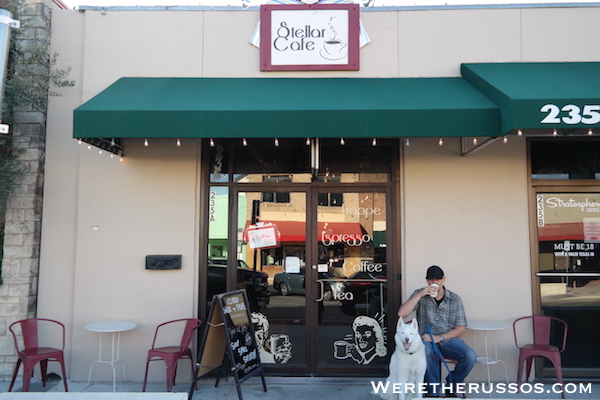 With coffee in hand we headed down to The Hitch, a mobile eatery park with permanent food trucks serving up a variety of fare from pitas to porchetta. Still full from the cinnamon roll, we didn't get anything to munch on, but definitely a spot we will keep in mind for our next visit.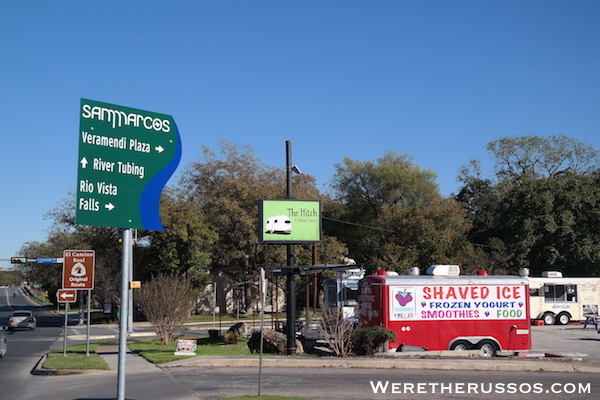 After a leisurely walk through downtown, we jumped in the car and headed to Middleton Brewing. Not only do they brew great beers on site, but they are very dog friendly. Upon arrival, we were greeted by a sweet dog in the parking lot and later met by two more dogs running around inside. Everyone from the owners to the patrons were welcoming and dog friendly. We really enjoyed Middleton Brewing's seasonal Pecan Amber, Galena Belgian Dubel and Pepperhead IPA (brewed with jalapeños). It also happened to be their "Friendsgiving" potluck when we visited and one of the co-owners was dishing out really good homemade gumbo. For those who visit on a regular night, there's complimentary popcorn and a food truck outside serving up sliders.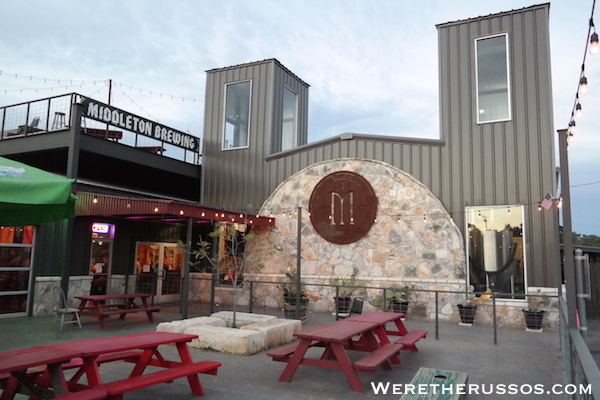 Leo was sufficiently worn out from the day and we all headed home to pass out. Of all the cities we've visited so far, San Marcos, Texas has been among one of the more friendly dog cities along with Fort Collins, Colorado and Flagstaff, Arizona. The city recently passed a new bill that allows restaurants to get a permit to allow dogs in enclosed patios. Good news for dog owners.
Since we choose to travel with our Husky, we always look for friendly activities and places to hang out. We know we can't have Leo with us 24/7 and there are times where we want to enjoy a nice meal and leave him at home, but we love to find and support places that welcome well behaved dogs and their responsible owners.
Now, on to the Texas style BBQ. During our time in San Marcos, we did make it out to Black's Barbecue in Lockhart and The Salt Lick in Driftwood. Both of which we would highly recommend when you're planning your visit to San Marcos. Get the beef ribs at Black's, which weigh in anywhere from one to two pounds. The smokey meat is so juicy and tender, definitely one of the best beef ribs we've ever had – and we've tried the beef ribs at The Salt Lick, Franklin Barbecue and La Barbecue. The Black family did bring their barbecue to San Marcos with the opening of Kent Black's Barbecue in downtown.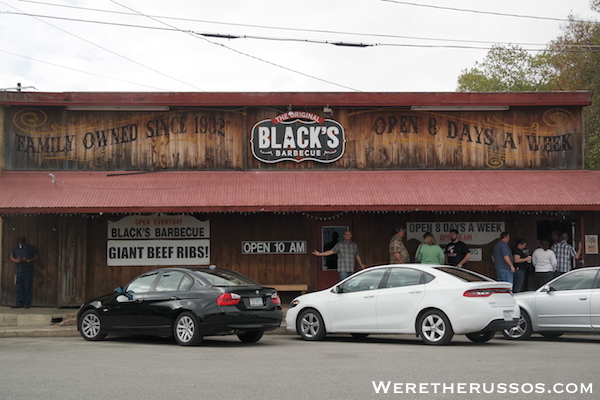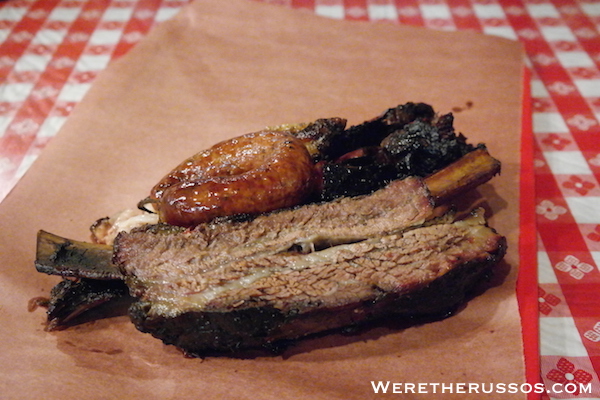 The Salt Lick is a popular BBQ spot that has a bring your own beer policy and a winery on site. Our favorite items were the wet (fatty) brisket, coleslaw with sesame seeds and their bread and pickles. Our recommendation would be to bring a cooler of beer, order brisket by the pound, add a side of coleslaw and enjoy it with some bread and pickles.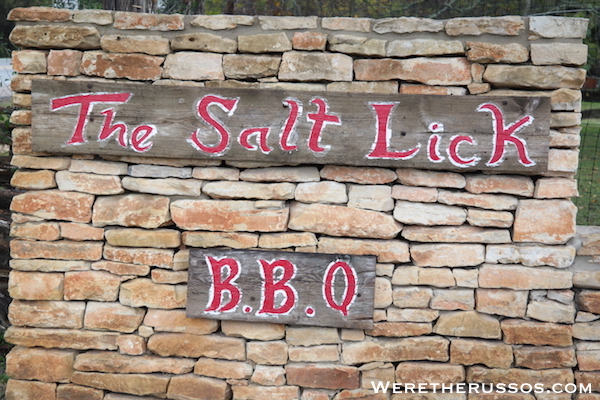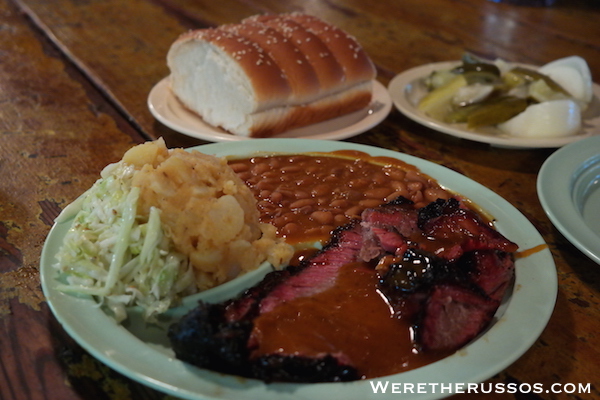 A trip to Texas isn't complete without good barbecue!
Need a place to stay in your RV? Check out Canyon Trails RV Resort in South San Marcos.