Some of the links below are affiliate links, which means we will earn a commission on the products or services you purchase using the links. There is no additional cost to you and the earnings help keep this website running. Read the Affiliate Disclaimer for more information.
Where is San Marcos you ask? It's in Central Texas along Interstate 35 between San Antonio and Austin. The city is a popular destination for water recreation in the summer time and home to Texas State University. San Marcos has flourished since our first visit in 2015 and we enjoyed revisiting the city to see the positive changes. I hope you enjoy this round up of things to do in San Marcos Texas (Texas BBQ included).
Things to Do in San Marcos Texas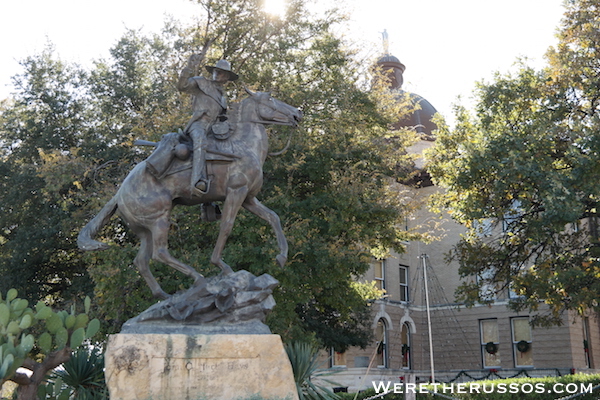 Spend a Day in Downtown San Marcos
Start the day at The Square in downtown San Marcos (pictured above). On Guadalupe Street is the LBJ Museum dedicated to the early years of The 36th President of the United States. Fun fact: Texas State University was once known as Southwest Texas State Teachers College where President Johnson attended college.
Get perked up over at Stellar Coffee where you can grab a cup of coffee or tea. The cozy cafe is warm and inviting with comfy couches and free wifi. The coffee beans are sourced from roasters in Texas which make for a good cup of pour over coffee. In addition to coffee, there is a good selection of loose leaf teas and red espresso, which is 100% rooibos and naturally caffeine free.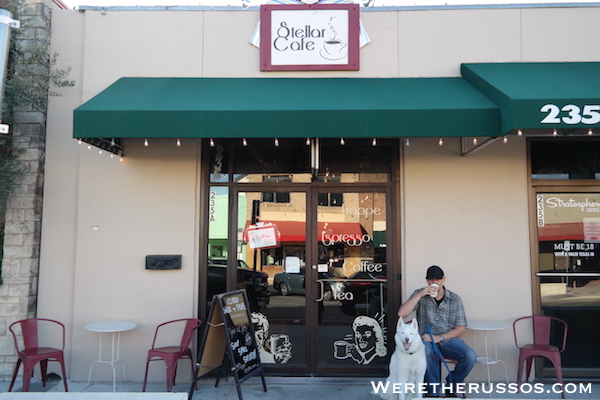 If you're up for a sweet treat, grab a manske roll at Gil's Broiler. These gooey cinnamon rolls are served warm and a local favorite. On an interesting note, according to the sign on the building, Gil's is the oldest business in San Marcos.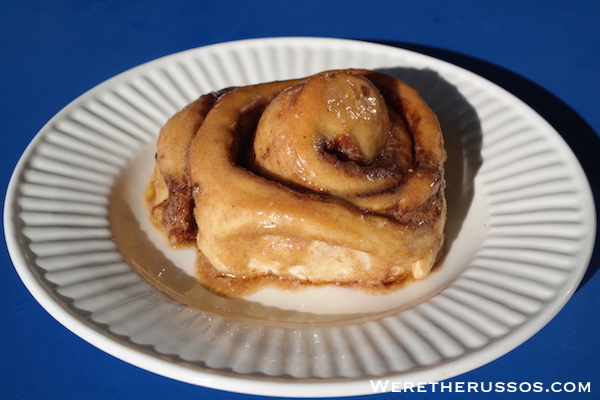 When you're ready for lunch, grab a bite to eat at one of the many restaurants to choose from in Downtown San Marcos. We enjoyed a tasty meal at Blue Dahlia Bistro with Stacie and Tom of RV Texas Y'all. Good company always makes for a more enjoyable meal.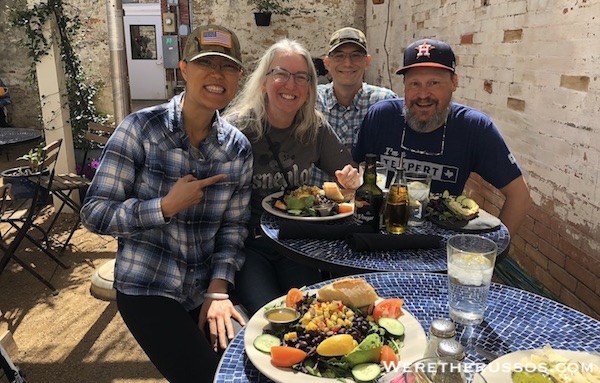 Splash Around Spring Lake
Water recreation makes San Marcos a popular destination when the temperature starts to climb. Spring Lake offers kayaking, diving, glass bottom boat tours and more. You can even sign up for a moonlit kayak tour with REI to see a different side of the spring-fed lake. If water sports isn't your thing, there are miles of hiking trails in the Spring Lake Natural Area.
Float Down the San Marcos River
Between Memorial Day and Labor Day is tubbing season in San Marcos. Grab your friends and family for an hour long float down the river. Bring your own tube or rent one from Tube San Marcos. Both visits brought us to San Marcos outside of tubing season, but one of these days, we will float down the San Marcos River!
Unwind at a Local Brewery
Less than 10 miles from downtown is Middleton Brewing where locals love to hang out. Not only do they brew good beers, but they are very dog friendly. Upon arrival, we were greeted by a sweet dog in the parking lot and later met by two more dogs running around inside. Everyone from the owners to the patrons were welcoming and loved dogs. Be sure to check their events calendar for live music.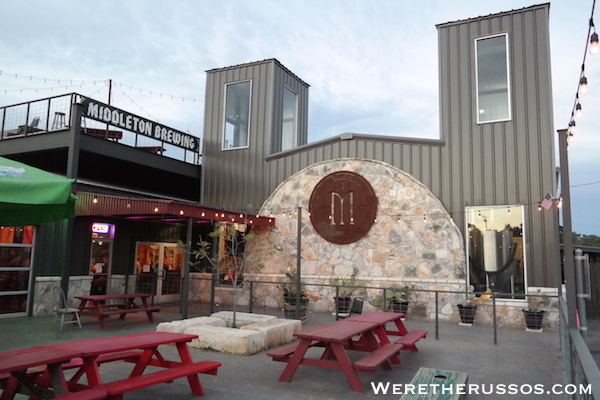 Mouthwatering BBQ a Short Drive Away
Now, on to the Texas style BBQ. A short drive away is the famous Black's Barbecue in Lockhart. Order the beef rib, which weigh in anywhere from one to two pounds. The smokey meat is so juicy and tender, definitely one of the best beef ribs we've ever had – and we've tried the beef ribs at Salt Lick, Franklin Barbecue and La Barbecue. The Black family did bring their barbecue to San Marcos with the opening of Kent Black's Barbecue in downtown.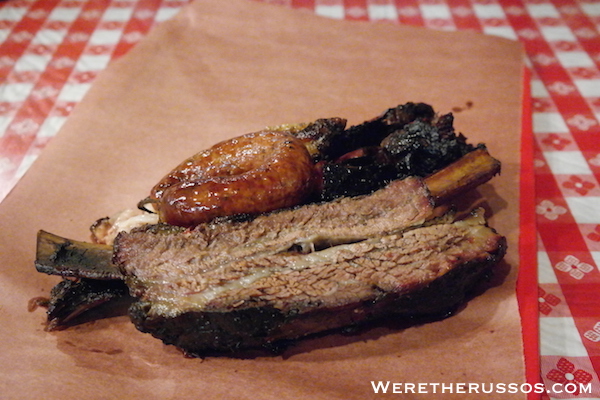 For a different kind of BBQ experience, head over to the original Salt Lick BBQ in Driftwood. This popular BBQ spot has a bring your own beer policy and a winery on site. Order a plate of the wet (fatty) brisket, which comes with potato salad, coleslaw & beans. You can also ask for bread, pickles & onions on the side. Bring a cooler of your favorite Texas beer, sit back and enjoy!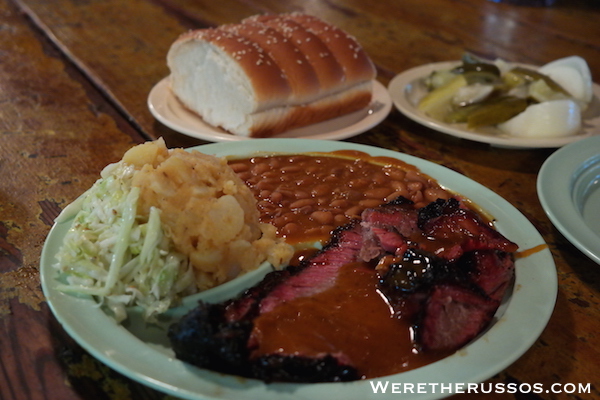 In case you're wondering, we devoured all this Texas BBQ during our first visit to San Marcos.
Where to Camp in San Marcos, Texas
We stayed at Canyon Trails RV Resort during our first visit. Below are some more options.
To quickly find campgrounds, RV dumps, propane fills, potable water and more RVing/camping resources we use Allstays. Check out our AllStays Review.
Find nearby Harvest Hosts. Members have access to vineyards, farms, museums, breweries and more. Read our Harvest Hosts Review or use our referral link to receive a discount.
Check Boondockers Welcome to see if there's a host member in the area that can accommodate an overnight RV stay. Read our Boondockers Welcome Review or use our affiliate link to sign up.