Some of the links below are affiliate links, which means we will earn a commission on the products or services you purchase using the links. There is no additional cost to you and the earnings help keep this website running. Read the Affiliate Disclaimer for more information.
First, we'd like to thank everyone who told us to visit Door County, Wisconsin. Despite the unusually wet summer, we soaked up all the beauty Door County has to offer. If you follow our travels closely, you know it's heavily focused on food. Our trip to Door County was no different, so we hope you enjoy our list of Things to Do in Door County.
Warning: fish boils not included.
Things to Do in Door County
Go for a Scenic Drive
Start your Door County adventure by taking a scenic drive around the peninsula. There are many scenic places to stop along the way. Door County also offers quite a few specialities that you won't want to miss. If you take Bay Shore Drive towards Egg Harbor, make a stop at Frank E Murphy Park.
Ghost Pepper Cheese
Renard's Cheese Shop in Sturgeon Bay has free cheese and wine samples daily. Our favorite cheese was their ghost pepper cheese. It's not for the faint of heart, but if you enjoy heat, this cheese will get you sweating. Another favorite is the terrific trio made of cheddar, parmesan and gouda.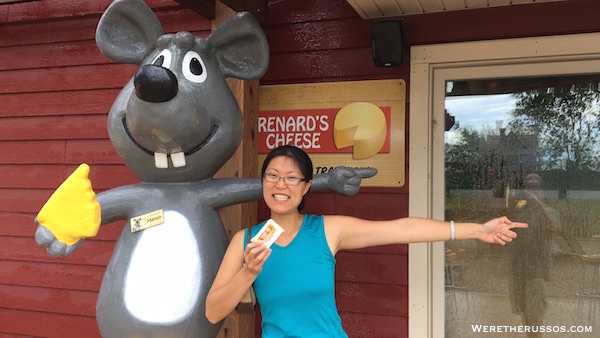 Homemade Licorice Caramel
Sink your sweet tooth into a soft, chewy licorice caramel by Door County Confectionery. I'm not a big licorice fan, but I can get down with licorice caramel! They also have cherry caramel which is just as good. No free samples here, you'll just have to take our word for it and try one for $0.40.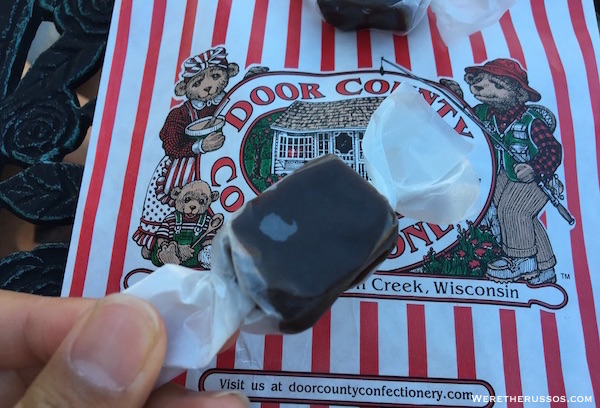 Watch Goats Graze on the Roof
You read that correctly. Al Johnson's Swedish Restaurant in Sister Bay has a grass covered rooftop with several goats roaming on it. Keep your eyes peeled as you drive by for these adorable goats.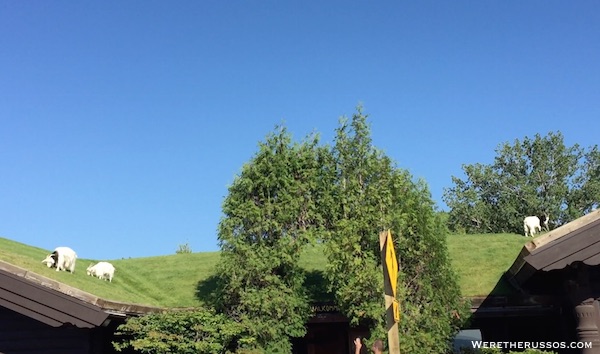 Apple Cider Donut
Seaquist Orchard in Sister Bay makes these wonderful donuts using apple cider. Think of a light cake donut covered in sugar that tastes like apple cider. Fresh donuts are $1 each or head over to the bargain table and pick up a pack of four for $2. Note: Seaquist Orchard is closed on Sundays.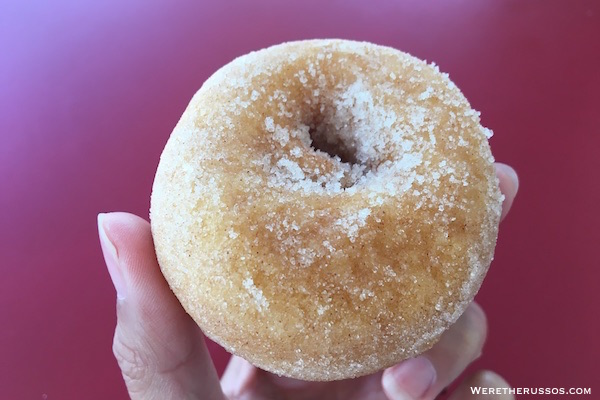 Door County Cherry Wine
There is no shortage of wineries to choose from in Door County. Our favorite was Simon Creek Winery for two reasons. First, they offer a free wine tasting with four pours. Second, they make good cherry wine sold at a decent price. We found it for less than $10 a bottle at a local grocery store.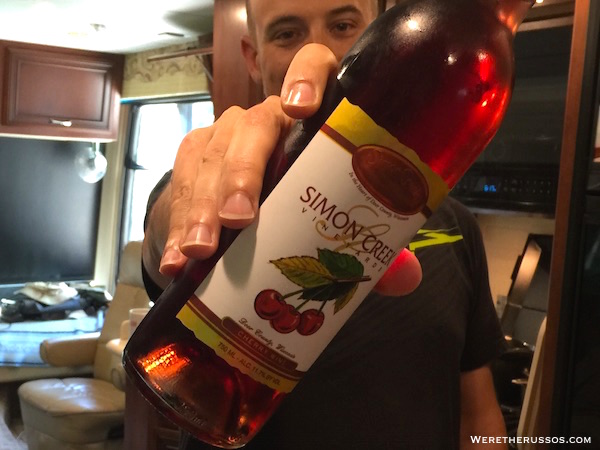 Dip Your Toes in the Water at Death's Door
Nicknamed Death's Door, the strait between Washington Island and Door Peninsula saw many shipwrecks in its early days. Head over to the Washington Island Ferry Line and take a walk along the beach. Dip your toes in the water where Lake Michigan meets Green Bay.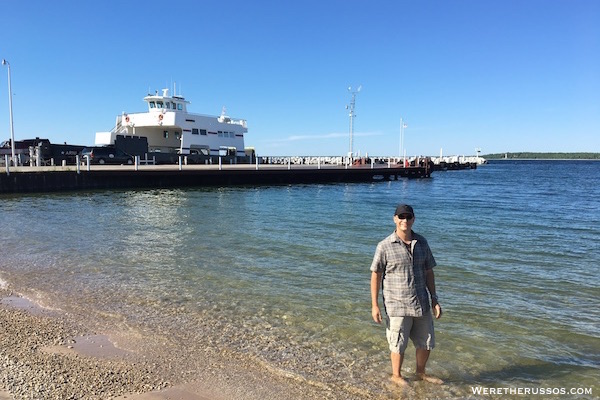 Where to Camp in Door County, Wisconsin
We camped at Tranquil Timbers in Sturgeon Bay. Below are some other options.
To quickly find campgrounds, RV dumps, propane fills, potable water and more RVing/camping resources we use Allstays. Check out our AllStays Review.
Find nearby Harvest Hosts. Members have access to vineyards, farms, museums, breweries and more. Read our Harvest Hosts Review or use our referral link to receive a discount.
Check Boondockers Welcome to see if there's a host member in the area that can accommodate an overnight RV stay. Read our Boondockers Welcome Review or use our affiliate link to sign up.