Some of the links below are affiliate links, which means we will earn a commission on the products or services you purchase using the links. There is no additional cost to you and the earnings help keep this website running. Read the Affiliate Disclaimer for more information.
One popular destination in the Lone Star State is Texas Hill Country. Work brought us to Fredericksburg, but the history, charm and culture will bring us back. If you're headed to the Hill Country, be sure to check out some of the fun things to do in Fredericksburg TX. Willkommen, y'all!
Things to Do in Fredericksburg Texas
Since we decided not to film the week we were in Fredericksburg, you can catch a glimpse of our drive into town from Fort Stockton TX in this video with a visit to Caverns of Sonora.
Take a Stroll Down Main Street
A quick glance around Fredericksburg and you'll understand why the town has earned the tag line "Texas Heart. German Soul." German influences can be seen as you stroll down Main Street and throughout town. Be sure to pop your head into Barefoot Campus Outfitters to check out the "Prost Y'all" souvenirs.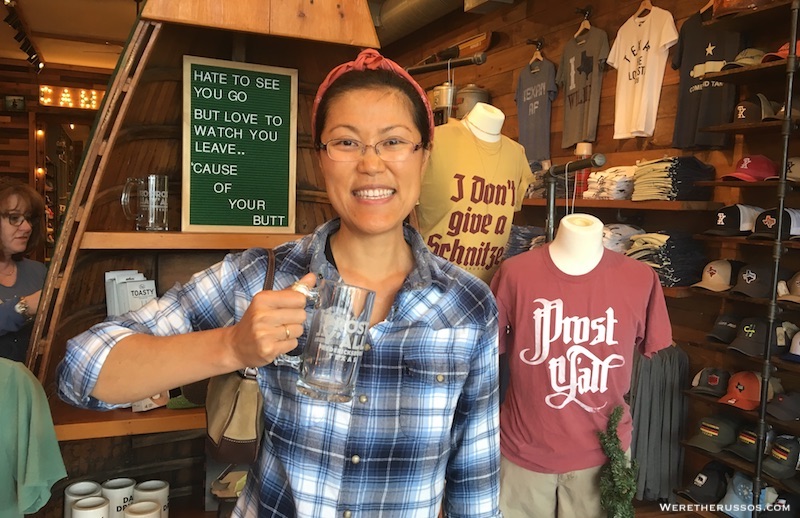 Learn About the History of Fredericksburg TX
Start at Pioneer Museum to learn about the history of Fredericksburg. Walk down Main Street towards Marktplatz, where the Vereins Kirche, an octagonal shaped building stands.
Pacific War Museum & Japanese Garden of Peace
The highlight of Fredericksburg for us is the National Museum of the Pacific War. Plan to spend an entire day exploring the multiple exhibits at this museum including the Japanese Garden of Peace.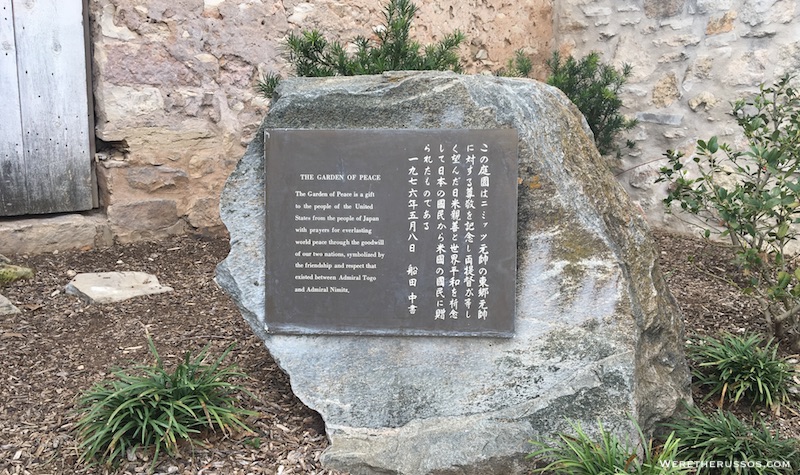 Right next to the garden is the Plaza of the Presidents. Dedicated to the ten presidents that served during World War II.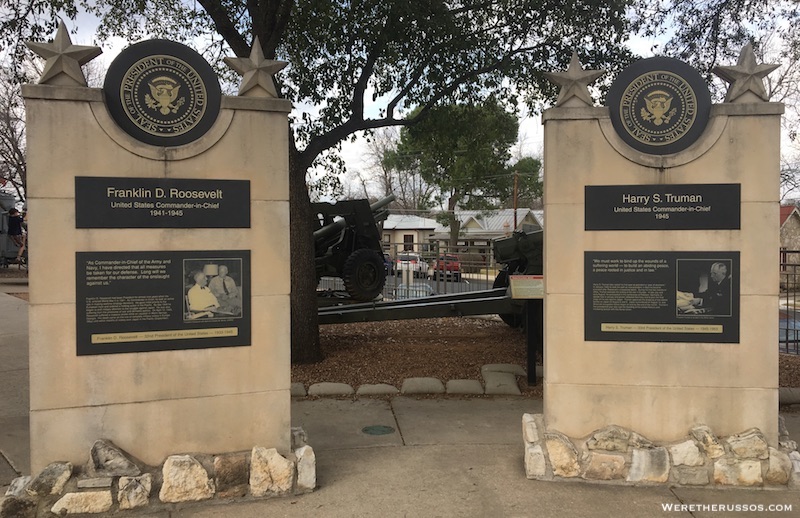 Try to plan a visit while the WWII Pacific Combat Program is going on. This educational and entertaining program concludes with a reenactment battle. Be sure to get your tickets in advance as the shows do sell out.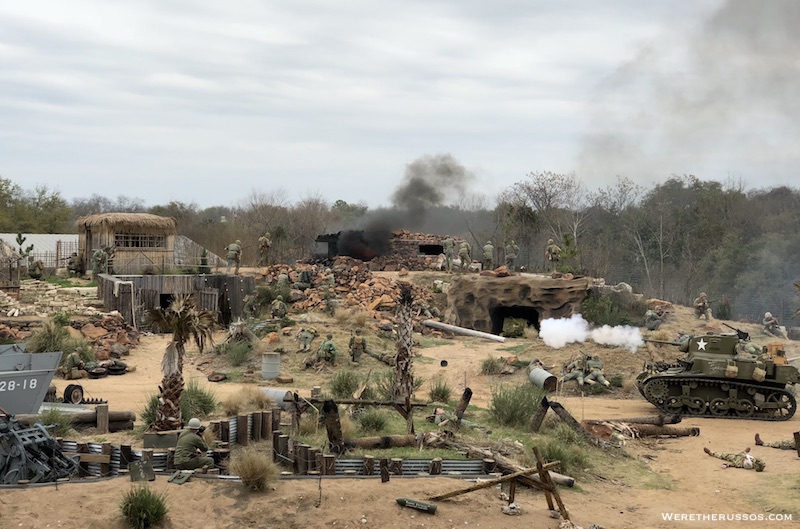 Satisfy Your German Food Cravings or Eat BBQ
There are no shortage of German restaurants in town, including the highly rated Otto's German Bistro. If you're in the mood for something different, head over to Vaudeville Bistro for American comfort food or Hondo's On Main for BBQ and TexMex.
Wine Around Town – Yes, You Can Walk Around with Wine!
Fredericksburg is at the heart of Texas Hill Country wine region. Many visitors come here to take part in the wine tasting experience. Although we didn't sample any of the Texas wine offered here, we did get a good chuckle every time we drove by Fat Ass Ranch & Winery. As for walking around town with wine in hand, drinking in public is legal in FBG.
Enjoy a Local Beer at a Local Bar
There are two local beers to choose from: Fredericksburg Brewing Company and Altstadt Brewery. Of course, it's always more fun to check out a local bar with friends. Thanks Tami and Eric of The Let Go Life for joining us.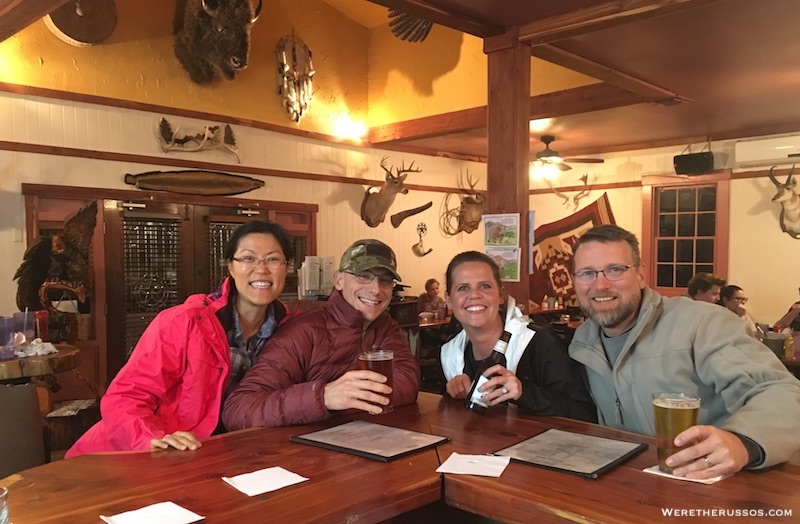 Listen to Live Music in Luckenbach
Take a step back in time and head down to Luckenbach Texas for some live music and dancing. This small town has quite the history, but it was the song "Luckenbach Texas" that made it famous. Check out the Luckenbach events calendar to find the next live music performance. Oh, and let's not forget "Everybody is somebody in Luckenbach."
Explore Beyond Fredericksburg
Climb Enchanted Rock, massive pink granite dome to take in the views of Texas Hill Country. For a caving adventure, head west to explore the Caverns of Sonora.
Where to Camp in Fredericksburg, Texas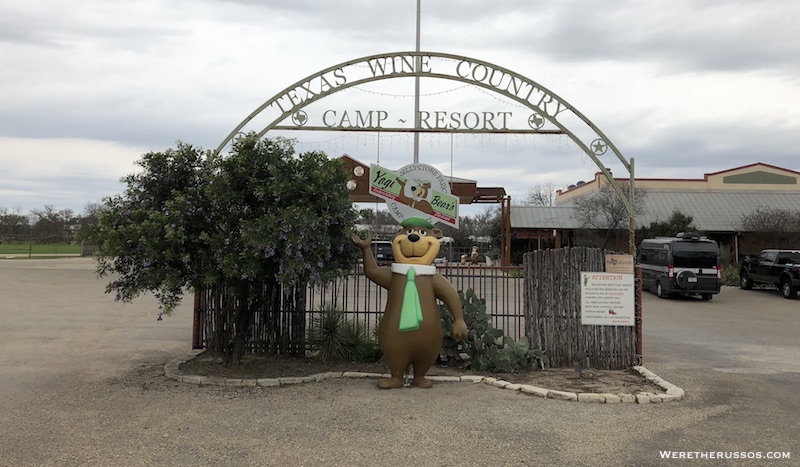 We camped at Texas Wine Country Jellystone. Below are some more options.
To quickly find campgrounds, RV dumps, propane fills, potable water and more RVing/camping resources we use Allstays. Check out our AllStays Review.
Find nearby Harvest Hosts. Members have access to vineyards, farms, museums, breweries and more. Read our Harvest Hosts Review or use our referral link to receive a discount.
Check Boondockers Welcome to see if there's a host member in the area that can accommodate an overnight RV stay. Read our Boondockers Welcome Review or use our affiliate link to sign up.