A must have app for RVers is the Allstays Camp and RV app, available for iPhones and Androids. Whether you're a full time RVer or a part time RVer, this app is great for planning your next trip and for when you're on the road. It has saved us money on the road and come in handy for when we plan our next destination. There are a handful of apps we cannot live without and Allstays Camp and RV app is one of them. We paid $9.99 in the App Store and it has more than paid for itself with the free RV dumps and camping options we've found through the app.


Must Have App for RVers – Allstays Camp and RV App
Main Features
When you launch the app, it will use location services to figure out where you are and display all the services in that area. You can zoom and move around as well as choose a map view: standard, hybrid or satellite. We prefer to use the standard map view.
There are six main categories displayed on the map:
– Camping (including County, State and National Parks, Elk and Moose Places, Casinos, BLM Land, Walmart)
– Low Clearances (from 7 feet up to 15 feet)
– RV related businesses (including dealers and service centers)
– Rest areas (with and without amenities)
– Stores (including Bass Pro Shops, Camping World, Costco, REI, Sams Club, Propane Fills)
– Truck Stops (including Flying J, Loves, Pilot)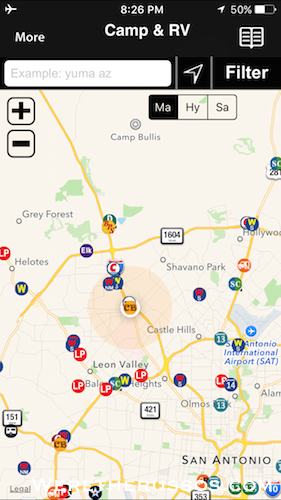 Tap on any of the services to bring up a quick overview. To see additional information, tap on the white banner.
Additional information include phone number, website, images (Google images), reviews (Google search results for that business – available for campgrounds), rating (pulled from Allstays pro), weather (National Weather Services weather report for that area), map (A Map is for Apple maps and G Map is for Google Maps). There is an "Update" section where users can submit information such as "Overnight parking is no longer allowed at this Walmart location" or "There are 4 RV parking spaces at this Cracker Barrel". User submitted information is displayed below the address and GPS coordinates. When we come across outdated information, we will send an update to help keep the information relevant and accurate for everyone using it. The "Share" option will open a draft email with information of that service and your current GPS coordinates.
Standard Filters
The six main categories can be filtered by tapping the options you want to see on the map. To access the filters, tap on "Filter" in the main screen. We use this feature the most when we are looking for specific services in an area. For example, if we want to look for a free dump facility, we tap the "RV Dumps – Extra Places" and "Rest With RV Dump" options to see what's available outside of campgrounds and truck stops. Thanks to this option, we haven't had to pay to dump since we've been on the road.
Select any of the images below to see the full size version.
Advanced Filters
From the filter screen, tap on the advanced filters option to drill down even more. This is where you can search specifically for free campgrounds or for a specific RV dealer such as Newmar. There is even an option to filter for campgrounds that have age restrictions.
Select any of the images below to see the full size version.
Offline Access
One of our favorite features about the app is that we have limited access to features when we're offline. An issue we have encountered with this feature is that it doesn't always load the map in the background. To get around this issue we view the map area we are traveling to ahead of time and at the level of zoom that we want. This will load the map into the memory of the iPhone and when we view it again offline the information displays without an issue. We use the app at least once a day, which uses an average of around 65 MB of data per month.
How to Save Money with the App
Free dump stations – use the "RV Dumps-Extra Places" and "Rest With RV Dump" filters. Some Camping World locations also have free RV dumps, but make sure to call ahead of time.
Free RV camping – use the "Avg Rate – Free" advanced filter or "Forest", "Overnight Parking", "Public Lands", "Walmart Ask to Park" and "Rest" filters. Be sure to check the rest area for restrictions on overnight parking. We wrote a post about overnight parking at rest areas.
Cheaper camping options – use the "Avg Rate – $ and under" advanced filter.
Elks and Moose members – use the "Elk Places" and "Moose Places" filter to see which clubs have RV facilities.
There are many ways to use the Allstays Camp and RV app and we can't imagine life on the road without it. The other app we love is GasBuddy to find the lowest gas prices in town. What apps do you love for RVing? Leave us a comment.


Check out our Top 10 Apps for RVing