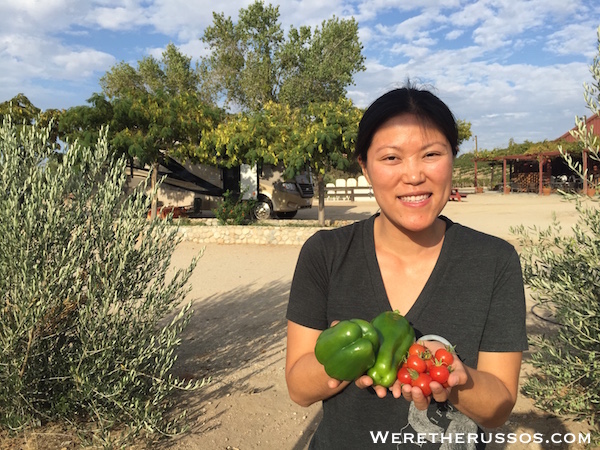 Harvest Hosts is made up of a network of businesses who offer unique camping experiences to RVers in the United States and Canada. The membership is $44 for a single year and $40 if you sign up for the annual auto-renew. It provides access to a directory of hosts as well as information about each host such as GPS coordinates, max RV length, number of spaces, pet policy, facilities and more. We have been members since July 2015 and have enjoyed the experience. Several people have contacted us with questions regarding the program so we decided to write a Harvest Hosts review and highlight some of our experiences and share our thoughts on the program. Keep in mind that most hosts provide a space on their property to park the RV and dry camp for a night. A few may have electric and/or water hook ups, but it is rare.
Harvest Hosts Review
What We Like:
Wineries and beyond. We've stayed at five harvest hosts as of writing this post and only one was at a winery. The others hosts were a trading post, dairy farm, produce farm and museum. The main reason we joined was for the wineries, especially in California, and we made one our first stop when we got on the road. Each host we've stay with has their own unique charm and we've always enjoyed our stay, even at the dairy farm when we were down wind from the cows. They did have free electric hookup which allowed us to run the AC during our stay. We also got to sample their tasty cheese curds and purchased a few different cheeses. Other non-winery hosts we've found but haven't stayed with included more museums, alpaca farms and flea markets.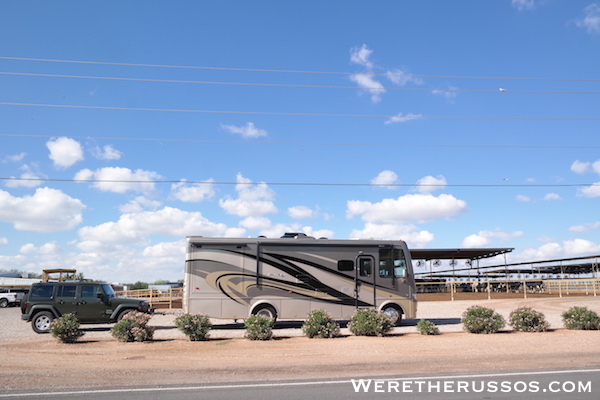 It's not just a one night stand. The guideline states members are limited to one night with each host. However, we've found that after we arrive and meet the owners/managers of the property, they typically invite us to stay longer if they're able to accommodate us. Members can stay more than one night if they're invited to do so by the host. We were able to stay for three nights at the winery in Paso Robles and two nights at the air museum in Pueblo because it was during the week and they had the space. Some hosts are only open on weekends and cannot accommodate members during the week which will limit the number of nights a member can stay.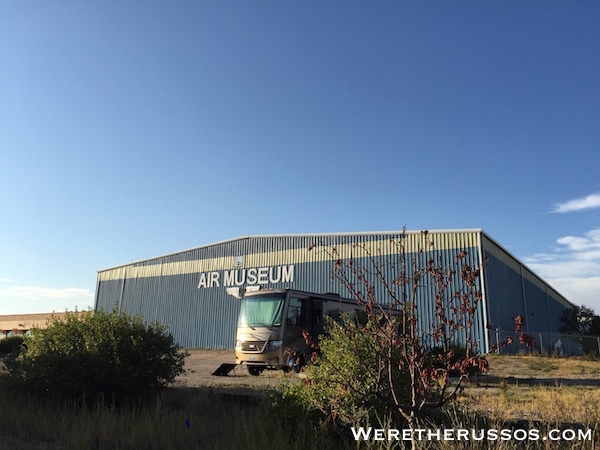 Shop local and support small businesses. Members are asked to make a purchase during their stay and there is no minimum. We find staying with hosts to be a great way to shop local and support small businesses. Instead of going to a chain grocery store to buy wine and produce, we can visit a local winery or farm and buy directly from them and learn about their business. They are so passionate about their business it's fun to listen to their story and learn about their products.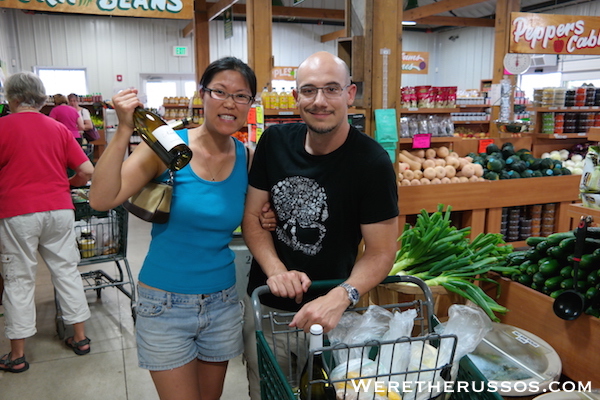 Dog friendly hosts. The directory of hosts includes information on whether they are pet friendly. All the hosts we've stayed with are dog friendly. Pets are required to be on a leash and picked up after. A red dog icon means this host allows pets.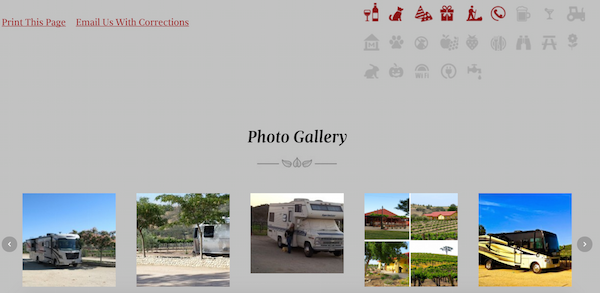 Meet fellow RVers. Harvest Hosts members are awesome! We've met some great people along the way that we stay in touch with. Everyone has a different story and RVing style, it's always interesting to learn from them and hear about their experiences. We always end up with a long list of great recommendations on places to visit. There have been times where we are the only members on property and that's pretty incredible too.
Peaceful and quiet. The hosts we've stayed with are typically outside the hustle and bustle of the city and away from heavy traffic. Once the business is closed for the day, the customers are gone and the parking lot is empty, silence falls over the property. We take advantage of those peaceful and quiet times to enjoy a good book, watch the sunset or star gaze. We have not run into a situation where the area was so remote we could not get AT&T coverage.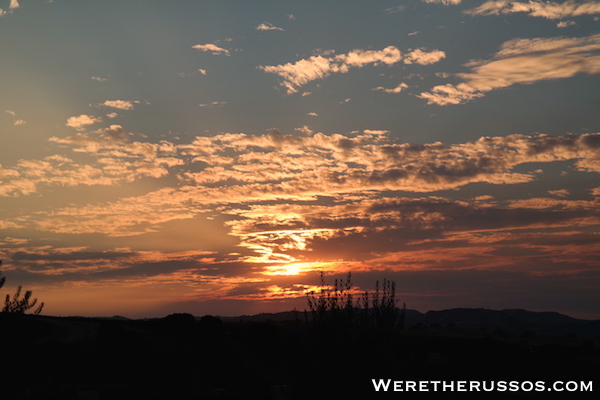 More than a directory. The Harvest Hosts website includes comments, photos and videos submitted by members for each host. Members can search for hosts by location or along a route as well as download a full list of current hosts (the latest version was 170 pages). There is also a trip planning feature where members can add hosts to a trip and refer to it at a later date.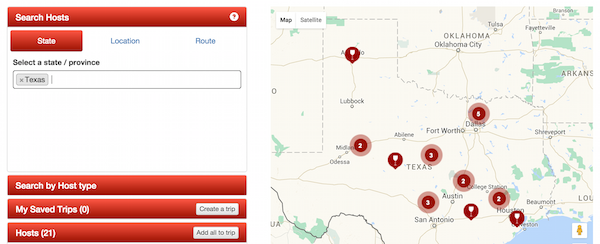 Rigs of all sizes. About 85% of the hosts can accommodate RVs of any size and 90% can accommodate RVs up to 44′. Each host's page has a section that shows the size limit. We haven't run into any issues with our 29′ motorhome and tow car.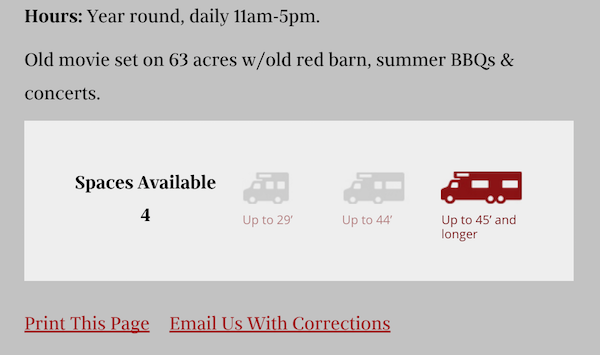 One free month for each referral. Members receive a free month for each new member referral or host referral. New members referred by an existing member will also receive one free month. If you decide to sign up for Harvest Hosts after reading our post, let them know Joe and Kait Russo referred you and we each receive one free month.
What We Don't Like:
More hosts please. Some states/regions have more hosts than others and we wish there were more everywhere. For example, Central California has so many winery hosts, we could probably spend a month visiting them. The good thing is that new hosts are added every month and we receive those via the member newsletter. As we travel, we also encourage businesses that can accommodate RVs to join the program.
Overall:
We would recommend Harvest Hosts to RVers looking for unique dry camping opportunities across the United States. It's a great way to visit areas off the main road, discover new products and test your dry camping skills. At $40 for an annual membership, it's more than worth it. The way we see it, we buy produce anyway, so why not visit a local family farm, buy from them and spend the night instead of going to a grocery store and then still have to worry about finding a place to park the RV. Some of our favorite RVings experiences have been with a harvest host.
If you're interested in becoming a Harvest Hosts member, consider joining us on Patreon to get a $5 discount on your membership. Check out our Patreon page for more details.
Disclosure: We paid for the Harvest Hosts membership and this review represents our own opinions.
GIVEAWAY:
Harvest Hosts has generously provided us with two one year memberships to giveaway to our readers. To enter the giveaway, sign up for our newsletter AND leave a comment below. The email used for the newsletter must match the one used to comment. All entries submitted by 11:59pm ET on March 20, 2016 will be entered into a random drawing. Two winners will be announced and notified on March 21, 2016 and will have 24 hours to respond and claim the prize. Good luck! Giveaway Ended. Congratulations to Kim Nowell and Peter Boissonneault.