There's nothing quite like the joy of seeing that "rest" sign when you're in need of a break. We've pulled into many rest areas around the United States and one thing we've learned is that not all rest areas are created equal. The number of parking spots, amenities and rules vary from state to state. Some states allow overnight parking at rest areas while others make it illegal. In this post, I will share our experiences with rest areas and discuss parking, security and issues we've encountered.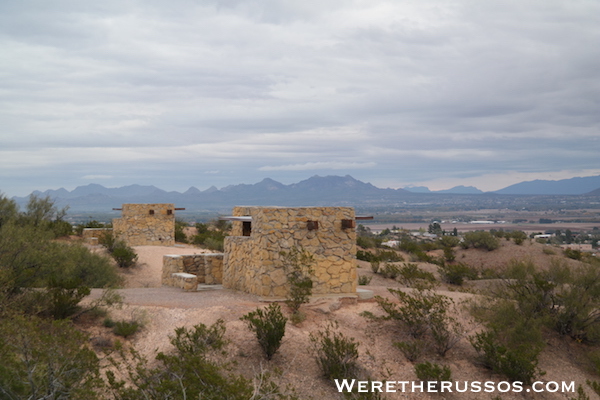 Overnight Parking at Rest Areas
The first time we spent the night at a rest area was in Las Cruces, NM. This was back when we thought we were long haul drivers and made an 800 mile trip in two days. Don't worry, we've wised up since then and limit ourselves to 100-150 miles each time we move. The first leg of our crazy drive was from Tucson to Las Cruces and we planned to spend the night at the rest area. We had no idea until we pulled up that it was an award winning rest area with spectacular views of the city below. If you're driving through the area, stop in for a break and enjoy the views.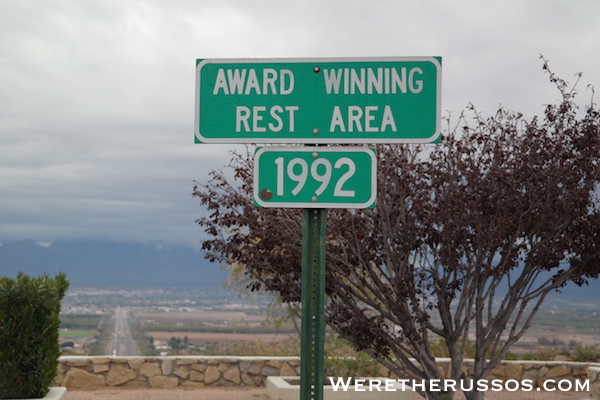 Look for the truck/RV parking sign. Rest areas often have separate parking for trucks and RVs with clearly marked signs. Spots are marked by white lines on the ground and typically large enough to fit an 18-wheeler, which means we can easily fit with our 29' motorhome and tow car. Usually there are other trucks or RVs in the area which makes it easy to spot.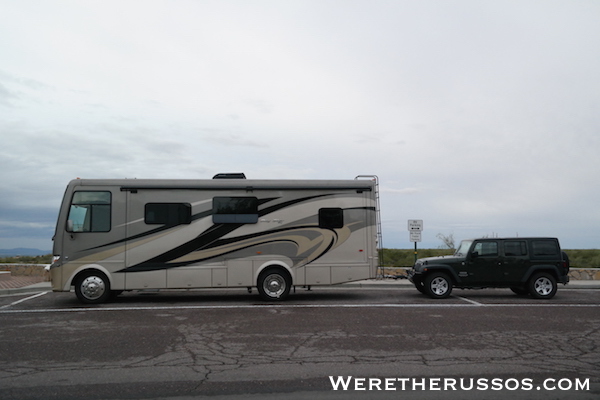 Slide outs. If there's room, we will put our bedroom slide out. We parked alongside a curb in Las Cruces and were able to put our bedroom slide out without blocking another spot or the sidewalk.
Arrive early and have a backup plan. For the best chance of getting a parking spot, arrive in the early afternoon. Some rest areas are more popular than others so have a backup plan if it's full. Look to see if there's a Cracker Barrel or Walmart nearby and give them a call to see if overnight parking is allowed at that location. Truck stops (Pilot, T&A, Loves) are also an option, but similar to rest areas, they can fill up quickly.
Some rest areas are patrolled by security. We've seen posted signs that a rest area is patrolled by security but we don't take that into too much consideration because we have no idea how often they patrol the area. When we spent the night in Las Cruces, we felt safe because there was a constant flow of vehicles driving in and out and several trucks that spent the night. There is something to the saying "safety in numbers".
Rest areas do close. We've driven by several rest area that are closed for maintenance or closed permanently. Typically, there is a sign ahead to notify drivers of the closure, but we have run into situations where we drive up to the exit for the rest area only to be met by bright orange cones. This is where having that back up plan comes in handy.
Dump, electricity, wifi and vending machines. In addition to the standard restrooms, picnic tables and drinking fountains, we've discovered that some rest areas have a free dump station, electric hookup, wifi and vending machines. Additional amenities are posted at the rest area when you arrive and can sometimes be found on the Allstays Camp & RV app, which we use.
The one thing we like about overnight parking at a rest area is the easy access to the highway. When we spent the night in Las Cruces, we pulled off the highway, made dinner, went to sleep, woke up early the next morning and pulled right back on to the highway.
Looking for more? Frugal RV Travel has a good article on which states allow overnight parking with links to official information.