After a year of full time RVing in a Class A motorhome, we sat down to look at our RV living costs. Some costs are calculated on an annual basis and other costs are calculated on a monthly average. RV living costs will vary depending on the number of people, pets, life style, spending habit, and other factors. We hope you find this information helpful as you plan for full time RVing.
RV Living Costs: Full Time in a Motorhome for One Year
RV Living Costs Infographic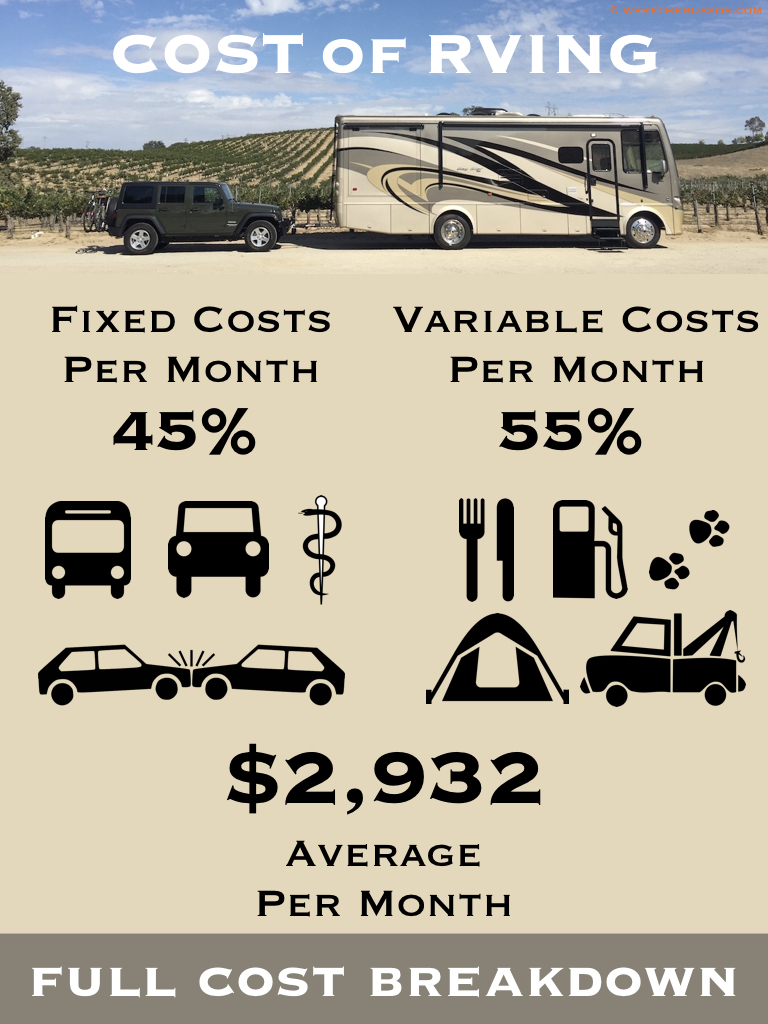 Fixed Annual RV Living Costs: $15,755 ($1,313 Per Month)
RV Payment: $7,200
Medical Insurance: $5,832 Plan for two adults
RV Insurance: $1,200 Full Time RV Policy
Tow Car Insurance: $1,008 Auto Policy
Club Memberships: $215 – Costco Executive, Escapees RV Club, Harvest Hosts, and Boondockers Welcome
Vehicle Registration: $205 – Class A RV $132, Tow Car $73
Mail Forwarding Service: $95 Escapees RV Club Mail Forwarding Service
Average Variable RV Living Costs Per Month $1,619:
Food: $539 groceries, restaurants, coffee and alcohol
Gas for RV: $286 1,000 miles
Gas for Tow Car: $111 1,128 miles
RV Parks/Campgrounds: $153
RV/Tow Car: $132 oil changes and supplies
Dog: $47 food, vet visits, toys, treats
Cell Phone: $184 family plan for 5 lines
Miscellaneous: $167
Lessons Learned:
Save money with Gas Buddy App – One of our Top 10 Must Have RVing Gadgets. This free mobile app displays user updated gas prices in an area and has been accurate every time we've used it. The best part is we can look up gas prices in cities we are going to compare prices.
Find RV Services with Allstays Camp & RV App. The app costs $9.99 and has more than paid for itself. The app shows free dump stations, BLM campgrounds, free campsites, LP stations, rest areas, repair shops and much more.
Free and low cost camping isn't always available. We found this to be true while going through Colorado and ended up paying for campgrounds. Many places we would typically park for free overnight did not allow overnight parking due to city ordinances. We also found most dispersed camping spots in Colorado were difficult, if not impossible to get to with our Class A RV.
Full hookups are well worth the splurge. Although we enjoy dry camping, having full hookups once in a while gives us the ability to take long hot showers, run the heater/ac, enjoy amenities such as spas, laundry, free wifi, unlimited electricity and water.
Drive slower and shed some weight! When we increased the speed on our cruise control from around 62 to 70 mph, we noticed a decrease from 7 to 6.5 MPG. Since we do a lot of dry camping we always top off our fresh water tank (75 gallons) whenever we can. This means that we typically drive long distances with an extra couple hundred pounds of water. Shedding the extra weight increased our MPG.
Stocking up at Costco. Buying certain items in bulk can help us save money in the long run. Items like canned goods, oils, paper towels, toilet paper, spices, alcohol are good to stock up on. We've also saved money fueling up gasoline and propane at Costco.
Research Sales Tax. We were going to make a Costco run in Mobile, AL until we found that the tax rate was 11%! Since we were headed to Tallahassee, FL, we decided to make our purchases there and saved the 3.5% on sales tax.
Cracker Barrel is better than Walmart for overnight RV parking. We've found that Walmart is very hit or miss in terms of allowing RVs to park overnight. When we call ahead to ask if we can park, we're told yes – but when we arrive we're told they do not allow overnight parking. This has happened on multiple occasions and can throw a wrench in our plans. Many Cracker Barrels not only have dedicated RV parking spaces, but they are always extremely friendly and consistent with regards to their overnight policy. Since they close at 9pm, the parking lot is typically quiet during the night, unlike Walmart. "The Barrel" also has some great breakfasts and we're now officially addicted to the hashbrown casseroles.
The further east we go, the fewer free dry camping spots there are. We have been accustomed to dry camping on BLM or National Forest land and only stay at a campground when we want hookups for a few days. The further east we went, the fewer free camping spots were available. We did seek out more Harvest Hosts and Boondockers Welcome options.
10G data plan is not enough. We started with a 10G AT&T family plan and now have a 20G data plan. This has allowed us to upload more videos from home instead of driving to a coffee shop. Most of our videos come in around 500mb to 2GB. Some coffee shops have slow upload speeds, which means we can be there for 3 hours to upload a 5 minute video. Wifi access at RV parks is typically extremely slow, unreliable or just non existent.
Expect the unexpected. We encountered a tornado warning in Florida and can't stress enough the importance of being prepared for different situations. And for the second time since we started full timing, we found a screw in our Jeep tire and had to take it in for repairs. Another reason we have a pre-departure check list, which includes checking the tires before taking off. Joe spotted the screw during our routine check and was able to swap it out for the spare before we left our campsite in Key Largo.
In addition to an emergency fund, put aside money specifically for RV repairs and related costs. We spent a good chunk of money on the spare tire in April and quite a bit on replacing the front windshield on our motorhome in May. Labor for RV repairs is expensive and it's good to have a separate fund for these unexpected repairs.
Save propane with an electric cooker. We started with a slow cooker and now have an Instant Pot. It's perfect for travel days and the electric cooker doesn't heat up the motorhome the way our gas range would. We never thought we'd use an electric cooker in our motorhome. Now that we have one, we use it almost every day. Check out the One Pot Meal series on our YouTube channel.
Street camping for an extended amount of time is not ideal. Not being able to put our big slide out made living in the motorhome uncomfortable. The sound of city life was also wearing us down. School busses, trash trucks and helicopters became our morning wake up calls.
Buy a National Park pass. Individual fees for each park add up quickly, if you plan to go to more than a few parks in a year, this could offer a huge savings. The pass also grants entry to Forest Service and BLM land but does not cover camping fees.
Slow down. It's easy to focus on the destination sometimes and forget about the journey. Take time to enjoy the experience and see where the road leads.
To view our monthly reports, go to Cost of RVing.